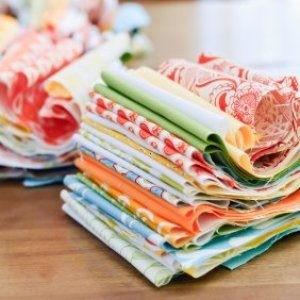 Whether you are a seamstress or an avid quilter you probably have tons of fabric. Organizing your fabric will make it easier to see what you already have and allow you to find what you are looking for faster. This is a guide to organizing your fabric.
Ad
---
Solutions: Organizing Fabric
Read and rate the best solutions below by giving them a "thumbs up".
Use the inner cardboard liners from bolts of fabrics to store your fabric. Stores will give them to you if you ask. Cut them in half and use them to wrap individual yardages around and store, upright, in those legal-sized cardboard boxes you get from office supply stores. You have only to glance at the top of the box to see what fabric you have in storage and each piece of fabric is the same size and standing straight up in the box.
By fossil1955 from Cortez, CO
I use bread bags to store my fabric. I roll the fabric in a tube, place it in the bag, and add a piece of masking tape to the bottom with the yardage.
When I use the fabric, I tape the bag to the edge of my sewing machine. All scraps and leftovers go into the bread bag. When finished, I mark through the old yardage and put the new estimate in red.
I store them standing up in large totes. Scraps and quilting fabrics are kept in the same totes which leads to some interesting combinations for scrap quilts. Fabrics for my wardrobe are kept in a separate tote which is fun for coordinating outfits.
Source: This is my own idea and I've been using it since the 1970's.
By Linda from Knoxville, TN
I sew and sell purses, totes, and diaper bags. So I have a lot of fabrics on hand. I use the large plastic containers to store most of my fabrics for my "Crazy Quilt Purses". I usually purchase smaller amounts of fabric and they are easier to see and store in these bins. I color coordinate them, so I'm not digging for the color I need when I need it. The bins stack very nicely, too.
By Judy from Birmingham, AL
In our church workshop, we use plastic tubs or totes with the lids removed. Set the tubs on the narrow end and stack the fabric inside. The entire lid area is now fully open and facing you. The colors and patterns can be seen very easily.
Source: We saw someone do this with cardboard boxes at a garage sale.
By Mary Lou from Iowa
Tape or staple swatches of ribbon or fabric to index cards. This makes it easier to get extra craft supplies at the craft store or fabric store when you shop.
By duckie-do from Cortez, CO
Give a "thumbs up" to the solution that worked the best! Do you have a better solution? Click here to share it!
Archives
Thrifty Fun has been around so long that many of our pages have been reset several times. Archives are older versions of the page and the feedback that was provided then.

Since I have been quilting I always purchase my fabric on sale and believe you me when I find a sale I purchase a lot of fabric. I was having a hard time finding a place to "store" my fabrics. I didn't want it just stuffed in plastic storage bins because I would forget what I had.
So at a garage sale I purchased this most excellent cabinet for $9.00. It had red crayon on the side of it, which when I got home it came right off with Mr. Clean Magic Eraser : ) I rolled up my fabrics and sorted them on each shelve.
Then I hung up 3 baskets on the wall above my sewing machine and rolled fabrics in there too.
I love the storage that doubles as decorations.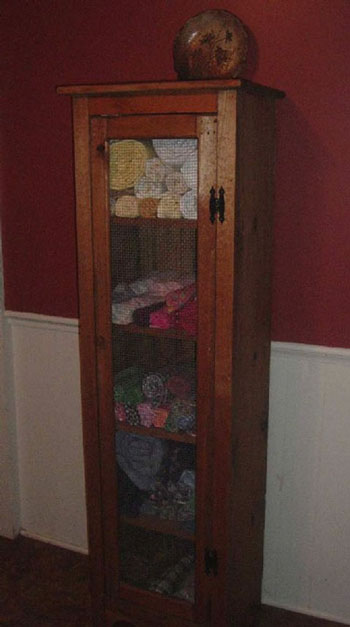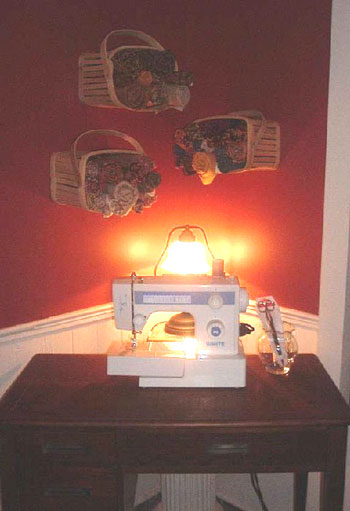 By Tracey
---
RE: Fabric Storage and Organization
Wow! That is a "most excellent" cabinet and what a deal! I must be doing something wrong because I can never find anything that cool at a yard sale. It would make a great CD or video cabinet too. Way to go. The baskets look real cute too. I might try something like that for school papers. Love the ideas on this website. (08/24/2005)
By mrsmutt
RE: Fabric Storage and Organization
What a great idea. My fabric, yards and fat quarters, and pieces of no measure, are all stuff into drawers. I love your idea, thank you for sharing. (08/24/2005)
RE: Fabric Storage and Organization
I bet you could probably get a similar cabinet and baskets at a thrift store. Ziggee (08/24/2005)
By Ziggee
RE: Fabric Storage and Organization
It looks great! I love the cabinet and the baskets on the wall is a great idea! Happy quilting!! (08/25/2005)
By Cadensnana
RE: Fabric Storage and Organization
I just LOVE the basket idea! Thank you for sharing pictures! (09/13/2005)
By DDSS2000
RE: Fabric Storage and Organization
Totes are a great idea but, like you said, we sometime forget what we have in them. I bought a photo album, cut a small piece of the fabric and placed it in the album. I numbered the totes and placed that # under the fabric. If I look through and find the one I like, I just go and find that # tote. (03/29/2007)
By Carolyn
RE: Fabric Storage and Organization
My Avon-selling neighbor gives me empty boxes with actual lids. They stack great in my closet. I wrote colors on the outside and this solves my fabric storage solution. (12/09/2008)
By luckyducky