It is important to organize your nails, screws, nuts and bolts. Keeping them separated and easy to use will make it easier to find what you need when doing a project. This is a guide about organizing nails, screws, nuts, and bolts.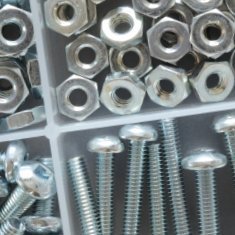 Filter

: All Articles
Sort

: Relevance
To keep screws from getting lost when putting toys together, it helps to have some kind of magnet. It could be a refrigerator magnet, turned upside down, with the magnetic part facing upward. When you take out a screw, you can put it on the magnet. This keeps them from rolling around and getting lost.
By Robyn from TN
I would like to organize my husband's nails, screws, nuts and bolts. There are so many of them we're overwhelmed. Any suggestions for us to get started?
Answer
Was this helpful?
Helpful?
Yes
Read More Answers...
I was helping my husband organize his new tool shed, and just didn't know where to put all the different sizes of nuts, bolts, screws, etc. I figured it was time for another plastic container, but they just get overlooked and purchased again. Instead, I used an old spice rack I bought for a dollar at a yard sale. He loved the idea. It spins, everything is visible, and I didn't have to label more plastic containers. I am always looking for old spice racks now, they came in handy for all my daughter's beads for her crafts as well.
I like fresh vegetables, but live alone so I buy the vegetable tray from the super market that has celery, tomatoes, broccoli, etc. and it has a little cup of dip in the middle. When empty, I use it to store nuts, screws, and other small hardware items. It is see-through, has small compartments, and a tight lid. Also stacks neatly in tool shed.
For larger items, I use a clear peanut butter jar and tape one of the items on the outside. That way if I need to match a screw or nail I can put it against the one on the outside and see if it matches without taking the jar down, or opening it.
By 4susan from Central FL
Comment
Was this helpful?
Helpful?
Yes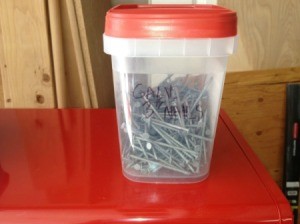 I found a great new use for the sturdy plastic containers that our dog treats come in from Costco. I use them to store large nails and screws that I buy in quantity for various projects. It's superior to large glass jars, which break easily, and these particular containers are made from thick plastic, so they should last a long time. I label them with permanent marker, but they also are see-thru, so it's easy to see what is stored inside.
Comment
Was this helpful?
Helpful?
Yes
Find a piece of square timber just larger than your jar diameter and however long you want it. Nail the lids onto all four sides of the timber. Screw in a thick screw on either end of the timber.
Comment
Was this helpful?
Helpful?
Yes
I keep a jar handy to place all those extra screws, nails, etc. that came with the put-it-together yourself items that you buy. When my husband has only a nail, screw, nut, washer, or wall anchor or two left in what he is doing, I take them to place in my jar.
Comment
Was this helpful?
Helpful?
Yes