These hand print turkeys are a great craft to make with your children. Made with tracings of your kids' hands and feet, they can be a keepsake to hold on to.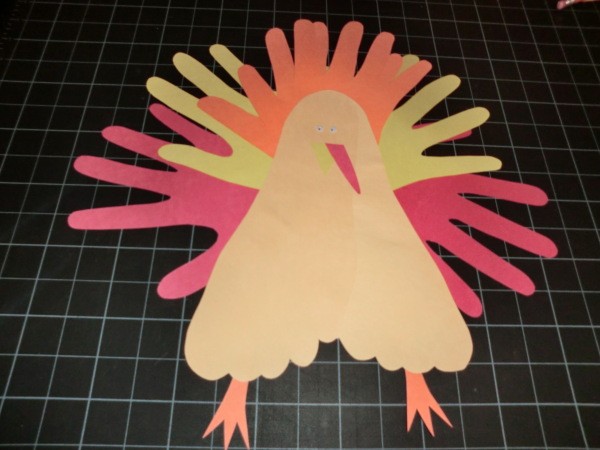 Approximate Time: 30 minutes
Supplies:
construction paper (tan, orange, yellow, red)
scissors
glue stick
google eyes
pencil
Instructions:
Trace around both of your child's feet on tan construction paper.

Trace around your child's hand on the yellow, red, and orange construction paper. You need 2 in each color.

Cut out all of your tracings.

Overlap your feet tracings at the heel and glue together to create the turkey's body. If you don't erase your pencil lines, ensure that they are on the back of both tracings.

Turn the "body" over so that your pencils lines are up. Begin arranging your hand tracings along the edge of his body to form his tail. Again, make sure the pencil lines are facing you so that they don't show on the front.

Glue the feathers in place on the back of the body. Then turn him over.

On a scrap of orange paper, draw two simple feet. You can draw one on a folded piece of paper to ensure that the feet look the same once they are cut out.
Cut out the feet and glue them to the bottom of his body.

On a scrap of yellow paper, draw a triangle for his beak. Cut out.
On a scrap of red paper, draw a thin, long oval, for his wobble.
Glue the wobble to his beak.
Glue two google eyes onto your turkey.
You are done. Enjoy!
By Laurel from Port Orchard, WA
November 17, 2011
0

found this helpful
Very cute idea, especially if personalized! Thanks for sharing.
November 18, 2011
0

found this helpful
I did this turkey with my grandson yesterday and he had so much fun! He especially loved tracing his feet & hands! Thanks for the idea!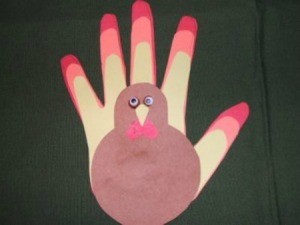 The kids will love making these turkeys from their handprints, and very few supplies are needed. They can be used for decorations or glued to a piece of card stock to create Thanksgiving cards for family and friends.
Approximate Time: About 30 minutes
Supplies:
Various colors of construction paper
scissors
craft glue
wiggly eyes
card stock (optional)
pencil
Instructions:
Using a pencil, trace around a child's hand onto colored construction paper and cut out. Using the cut out hand as a pattern, cut out two more hands in different colors. Trim the fingers on two of the hands so they are graduated in size. Glue the three hands together so they are staked one on top of the other. Cut a plump circle body and oval head from brown or other color construction paper. Glue on top of the smallest hand. Cut out a small red heart for the gobbler and an orange or yellow teardrop for the beak. Glue these in place. Glue on wiggly eyes.
By Angela from Wilkesboro, NC
November 5, 2008
0

found this helpful
This is a new idea using the drawing of the hand picture. How many times have we used this niffty idea to entertain youngsters? We never fail to come up with more cute ideas!! Thanks Angela for another version of the turkey drawing.
November 5, 2008
0

found this helpful
This sure brings back memories. I remember doing this in either kindergarten or grade school, and I'm 51!
November 7, 2008
0

found this helpful
These are so cute, I have done them with the grandkids and made up sugar cookie dough and made turkey cookies also.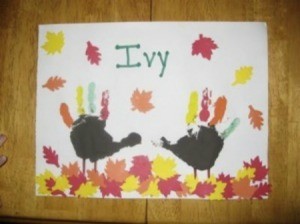 Use paint to make this handprint turkey instead of tracing. Add a few details to the turkey and some fall leaves and you have a beautiful work of art to display at Thanksgiving time.
Supplies:
paint (various colors)
foam paint brushes for each color
paper
markers
colored paper for leaves
glue stick
Instructions:
Paint your child's hand with different paint colors. I used brown for the "head and body" (thumb and palm). Use different colors for the "feathers."
Let the child stamp their handprint on the paper before the paint dries.
Repeat with the other hand.
Add details such as legs and a beak with markers.
Write the child's name at the top of the paper.
Cut out leaves from colored paper.
Use a glue stick to attach leaves to the paper.
Hang and enjoy!
By Jayme from Harrisonburg, VA