November 24, 2008
0

found this helpful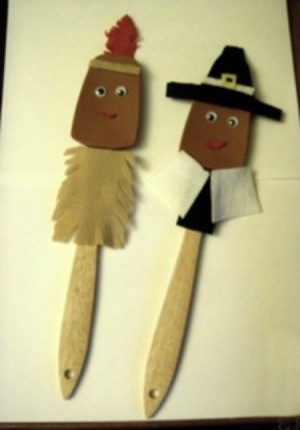 This is a charming craft for kids to make for Thanksgiving or for you to make to place at their place setting.
Approximate Time: 15 minutes
Supplies:
2 rubber spatulas (from $ store)
4 wiggly eyes
glue
felt in colors tan, black, white, red, yellow
scissors
Instructions:
Take spatulas and use rubber part as the face.
For the pilgrim glue wiggly eyes on.
Cut small piece of red felt for mouth.
Cut black felt in shape of pilgrim hat accent with white felt and yellow for buckle.
Cut black felt and white felt for collar and clothing. I made the clothing short, but you can go longer. Just glue into place. Very simple.
For the Indian I glued eyes and mouth on like the pilgrim.
Then take tan felt and fringe the edge for dress.
Cut small strip for headband. I didn't have a feather, but if you do just add that. I used felt cut into a leaf shape and fringed the edges. Looks like feather.
By Crafter from MA
November 17, 2004
0

found this helpful
(These will make a parents crazy, but kids love them)

Use a yellow paper cup - not the small size but coffee size or larger.

With the cup upside down - use colored paper or construction paper to make a beak and the red thingy on its head.
Use black marker or wiggly eyes.
Then take kite string, or other natural fiber string (not nylon or twine) cut about 16" depending on the size of your cup. Tape it inside on the center of the bottom of the cup so when you hold up your gobbler the cup is upside down and the string is hanging down around 8-10" or so.
Now, wet the string slightly and wet your fingers - pull your fingers down the string and your gobbler will gobble.
By Mary S
I need some good, creative and useful crafts for Thanksgiving. I would prefer something a little easy that a Mommy can do with the kids.

Natalie from Jacksonville, FL
Answers
By twinmommy (Guest Post)
October 21, 2008
0

found this helpful
A good craft for young ones is making thankful turkeys. What you do is trace mommy's hand onto brown construction paper. Then trace baby or the kids hand around several different color construction papers. Next turn the mommy hand upside down and and glue the bottons of baby's hands to the rounded part of mommy's hand. Add a orange triangle to the mommy's thumb for a beak and trace eyes or use the wiggle eyes.
Then on each little finger ask the child what they are thankful for, for example, my mommy, for God, for hot water, for her doll house. Add orange feet to two of mommy's finger tips. If you put 2 these together you can laminate them and use them as placemats. Its a fun and easy idea. I did them with my oldest son while I was pregnant last year. I'll try to find it and take a picture to add so you know what they look like.
October 21, 2008
0

found this helpful
Pine cone turkeys
Indian vest (turn a paper grocery bag inside out, slit up the side and cut out the head hole and decorate)
trace the palm of their hands on colored
construction paper, draw eyes and mouth on the thumb to make a turkey
iron fall leaves between 2 rectangles of waxed paper for placemats
also see http://crafts.k ys/thanksgiving/
By londa (Guest Post)
October 21, 2008
0

found this helpful
Turn a pumpkin into a turkey. Cut out head, tail feathers, and wings from paper (even brown paper shoping bangs will work). Color them with markers and crayons. To attach them to the pumpkin, tape tooth-picks on them and just stick them in the pumpkin.
It dosen't have to look good, it only has to be fun!
October 22, 2008
0

found this helpful
I did this in about 30 minutes. It's a great project for moms and kids.
I had the rafia rings, but you can get them from 6" to 18" at the dollar tree. That is also where I got the veggies and leaves.
I wrapped some ribbon around it, added some buttons, and a fabric heart that used to be a pin.
All together, it might have cost me 2.00.
I keep it on my door from Sept to November, then the Holiday one comes out. I also have one for spring that is easter colors, and two for summer that are americana.
NOTE: If you have little ones, make sure you are in charge of the hot glue gun, and if you can, get the kind that has two settings.
One of the worst burns in my life came from holding down some lace that I had just glued, forgetting that I had changed the setting.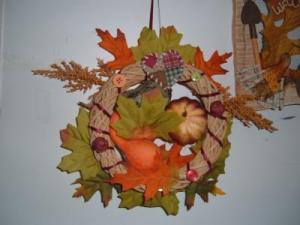 Answer

this Question

...
November 11, 2011
1

found this helpful
This is a page about making hand print turkeys. Hand print turkeys are a fun craft to make with your children. Whether you use paper, paint, or ink, your turkeys will make perfect Thanksgiving decorations.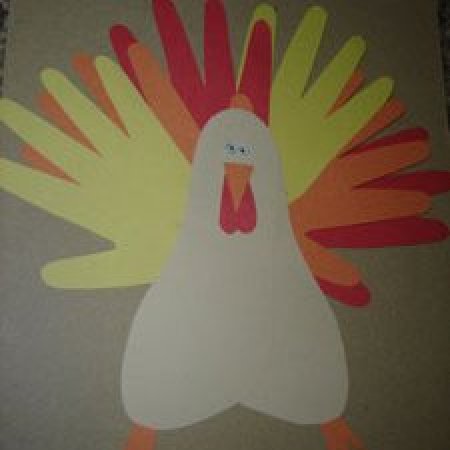 November 15, 2016
0

found this helpful
This is a page about making thumb print turkeys. Using fall colors, you and the kids can decorate many things such as cards, placemats, etc. with cute thumbprint turkeys.