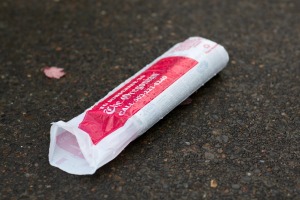 Rather than toss the plastic bag your newspaper is delivered in, reuse it. This is a guide about uses for plastic newspaper bags.
Ad
---
Solutions: Uses for Plastic Newspaper Bags
Read and rate the best solutions below by giving them a "thumbs up".
Re-Use of the clear plastic bags from your newspaper
I take the clear plastic bags that come on our newspaper and make covers for my spare cleaning supplies stored on shelves in our garage. Our house is small so the extras bought on sale or with coupons must be stored on shelving in the garage; this includes canned goods.
I tie each bag in the middle and cut the bag at the top of the knot which creates two sleeves or covers that fit over most bottles of cleaning supplies or canned goods etc. This keeps them from getting dirty and dusty before they are used.
With the bag being clear, you can easily see what is 'under cover' :)
By marycrane from Orange Park, FL
If you get a daily newspaper delivered to you in long, narrow plastic bags, you can recycle them in a number of ways. They are great for holding shoes when traveling, so that the clothing in your suitcase doesn't get dirty. Each bag can hold one shoe or a pair of smaller footwear, such as flip flops.
I also store several of these bags in a large used plastic cup with a lid (think recycled fast food soda cup that you have washed) and that sits in my car in the cup holder - they are great to use as small trash bags. I also store my kitty litter scoop in one, so that anything stuck to the scoop ends up in the bag and not in the bottom of my cabinet.
By ginnywest from Murrells Inlet, SC
If you live in an area, as I do, where the newspaper is delivered in a plastic bag, instead of throwing the bags away, give them back to your newspaper carrier. The carriers pay for these bags and my newspaper carrier was delighted to having some returned to him for using again.
By Myrtle M. from Chesapeake, VA
I have a Greyhound and a Shepherd mix, and when I walk them in the neighborhood I have to clean up after them. I have friends and family save the plastic bags that the newspaper comes in, and I use them to pick up after the dogs. I double or triple the bags, and if there's a mess to pick up, I slide my hand into the bags, pick up the mess, and then pull my hand back through. I then tie the bag and place it into a Walmart bag and throw it all out in the nearest trash can.
By Sweetrit from MA
Recycle newspaper rain bags to pick up and dispose of doggie poop when walking your dog.
By ellen [3]
If your newspaper is delivered in plastic "sleeves", save these covers. Then when you have a really messy job to do, slip a pair of them over your hands and forearms as protective "mittens"; discard when finished. Especially helpful for those of us with arthritis who struggle to put on rubber gloves.

By Beth
When walking your dog, take along the plastic sleeve from your newspaper. It is a perfect size for poo and fits into almost any pocket.
By glowormglo from Rockford, IL
Give a "thumbs up" to the solution that worked the best! Do you have a better solution? Click here to share it!
Archives
Thrifty Fun has been around so long that many of our pages have been reset several times. Archives are older versions of the page and the comments that were provided then.
I live in an apartment and am required to clean up after my dog. It seemed like I was buying the doggie doo bags all the time. I had run out of the doggie bags, and was looking around for something else to take on our walk. The newspaper was on the rug at the front door and I decided to use the plastic bag it was wrapped in. Ever since then, I am paying $0.75 a week for the paper and the doggie bags.

By Susan from Portage, IN

Feedback:
RE: Use Newspaper Plastic Bags for Doggie Doo Bags
Also save the plastic bags from bread, salad mixes, etc. (02/18/2009)

By MCW
RE: Use Newspaper Plastic Bags for Doggie Doo Bags
I use the small plastic shopping bags like the ones my son gets videos in at GameStop or the ones that you use for loose produce at the supermarket. They are small enough to be convenient and would be thrown away anyway. To store the bags, I got a thing called a DoggyDispenser from Love-Tags.com. It looks like a stuffed dog and hangs from my back door knob. It holds bunches of bags and is cute. There is also a little dog pouch to carry on our walks that holds just a couple of bags. When I pull out a bag from the thing, Dooley gets so excited because he knows it walk time! Chris (02/18/2009)

By Chris
RE: Use Newspaper Plastic Bags for Doggie Doo Bags
Yes, those newspaper bags can be used for lots of things, including storage. Some of mine are double in foul weather and are good for transporting liquids and foods that might leak! (02/18/2009)

By pamphyila
RE: Use Newspaper Plastic Bags for Doggie Doo Bags
They're not free, but not expensive, either. I use the diaper disposal bags from the dollar store. I get one hundred scented bags for a dollar. I figure I can spare a penny a bag for a bag that is just the right size, NEVER has a hole in it, and smells nice, at least until it is used! (02/18/2009)

By Jilson
RE: Use Newspaper Plastic Bags for Doggie Doo Bags
We don't have a dog or any pets for that matter (just kids!). Anyway, seems there are plenty of plastic bags you could recycle for doggie-do use. Why not use the plastic bags that your groceries are packed in. I think I read once that a good way to pick up the poo is to put your hand in the bag and pick it up (with the bag between the poop and your hand), then turn inside out and the poop is in the bag and never touched your hand. Those kinds of bags are larger but who cares.
I do think it's a great idea that dog owners are responsible for cleaning up after their dogs in public. We have a pooper scooper law in our town; however I still occasionally see an irresponsible dog owner letting their dog poop on our lawn and they do nothing about it. (02/19/2009)

By Debbie52
RE: Use Newspaper Plastic Bags for Doggie Doo Bags
We had a litter born on November 14th of 08 and I had to keep them in the house. I learned real quick that the fold down sandwich bags are the best. You get about 150 for $1.00 at Dollar General and other places. Just put your hand in the bag (like a glove) and pick up, then twist and throw away. I would say ENJOY but we are talking about dog poo (02/19/2009)

By BluHeelerz
RE: Use Newspaper Plastic Bags for Doggie Doo Bags
I, too, use the bags the newspaper comes in to pick up doggie doo. They are perfect for the job, nice and strong, long and narrow so you can tie the top in a knot after use. (03/24/2009)

By Marfette
RE: Use Newspaper Plastic Bags for Doggie Doo Bags
I was already using bread bags and the foldover sandwich baggies. Then I started saving used sandwich bags/ziplocs that would be thrown out anyway. I just collect them in a leftover cereal bag held closed with a chip clip.
(03/24/2009)

You know those bags that your newspaper comes in? Here are some tips for other uses.
Recycle the plastic bags your newspapers come in by reusing them to pick up dog poop. I no longer get the paper everyday, so I asked my neighbors if I can recycle theirs. I now read the paper online and save both trees and plastic.
By Bonnie from CA
Feedback:
RE: Use Newspaper Plastic Bags for Doggie Doo Bags
The newspaper is thrown on my driveway from the delivery person's car and the plastic bag usually has holes in it from the impact. I try to recycle the bags by using them to hold used coffee grounds or wet tea bags so my garbage doesn't leak. Those bags are inadequate for my doggie needs. I have a large dog so I need large bags to clean up after her. I use plastic grocery bags for that.
(06/21/2010)

By OliveOyl