This is picture of our dog, Megan. She is approximately 2 years old. She is a Doberman that we rescued from http://www.Petfinders.org. She just loves to run and play (especially in the snow).
She loves (or really, my husband and I love) to sneak up in the middle of the night and jump in bed with us. When she is under the covers, it feels like we have a little organic heater in bed.

Megan hiding under our bed...look at that nub of a tail
Again, Megan hiding but the mosaic effect was applied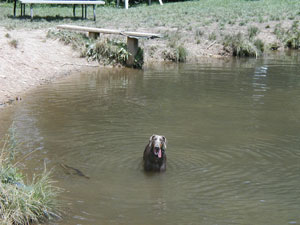 Megan . . her first swim . . happiest ever
She's is great!
By krischicki