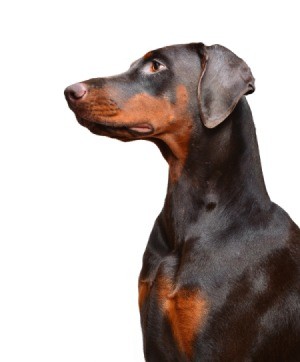 Breed Description:
The Doberman Pinscher is a medium-sized dog with an elegant, sculpted line and a sleek, powerful physique. A born guard dog, the Doberman breed has long been known for his legendary loyalty and superior intelligence and is often used in police work or to protect property. This breed possesses great speed, strength and stamina.
Group: Working group.
Purpose of Breed: Guard dog
Country of Origin: Germany.
Average Size: Ranges from 24-28 inches depending on sex and weighs between 66-88 pounds.
Color(s): Black, brown, blue and fawn with well-defined rust-colored markings on the head, body and legs.
Coat Type: This breed's coat is short, thick and lays flat against the body.
Grooming: Care for the Doberman's coat is minimal. The coat should be brushed once per week and checked regularly for skin diseases. This breed requires standard care for eyes, ears, pads and nails.
Exercise Needs: The Doberman can make an excellent house dog if given lots of daily exercise and mental stimulation. Due to this breed's energetic and dominating nature, they should be exercised on a lead and live in a home with a fenced yard.
Temperament: The Doberman is intelligent and makes a faithful companion and protector of home and family. Although his ability to guard has earned him a fierce reputation for aggression, that trait has been somewhat softened though responsible breeding. When properly trained and handled, this breed is very trustworthy with children, friends and family and makes a loyal companion. Doberman's have a domineering nature and early obedience training and socializations is a must. The Doberman owner should be confident, calm and assertive.
Common Ailments: Susceptible to Wobblers Syndrome and cardiomyopathy.
Life Expectancy: Averages 10-12 years
Trivia: A life-size bronze sculpture of a Doberman entitled, "Always Faithful," is located in the war dog cemetery at the U.S. navel base in Orote Point in Guam.
More Information: Doberman Pinscher Club of America