Miniature Pinscher Breed Information and Photos
Photos
Share on ThriftyFunCheck out these photos. Click at right to share your own photo in this guide.
September 24, 2009
6

found this helpful
Rowdy is 5 months old. We think he is a Mini Pinchi. We got him in March of 2009, from a co-worker. He likes to run in the grass, fetch, walks and eat followed by long naps. We were tole he was a chihuahua, he is 5 months old and 14 lbs.
By Nancy from Irvine, CA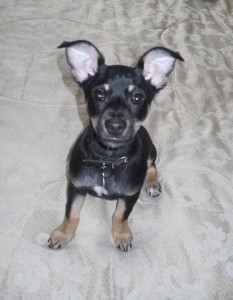 Ranger is a 10 year old Miniature Doberman Pincher (Min Pin). He got us about 3 months ago. He belonged to a friend of ours who didn't take proper care of him. I guess Ranger decided he wanted structure in his life, so he jumped into the car and refused to get out. He just wanted a normal home with structure and stability.
He loves going for rides in the car and to the park. He is a great dog. His nickname is Skippy because he is very light on his feet.
By famousamos1206 from Wilmington, DE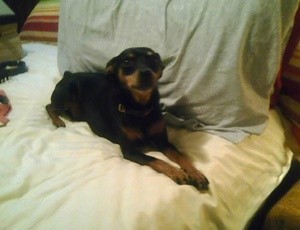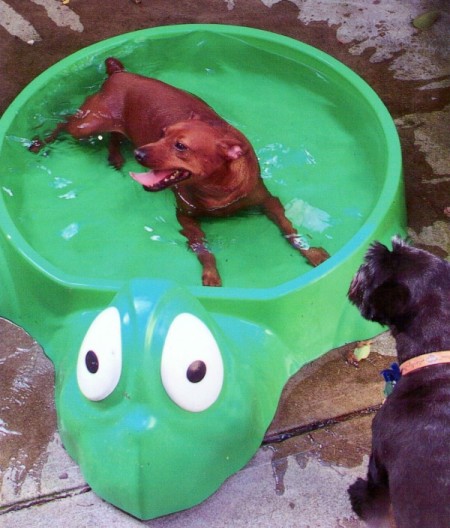 Your Pet's Age
11
Your Pet's Breed
Min Pin
How and when did you get your pet?
We found him at a rescue facility; he came from an abusive puppy mill.
What does your pet like to do for fun?
Cool off in his pool. He used to come inside and splash in the water bowl until we got him this pool.
Do you have anything else to share about your pet?
He is very vocal and has an internal clock regarding treat and dinner time. If we "forget", he is sure to remind us what time it is.
Raven is 5 years old and is a Miniature Pinscher. We got her from a family member we have had her for 2 years.

She likes to play with my 9 and 12 year old boys. She is such a joy to have, she loves to lay on the boys' beds with them and she loves to sit on people's laps.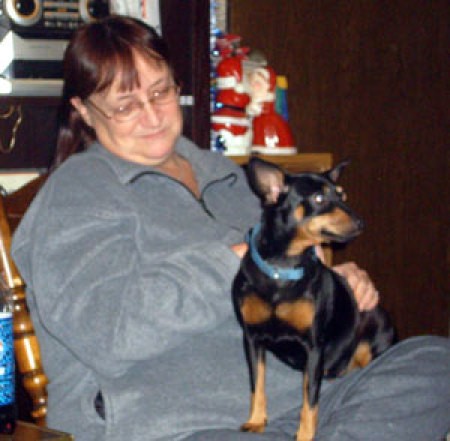 Taz is a 4 year old Miniature Pinscher. I got Taz when he was 8 weeks old.
Taz likes to sleep on anything warm. I have to fight for my heating pad. He can find his way into a laundry basket with the warm laundry from the dryer.
Taz has survived an attack from a pair of mean dogs when he was a year old. He hung on until we got him to the vet. He had a collapsed lung, broken ribs and required 17 stitches. He made a full recovery. Thanks goodness for modern medicine.
By Joyce M. from Mesa, AZ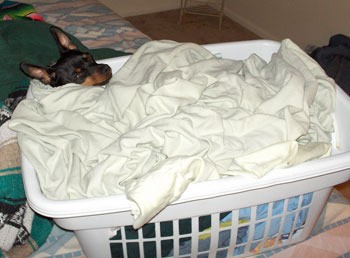 Mercedes is 14 years young and is a Miniature Pincher
Ten years ago someone brought her back to the pet shop I worked at and said they didn't want her anymore. Look at that face and tell me nobody loves her!
Her favorite thing to do is she loves to sleep on Clifford, the Big Red Dog. She's a love and has been a good "Mommy" to all her litters.
By Laurie from East Freetown, MA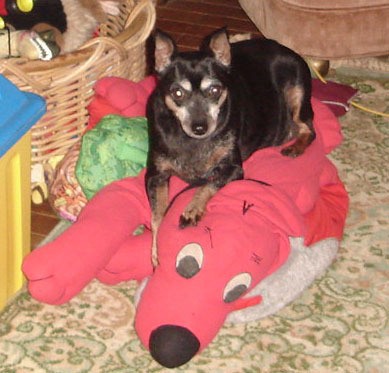 I got Max when he was 8 weeks old. A friend gave him to me because she couldn't take care of him.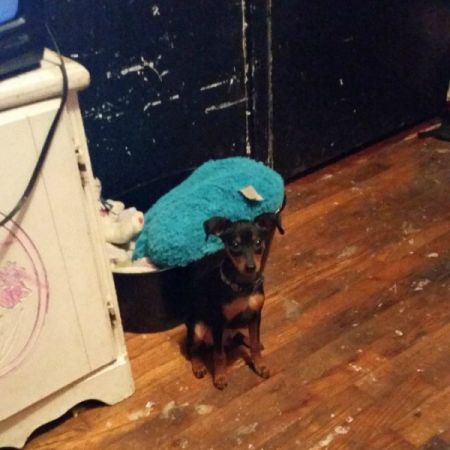 Related Content