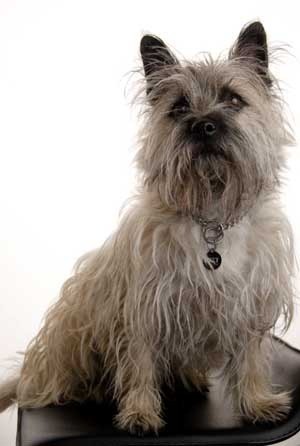 Breed Description:
The Cairn Terrier dog breed has a compact and strong body with a water-resistant coat and a fox-like expression. Hardy, active and game, it is an effective watch dog. The Cairn Terrier is also very affectionate and makes a good family dog.
Group: Terrier group
Purpose of Breed: Hunting badgers and rats
Country of Origin: Scotland.
Average Size: Dogs range from 10 -13 inches and 14-18 pounds. Bitches range from 9-12 inches and 13-17 pounds.
Color(s): All colors except white
Coat Type: Cairn Terriers have a weather-resistant double coat consisting of a harsh outer coat and a soft undercoat. Regular weekly brushing is required.
Grooming: This breed's coat is relatively easy to maintain. Coats should be groomed 1-2 hours per week to keep them in good form.. This breed requires standard care for eyes, ears, and pads. Clip nails regularly to keep them from becoming ingrown.
Exercise Needs: Cairn Terriers adapt well to apartment living so long as they receive adequate amounts of exercise and attention.
Temperament: The Cairn Terrier is a self-assured, intelligent and quick to learn. This is an alert dog breed that makes a good watchdog. Affectionate and loving, the Cairn Terrier is a wonderful and patient companion to children. This breed has an independent nature and early obedience is recommended to establish who is in charge. Consistent leadership coupled with positive reinforcement work best. Cairns will bark and misbehave if not given the proper attention and training.
Common Ailments: Susceptible to allergies, obesity, dislocating kneecaps and hereditary eye problems.
Life Expectancy: Averages 12-15 years.
Trivia: "Toto," the Cairn Terrier featured in the classic movie, "The Wizard From Oz," was not a male, but a female named "Terry."
More Information: Cairn Terrier Club of America