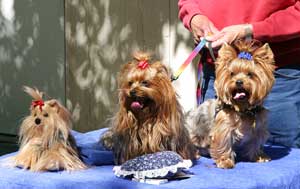 Group: Toy Group
Purpose of Breed: Hunting rats
Country of Origin: Great Britain
Average Size: Around 9 inches and up to 7 pounds.
Color(s): Steel blue and tan
Coat Type: The coat is shiny, soft, long and nearly perfectly straight.
Grooming: The Yorkshire Terrier's coat requires daily brushing and bathing once per month. The long hair over the eyes can be pinned up or clipped to avoid irritating the eyes. Dogs intended for show need special grooming. This breed requires standard care for eyes, ears, pads and nails. Teeth should be examined and cleaned regularly.
Exercise Needs: Yorkshire Terriers need only a moderate amount of exercise and make excellent apartment dogs.
Temperament: The Yorkshire Terrier is an active, intelligent little dog that is affectionate toward its owners and game for every family activity. Blessed with a dynamic personality, this breed sees itself as a "big dog in a little body." Yorkies are suitable dogs for the elderly and for homes with older children, as they dislike rough play. Loving and faithful, the dainty Yorkshire Terrier makes an ideal travel companion and playful family pet.
Common Ailments: Susceptible to eye irritations, tracheal collapse, premature dental disease and patellar luxation
Life Expectancy: The expected life span of the Yorkshire Terrier is 14-16 years.
Trivia: Newborn Yorkshire Terrier puppies are black when born.
More Information: Yorkshire Terrier Club of America, Inc.