My 6 month old Yorkshire terrier has been very difficult to housebreak. She goes to the bathroom outside 3 times a day, but is "sneaking" pottying in a couple of places in the house. There are puppy pads in a designated part of the house, but she will only use them if she's confined there most of the day. How can I remove the odor (so she doesn't want to go there anymore) and how can I get her to stop pottying indoors unless it is on her puppy pads?

Frustrated from MO
Answers
By Robin (Guest Post)
September 13, 2006
0

found this helpful
Best Answer
For one thing, only going out 3 times a day is just not enough for any dog. Try taking the dog out very often! Also, check with your vet to make sure your puppy doesn't have some kind of bladder infection or problem.
By Tanya (Guest Post)
September 20, 2006
1

found this helpful
Best Answer
You will need to kennel train this dog, most likely. May I recommend a book called "How To Be Your Dog's Best Friend" written by The Monks of New Skete, who breed and train German Shepherds? They include instructions on how to kennel train.
As for the stains, always clean as thoroughly as you can. If it is urine on carpet, you will need to purchase a shop vac that sucks liquids. Suck up as much urine as you can, then pour warm water on the spot and immediately suck up again, repeating until the urine is sufficiently diluted and as much removed as possible.
Spray or sprinkle an enzyme product (available at pet stores by the gallon such as Nature's Miracle) and rub into the carpet. cover with a clean cloth until dry. The enzymes will help remove any residue.
Always apply enzymes to carpet where your pet goes at once, even poop. We had 3 large breed dogs at one time, all house dogs, and when we had an accident it was a BIG one. Yet we have never had a "doggy" odor in our home.
By Andrea (Guest Post)
January 7, 2007
0

found this helpful
Best Answer
I've only had my Yorkie for 2 weeks now. The first week was very overwhelming, but persistence pays off. She is now starting to scratch at the door when she needs to go.
We started by crate-training. We would immediately take her out of the crate and straight outside and repeat the command "Go Potty". Then we would praise her.
We constantly watched her when she was free for any signs of sniffing and then bring her outside. We crate her whenever we are too busy to watch her.
She still has accidents, but far and few between. When she does have an accident, we don't scold her. We just carry her outside and tell her Go Potty.
It is a lot of work, but it beats the alternative of cleaning her messes. Be patient, be consistent and take them out frequently and repeat the same commands and praises. Good luck!
By Tasha (Guest Post)
April 6, 2007
0

found this helpful
Best Answer
I have an 11 week Yorkie puppy and he is definitely a handful when it comes to potty training. I keep him in a play pen rather than a crate during the day when I'm at work and at night when I'm sleeping. I put a wee pad in the play pen and if he can't hold his bladder he will go on the pad.
As soon as I get home, I take him straight outside and then every hour after that, just so he gets the hang of peeing outside.
It really seems to be working and he actually likes the play pen. He does not cry or whine when in there. I also put a stuffed animal and a small dog blanket in there with him.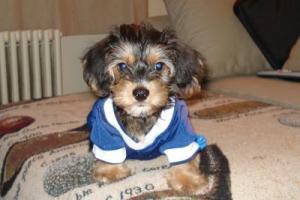 By Natspats (Guest Post)
April 28, 2008
1

found this helpful
Best Answer
I have been reading all your responses. You will not train a Yorkie without a crate and constant (and I mean constant) supervision. These animals are small and need to go more frequently than you would expect. The thing about rubbing their face in it is that it doesn't bother them! They would be more likely to just eat it up (gross but true).
When crate training you need a crate small enough that there is only enough room to lie down, stand up, and turn around. If there is too much room in your crate they will poop and pee in a corner as long as they can lay down not be directly on it. You can block off a portion of the crate if it is too big.
Next you are supposed to leave them in the crate when you aren't watching him or her like a hawk. Take him out every two hours, if he doesn't pee right, try playing with him fervently for 10 minutes inside. Tire him out, give him a drink and take him back out.
They always want to go when they wake up, after they eat, and after they play. If your pup seems to have a favorite spot to sneak off to try putting their food bowl there, dogs don't like to eat where they expel. If you catch them mid stream, grab them and put them on paper or outside to finish.
Everytime they do it in the right spot have a good treat, and in the wrong spot, say no, give them a light pat on the butt and show them the right place.
I know people think crate training is cruel (because they don't get played with as much or get free roam of the house), but as soon as they seem to catch on in one or two weeks you can use the crate less frequently. Only revert back to it as punishment.
By the way, fixing your dog can help because males are very sexual and love to "spray." And there is no such thing as a teacup Yorkie. The kennel clubs of Canada and the US do not recognize the breed. All they are is the result of breeding the most sickly, scrawny, and unhealthy Yorkies.
By JulieAnne (Guest Post)
September 12, 2008
1

found this helpful
Best Answer
My Yorkie is four now, but we have been together since he was just seven weeks old. He has been tricky to house train and peed up curtains, table legs, and bed pillows. However, he is much better now. We have the occasional slip up, but that's usually our fault. The thing is he needs walking. He hates to poop in the garden and will only do so as a last resort if he is not walked. It seems from this forum, those of us who have had the best success at potty training, walk our Yorkies. Just an observation.
March 9, 2010
1

found this helpful
Best Answer
I have a 13 week old Yorkie (Eevee) and I keep her in a travel playpen. I have her bed and food on one side and her newspaper in a puppy litter box on the other side. She always uses her newspaper to potty. When I bring her out I only allow her to be in the room we are in which is usually the living room. I bring her puppy litter box out and I point to it every time and tell her to potty. If I notice her smelling around I point to it and say "potty" and she will go in it and potty. I say, "Good girl, yay!" I give her broken up honey nut Cheerios and she loves them.
If I have to leave the room or have to go somewhere she goes back into her playpen. She is doing very well. She has had a couple accidents and I tell her "no" and put her back in her playpen for timeout. I know some people don't like the idea of an indoor potty, but I live in Illinois and it is too cold to take her outside. If she gets a chill she can get hypoglycemic. It's not worth the chance, when it gets warm here I will get her to potty outside.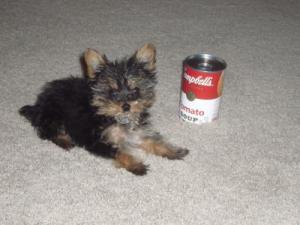 March 30, 2010
1

found this helpful
Best Answer
I have successfully managed to house break my male Yorkshire Terrier.
He also has full run of the apartment except the bedroom and by providing him with lots of toys and things to chew on I can honestly say he's only chewed on a couple of items and when scolded he has listened.
It's about consistency when you are home.
If you catch them mid piddle on the floor pick them up and place them on the pee pad, then use the pee pad to soak up the dribble and of course wash the floor with the scent killer natural stuff or vinegar and water. Always reward when they go properly.
I had a few pee pads set up in the house for when he was tiny and finally ended up with just one in the bathroom and one near the outside door.
I started watching him when I was home for when he drank and ate and when I saw him going to the pad I'd pick him up take him to the door and let him walk outside, telling him to go poo poo and pee pee.
I always provide a treat when he goes and make a big fuss of it with lots of hugs and kisses.
Weekends are a good time to make big changes if like me you are at work during the day. He also loves going for big walks and freely poops and pees outdoors with no problem at all.
I have removed all pee pads from my home now and he is waiting until I get home. I love him to pieces and I think from what I'm reading have been gifted with a lovely wee boy.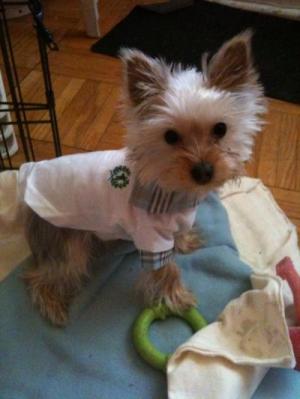 Answer

this Question

...
I have two Yorkies. One is 4 years old. I've had him since he was 8 weeks; potty training was easy. The girl who is 8 yrs. old was given to me a month ago. She pees in the house in front of the front door or at the back door even after being taken out the same amount of times as my other dog what should I do?
By Josephine Brown G. from Bmt, TX
Answers
April 18, 2013
0

found this helpful
Have you had her to the vet? She might have a UTI or bladder infection, or prolapse (if she has whelped one or more litters).
If the vet check shows she's physically ok, then she's still going through re-homing adjustment, try to be patient and treat her as though she is a puppy you are house-training for the first time.
Since she's a small dog, you might want to think about using puppy pads at her 'accident points' until training and re-homing adjustment is completed. Your vet will have lots of good tips to offer as well.
Poor thing, eight years old and having to go through re-homing, it can't be easy on her. Please update on her progress, and I hope you'll include a picture of her and her new friend (your established Yorkie).
Answer

this Question

...
I have a 10 month old Toy Yorkshire, and the only problem is he pees all over the place. I tried the mats but that doesn't really work. I try taking him outside but he doesn't do anything. I would like some help to keep my little baby peeing in right place. If anyone has some suggestions, please share them.

Thank you,
Carina from Fall River, MA

Answers:
Keep At It
Well, that tiny little fella must have a bladder the size of a pea (no pun intended). Whenever I took my dog out, I repeated over and over "go potty" and when she finally did I praised, hugged and kissed to let her know that she did a good job. Then, I gave her a cookie when she came in.
Well, she now goes potty on demand, when I say the words, "go potty". But, unfortunately, she also ALWAYS wants a cookie when she comes in. I did the usual, let her out when she woke up, after meals, before bedtime, but also after playing I noticed she would always go on the floor, so I would rush her outside then too. She was 8 months old before she finally caught on, maybe your cutie will catch on soon too. Good luck!

By Paula
Reinforce the Behavior You Want
I read the other posts and I totally agree with them. My dogs go pee on "request" when I say "go potty". I used a crate to manage their times so that I would get optimal response to my "go potty" request. If you have never put your baby in a crate he will cry and yelp. You have got to go let him out of the crate when he is not crying to get out. Training animals is reinforcing the behavior you want, and ignoring the behavior you don't want. Usually it takes about 3 days of crate training before they "get" it. You won't let them out until they are quiet. Then work on the "go potty".

By Donna
"Do Your Business"
Cinthia and Donna are right about relieving on command. The crate is a good thing. Dogs have a natural denning instinct and terriers orginally were bred to go-to-ground. Just don't get a crate that's too big. Think "cosy/den", it should be just big enough stand up, turn around, stretchout a little. No water or food in there, just a blanket (if he doesn't chew) and a toy for amusement. Don't leave him in there for endless hours at a time. Dogs will not usually soil their beds or crates unless they are ill.

When you rub your dog's nose in "it" you are really teaching him to relieved in a hidden place and you will only find it when it starts to smell. I have two German Shepherds that are complete house-dogs and our command is "do your business". My dogs would die before they would relieve inside. After you have established a routine with your dog, watch the time, take him out regularly and watch his body language for signs he needs to "go". Your dog is darling.

By Ruth Counter
Don't Put Your Dog's Nose In It!
To those who push their dog's face in urine and feces to punish them for accidents: Please stop!

This does nothing positive! This does not train the dog to stop the behavior. This isn't even a form of training, it's just plain wrong. Doing this to a pet will cause the dog to become stressed and will actually cause the dog to be afraid to do it's 'business'. It will actually delay proper housebreaking and without proper training, your dog will continue this behavior.

I know that people do this to their dogs because they probably learned it from someone else but it's not an acceptable way to train in ANY form. There isn't a training school in the nation that teaches to rub a dogs face in feces.

If you catch the dog in the act, give him the "NO" correction and quickly take him outside and let him finish. Watch him and when he does his business, praise him lavishly. Timing is essential. Don't wait until you both are back in the house. Be patient! If your dog isn't getting the message right away, start all over with housebreaking from the very start using little bits of food treats. When the dog does his business outside, praise him and give him a food treat. A small food treat. Be sure to designate a place in the yard for this so he will be sure to return time and time again.