My 5 year old female Maltese, that was previously house trained, has started to soil all over the house. We think it is because we got a male Maltese puppy at Christmas. We thought it would be good for her as she was very motherly with her toys and has never had a litter, but apparently she doesn't like him.
How can we stop her from doing that and go back to be the good dog she once was? We are taking her out all the time, there are people with her all the time. She has access to the yard, but she does it inside. Obviously it is a protest, what can I do to save my house?
By Sybille Betancourt from Houston, TX
Answers
February 23, 2011
0

found this helpful
Best Answer
People can be with a dog all day long, but is the dog getting personal attention time? It's jealous of the pup taking over her domain; she's been the only one and now it's different. She doesn't approve. To curtail the jealousy, see that your older dog gets lavish attention poured on her so she doesn't feel she's been pushed to the bottom of the totem pole.
It does take time and patience for the new kid on the block to be accepted; eventually it will. But jealousy is in a lot of dogs and I'd find ways to help stop the jealousy which is a form of insecurity.
February 25, 2011
0

found this helpful
Best Answer
Thanks so much for your answers. I do think she is acting out of jelousy and I have been given her more attention, like ultra more, and gone on walks only us two, seems to be what she needed, the last couple of days she has been doing better. It also probably wasn't good that at the same time we got Maxi we had to put her on a diet as she is 4 lbs overweight, and of course now she is not getting table scraps, and all the treats she used to get, and probably she thinks is because of him.
Her whole world has changed, but this weekend I will make sure she gets tons of attention and retrain her without leaving the puppy out of the attention he needs. The diapers did not work, she just was in heat and she peed in her diaper every single time.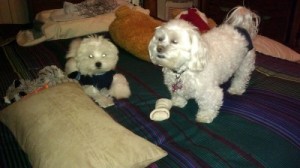 February 26, 2011
0

found this helpful
Best Answer
I watched an episode on dog whisperer and he said that when bringing in a new dog or puppy to the house that for the first day only give the older dog the attention and minimal attention to the new dog. I know it sounds hard to do but it's what would happen in a pack of dogs and makes it easier on the older dog.
Then after a day or two of this give both of them equal attention. We did this with our new chihuahua and it worked like a charm. Everyone accepted him and we have harmony in the house. :)
Answer

this Question

...
I have two male dogs and they are house trained. A week ago I got a female dog. Now my boys are peeing in my house. Why?
Answers
June 15, 2017
0

found this helpful
Best Answer
Well, since it started after you introduced the female dog it seems this is the cause and so you can rule out any health related problem.
You do not give the ages of the male dogs or the new female dog and sometimes even this difference can affect the behavior of the dogs and make them feel their territory is being threatened.
I assume the two male dogs have been spayed(?) but has the female been neutered? If not, this is another trigger to upset your males (even spayed males). Is the new dog a "cutie" and is getting most of the attention the males usually get? Could be another trigger. Has the male dog's time outside been adjusted or changed? Another trigger.
I think you can see there are probably things/changes that have happened that could set them off and cause them to do things they have not been doing.
I believe one of the first things a trainer will say is "Do not scold or punish the dogs" and second would be to try and return the household schedule back to the way it was before and make changes gradually. They do also recommend keeping the dogs apart for several days (when possible).
Thoroughly cleaning the urine affected area is of tremendous importance as the dogs "smell" is better than ours will ever be. A quote from a trainer: "Scent elimination. It is important to remove the scent of previous urine marks with a good enzymatic cleaner. Camouflaging the odor with another scent is not effective. An enzymatic cleaner can help neutralize the scent to prevent recurrences of the behavior."
Here is a link to an excellent article on this subject.
Answer

this Question

...