House Trained Dog Pooping Inside
Questions
Ask a QuestionHere are the questions asked by community members. Read on to see the answers provided by the ThriftyFun community or ask a new question.
My Chihuahua Yorkie breed is trained to go outside, but he continues to poop on the beds in the house. It's not just one, it's all three beds that I have. Also his hair is falling out by his bum area, but it feels as if it was shaved but it wasn't.
Answers
January 29, 2017
0

found this helpful
Best Answer
Sometimes this is a sign of anxiety. If your schedule has changed and you work more hours, the dog may miss you. If a dog relieves himself in your bed, he is looking for the human scent to comfort him.
It could also be as simple as the bed is more comfortable than going outside, where it could be too hot, too cold, or raining.
Answer

this Question

...
September 19, 2012
0

found this helpful
I have a wiener dog who is about 5 years old. He never use to go potty in the house except for very rarely. For about 6 months now every few days he will go in the house. I will let him outside along with my other dog many many times during the day and night. We have had both dogs for over a year and they are both adult dogs. They play together and everything so I don't think that it's any problem with the other dog.
I will let the dogs outside and leave them be out there for 20 minutes to a half hour, sometimes longer. Both dogs have had free range of the house until recently. We have gotten a kennel for the wiener dog. He goes in his kennel only when he is naughty, otherwise we allow him to go all over the basement and kitchen (no carpeted areas). They get let out at about 8am and every 2-3 hours during the day and the last time at night is around 2-3am. He doesn't do it at night. Just during the day when we are all home. Sometimes he will go out and come in and within 10 minutes he goes on the carpet.
I don't know what to do. I have tried all the potty training tips that I have used on all my other animals. I give him lots of praise when he goes outside, along with treats. I don't think that it's a medical issue because it's not just pee or poop, it's both sometimes. I'm debating on getting rid of the dog because I can't get him to stop. Please help!
By Amanda
Answers
September 21, 2012
0

found this helpful
Best Answer
I imagine you are talking about a Weimaraner and this sudden out of character behaviour can certainly need Veterinary advise. And do you mean they are "crated" and let out to run in a basement because no mention is said about out side in the back-yard? The poor animal could have any number of medical issues that can cause this and the only person qualified to answer this is your Veterinarian.
Answer

this Question

...
My 11 month old Yorkie, Minnie, is pad trained in the house since winters are too rough on her; she can't take the cold. Lately she has been leaving her poop either on my couch or bed. I don't understand why she all of a sudden started doing this. She would pee no problem on the pad, but never poop on the same pad. So I have been trying to train her to poop on the same pad or a different one, but just pad training to pee on the pad took a long long time and just this week she pooped twice on the couch where I sit a lot and once on the my bed. She does sleep with me in my bed, but had never done this ever before! Why is she doing this?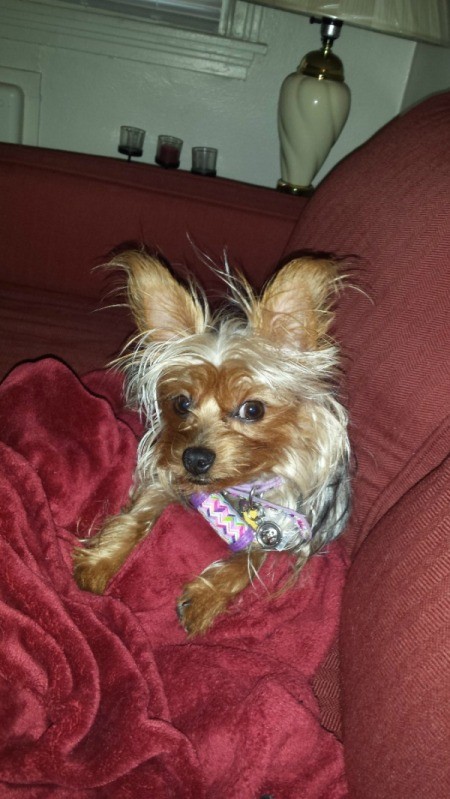 Answers
February 27, 2017
0

found this helpful
Best Answer
You may have to go back to crate training her, or else make a point of training her to not do it.
Unless something happened in your home to make her upset, or unless she is sudeenly ill (vet would check for that) most likely what happened is one day she just did it, it seemed easier, she received no feedback from you that it was inappropriate, and the habit stuck.
The thing to do would be to catch her in the act, and with a firm but gentle voice startle her out of it (such as by saying NO!) and then quickly take her to the pad where you want her to defecate.
When she successfully completes the poo, give her praise and a treat.
Answer

this Question

...
October 4, 2012
0

found this helpful
My nearly 4 year old Labrador who has been fully house trained for years now has suddenly decided to poo (3 times!) and wee in the kitchen when I had gone to bed. He is acting normal apart from the obvious and I haven't changed his diet, and cannot begin to think why he has done this. Can anyone help me please?
By Katie
Answers
January 24, 2014
0

found this helpful
Best Answer
This is happening because most dogs suffer from seperation anxiety because to the dog you are a member of its pack so it wants to be with you all the time so its best if you let the dog sleep in the same room as you.
Answer

this Question

...
June 8, 2012
0

found this helpful
I have a three year old Shih Tzu, who is potty trained with full access to the backyard all day. It has been over a couple of months since she started to pee and poo around the house. At first the accidents would happen when we would leave her door closed or when it would be raining, and she would do only on the carpet. This week, she began going on the tile, that she has never done before. I don't know what is going on with her, sometimes I think she needs to be reminded of who is the boss.
Another thing is that I am pregnant, and I wonder if she senses that and somehow is reacting to the soon to be here new member of the pack.
Please help. I'm thinking about going back to square one of the training with her, leaving her crated while at work, giving some tough love, etc. Am I on the right path?
By Roberta from Austin, TX
Answers
June 9, 2012
0

found this helpful
Best Answer
Housebreaking can be so frustrating, and it's not a once and done deal. Take your dog to the vet to be sure it's not a urinary infection. If everything tests clear, then yes, go back to square one with housebreaking. Crate when you're not home, limited access to the house when you can supervise, and ample opportunities to potty outside. Good luck!
Answer

this Question

...
April 1, 2012
0

found this helpful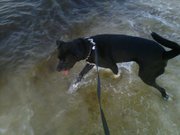 I recently moved and brought my 7-8 year old Lab/Pit mix with me. He has been moved a few times before and has never had this problem. About a week or so after moving he started peeing and pooping in the house. I corrected him with a spanking and making sure he went on even longer walks in the mornings and evenings, because that is his routine.
He stopped for a week or 2 and then I decided to get a kitten and now it's worse than before. I can walk him and 15 minutes later if I don't watch him 24/7 he will pee or poop in the same spots in my living room. I have tried changing his feeding routine, longer walks, and cleaning the carpets, and now he has to be confined to a bathroom when we leave and I don't like it =( Anyone please help me figure it out.
By Andy
Answers
April 3, 2012
0

found this helpful
Best Answer
First of all, spanking a dog after the fact never does any good. They don't understand why you are hitting them. They don't associate going to the bathroom with corporal punishment and it only makes them more fearful - exactly what you don't want to happen.
It could be that there was a dog inside your new house that peed everywhere and now that your dog is in the space, he is trying to get rid of that scent by replacing it with his own. Again, all "normal" dog behaviors. Adding a cat just made the urge to stake out his territory even stronger.
You should try to clean the carpets and any places he goes with a good cleaner that breaks down the enzymes in the urine so all traces of smell are removed. Good idea about the longer walks - the will certainly help. Also, when he does potty outside, praise him big time "Good boy! Good boy go potty!" so he starts to understand peeing/pooping outside is pleasing to you. You might even have to involve treats at first.
And, as frugalsunnie said, make sure to get him checked out by a vet to eliminate any medical conditions like UTI.
Good luck - don't give up on him - he is worth it!
Answer

this Question

...
My dog is potty-trained and does really good, the only thing is when I take him out right before we retire for the night, he simply will not poop, no matter how long we sit out there or how many times I take him out to try. Then, in the morning, I'll find poop on the carpet. How do I fix this problem? What can I do? Thank you!
By Stacey Silva from Eagle Mountain, UT
Answers
July 19, 2011
0

found this helpful
Best Answer
You could regulate feeding time earlier in the day, so the dog can empty before the end of the day OR take the dog on a long walk of an evening. This helps to get things moving and the dog may well empty before your journey has ended. We take our dogs around our field and they love the evening walk and do all their business before going back into the house for the night. Good luck.
Answer

this Question

...
I have a 11 year old female golden Lab, who over the last few months has been urinating and pooping in the house. This is since my daughter has moved back in the house with her boyfriend and baby. Could this be psychological or her age? What can we do?
By Chris from Chicago, IL
Answers
January 27, 2011
0

found this helpful
Best Answer
It could be stress related for the dog especially at the age it is. Also, just a coincidence maybe that a health issue is present near the same time the household change took place. I'd check with a vet just in case.
Answer

this Question

...
I have a 2 month old puppy that is being potty trained, so naturally he has accidents inside the house. I dog sit my aunts 3 year old dog once in a while and he is house trained, he sits at the door and barks when he wants to go out side to do his business. Now this is the first time I had the 3 year old with my new puppy and as soon as he walked in the house he started peeing everywhere, which I expected, but what I didn't expect what that he started pooping inside too. So what I want to know is if the older dog is pooping inside because of the puppy or not?
Answers
August 18, 2016
0

found this helpful
Best Answer
Yeah, it is. This is territorial behavior. I think it's important to let him know this is really unacceptable. Clap your hands loudly, say No! and take him out.
I would also suggest taking both dogs out to poop and pee together and for walks together. Get them on the same "team," so to speak. Dogs are pack animals and should get used to each other quickly.
Answer

this Question

...
Related Content