So we have this Jackchi who will be 4 years old in April. We found him over a year ago and he has been a perfect dog since day one. He doesn't bark and he's fully potty trained. He has lived with both me and my boyfriend at both houses for a while and have never had a problem with his potty. He knows how to alert us even if we are sleeping and in the worst of times has even been content and held in his urge to potty to only once or twice a day really quick in the back yard.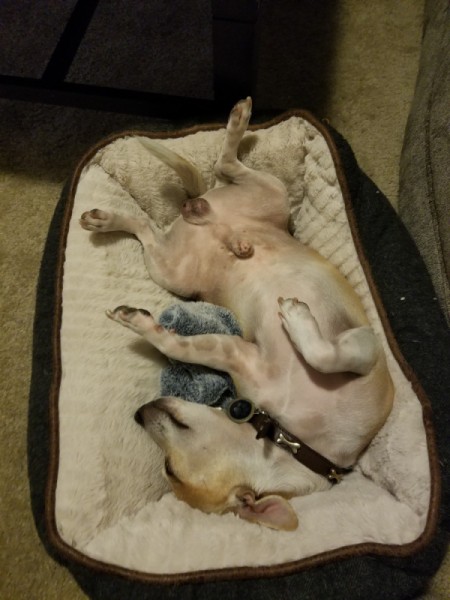 Beginning of November my boyfriend and I moved in together in our own house. The first time he peed and pooped in the house we figured, oh okay it's a new house he doesn't realize this is his home yet and that he doesn't need to do that and that he can go out whenever he wants. We also had just put up a Christmas tree which is where he peed, and pooped just across from it.
But then he peed in our room where we all sleep every night. We ended up putting him in his cage when he sleeps (still in our room right next to me in our bed) at night, but stopped doing it unless we knew we where going to be extra tired and sleep in too long. He seemed to be better and realize it's his home.
Today I took him out because he kept going to the door. I waited on the porch for him to be ready to come in and when he came to me I picked him up and took him in the bathroom to wipe him off because he got a drop of pee on his paw. Then I let him down and went into the kitchen and reheated some food. The kitchen is one of the only places he is not allowed to go in and that has always been a rule in every house, So it's not new. But when I finished making my food it dropped (D:) and I looked away from him to clean it up for a mere minute. When I got back up I smelled poop and he was just sitting there looking like nothing's wrong. I haven't changed his food or anything.
This was legit not even two minutes after he came in from going potty. And even more concerning is that he usually looks guilty when he does something bad, like even if we don't know about it he will try sucking up to us and cuddling us to make us not mad at whatever it is. What am I doing wrong?
I'm home full time so he gets to go out whenever he wants and he's not neglected. I just don't understand why he went from this perfect dog to a rebellious little boy. Any ideas? Also, yes he is not neutered, but that has never been an issue either. He's a very healthy little doggo, and the poop was near the hallway entrance where he is daily not in a place he's not allowed. We reprimand him by saying "no" and "bad" and putting him in a time out so he knows it's wrong.