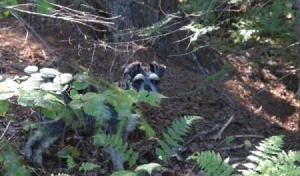 I have a 16 month old male, neutered Schnauzer. He is house trained. He never goes upstairs in the house, but he sneaks out of my sight and goes down to the rec room and pees and poops down there always in the same spot. He goes to the far end of the room and goes just in front of the far wall.
We spend a lot of time at my boyfriend's house and he never does it while we are there, but as soon as I come home he does it again.
He is fed on a schedule and taken out and walked on a schedule and it's the same schedule here as at my boyfriend's house. He has been vet checked and is healthy. It's not necessarily when I go out that he does it. He just randomly sneaks downstairs and goes.
The only thought I have is that my adult son lives with me and his bedroom is in the basement. He is not home much between working and being at his girlfriend's and when he does come home he doesn't really pay much attention to the dog (even though the dog loves him to death) and I'm wondering if the peeing and pooping is an intentional thing to protest my son not being home or not giving him enough attention.
Does anyone have any suggestions? He has ruined my carpet downstairs and I'd really like to correct this before I get new carpet. I've done all the retaining stuff and it didn't make any difference. He knows to go outside and always does, but this behavior in the house has to stop.
Suggestions please!
Thanks for your time!