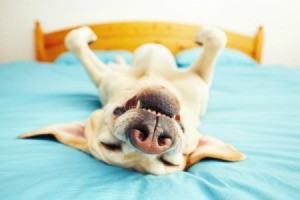 I have a 8 year old Chihuahua that has just started pooping in my bed at night. It is as if she sleeps so soundly she doesn't know that she does it. Why is she just now doing this and how do I stop it?
By Sharon
Answers

Lizzyanny
Bronze Feedback Medal for All Time! 226 Feedbacks
September 2, 2011
0

found this helpful
Best Answer
You should consider that her food may not agree with her. Perhaps try a new brand. You could feed her at a different time than you currently do, and be sure to walk her before bed. If this doesn't get the job done, I would see the Vet for a checkup.

September 4, 2011
0

found this helpful
Best Answer
I agree with Lizzyanny. When your dog is a puppy, you feed them puppy food, then adult food and now she's older., senior food. Or homemade for sensitive tummies. Lighten up on night time feeding also. Most important, see the vet.
petlover
Bronze Feedback Medal for All Time! 128 Feedbacks
September 6, 2011
0

found this helpful
Best Answer
I find that my dogs go to the toilet not long after their main meal, so I feed them their dinner at 4pm in the afternoon.
Answer

this Question

As soon has I leave the room for 5 minutes I come back to pee and poop on my bed. He does that even if he has gone out. I can't take it. What can I do?
Answers

poehere
Bronze Post Medal for All Time! 105 Posts
December 3, 2019
1

found this helpful
Best Answer
I understand the pain you are going through and it is horrible when this one happens. I had to break my puppy of this and it was not so easy. When the dog did pee and poop on the bed I moved the cloes to the outside and put the dog there with the soiled clothes. The next morning I would put an extra sheet over the top of my bed and spray the sheet with pure vinegar mixed with some lime juice.
The dog hates this smell and they do not pee or poop around it. It took me a few days to break the dog but it did work. Moving the soiled clothes outside and putting the dog next to them teaches them that is where they need to go to the toilet and not on your bed. Also keep your bedroom door closed when you are not in the room and if you leave the room make sure the dog is not in the room.

Lizzyanny
Bronze Feedback Medal for All Time! 226 Feedbacks
December 4, 2019
0

found this helpful
Best Answer
It sounds like your dog may be anxious. Besides daily training things that lower his anxiety may help. Be sure he gets daily exercise. If you enjoy it most dogs love agility training. Otherwise a walk is great. Pay attention to tension in your household. We get used to it but pets can be on edge because of it.
Do what your can to lower it. Make sure your dog has safe chew toys to keep him busy. It is always good to start with a Vet visit to rule out any physical issues. If If these efforts and some careful training dont help you can see your Vet for medicine that lowers anxiety levels.
Answer

this Question

I have 3 dogs. Two I've had for four years, and one I've had for 11 years. My neutered dog has never relieved himself in the house in the 4 years I've had him. Friday when I came home from work and he had peed on my bed. Monday I came home from work, and he had pooped on my bed. Why is this happening and how can I correct it?
By Amy from Berlin Heights, OH
Answers

February 23, 2011
1

found this helpful
Dear Amy you might look at something that might have up set your dog. We had a cat that always used the litter box until my son got married his new wife didn't like the cat and threw things at her.
The cat then started peeing on the rug in her bathroom. But when shut out of her area the cat always used the litter box. Cats and dogs can be vengeful.

Myrna
Bronze Feedback Medal for All Time! 168 Feedbacks
February 23, 2011
0

found this helpful
The easiest solution is to shut the bedroom door or put a gate across it to keep animals off the bed while you're gone. No fun working all day and then coming home to soiled bedding needing changed and a mattress needing scrubbed.
Have you considered covering your mattress with plastic to keep it from being ruined? Or buy one of those large plastic liner pads and apread over the top of the bed to keep the bed dry and cleaner if you don't like the first option.

Sherri
Bronze Feedback Medal for All Time! 180 Feedbacks
February 23, 2011
0

found this helpful
Hello, Please take your baby to his Veterinarian for am exam. There might be a medical issue that is causing this to happen.

April 4, 2015
0

found this helpful
I have a 3 year old Belgian Malinois. He has always been perfect when we have left him alone... until about 8 months ago. We left him on Christmas for about 9 hours. We came home to a pile of poo on our bed. Today, we left him only for 3 hours - same thing... a big pile of poo. I think it is both revenge poo and separation anxiety poo...whatever it is, it is very, very annoying and disconcerting. We come home from the car show, only to have my wife have to put new bedding on, etc. What we are going to do from now on is leave him in his crate. Period...we have never had to do with this a dog.
He likes his crate, however...it's never been a "punishment" thing. In fact, he goes in it on his own a lot. He slept in until he was a year and a half because we had a 20 year old cat- and, although he would never hurt her, he was too young, active and rambunctious to leave him out with her at night. Our only other option is to block him out of our bedroom and see if he will poo somewhere else when we leave him. If he does, in the crate he will go. SMH.. it's sad, cause he does not destroy anything when he is left alone, but this behavior is not acceptable!

June 19, 2015
0

found this helpful
I have a 5 year old boxer. We crate him and he breaks out. I know this sounds crazy but we latched 2 latches put a lock on there and 3 zip ties and within 2 hours he was out and covered in blood from hurting himself getting out. We also shut the door in the room he was in and he ate completely through the door and we crate him cause he poops in the beds every chance he gets. He drives me insane I have 4 kids so he gets all the attention he could want. I'm ready to get rid of him but I know there isn't anyone else that would put up with it.
We fence our hole back yard in and he jumps the fence. It's super high so he runs climbs half way up and jumps it. We put a collar and tie cord on him to run so he ate thru it. We tried a shock collar thing for around the yard turned on high and he ran through it anyways. We put him outside and within a small.amount of time he ate through the hold back door getring inside.
One day he ate through the front door and when we came home he was standing in the road he had ate the door and got the screen door open. He is a all white blue eyed full blooded boxer. Do boxer act out like this. He listens better than the kids do we say lay down he will. Stay he will. Speak stop and whatever else but the minute we are gone or asleep it's all over. We love him and want to keep him but are at our whits end with him. What else to do any help would be great?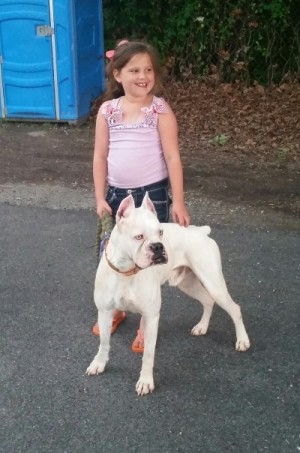 Read More

Answers
Why is my dog pooping in my bed? She's a 5 month old Chihuahua. She's litter boxed trained and when it's warm enough to go outside, she will. But, it has been extremely cold out lately, so she hasn't been outside.
Read More...