February 23, 2011
0

found this helpful
Dear Amy you might look at something that might have up set your dog. We had a cat that always used the litter box until my son got married his new wife didn't like the cat and threw things at her. The cat then started peeing on the rug in her bathroom. But when shut out of her area the cat always used the litter box. Cats and dogs can be vengeful.
February 23, 2011
0

found this helpful
The easiest solution is to shut the bedroom door or put a gate across it to keep animals off the bed while you're gone. No fun working all day and then coming home to soiled bedding needing changed and a mattress needing scrubbed.
Have you considered covering your mattress with plastic to keep it from being ruined? Or buy one of those large plastic liner pads and apread over the top of the bed to keep the bed dry and cleaner if you don't like the first option.
February 23, 2011
0

found this helpful
Hello, Please take your baby to his Veterinarian for am exam. There might be a medical issue that is causing this to happen.
April 4, 2015
0

found this helpful
I have a 3 year old Belgian Malinois. He has always been perfect when we have left him alone... until about 8 months ago. We left him on Christmas for about 9 hours. We came home to a pile of poo on our bed. Today, we left him only for 3 hours - same thing... a big pile of poo. I think it is both revenge poo and separation anxiety poo...whatever it is, it is very, very annoying and disconcerting. We come home from the car show, only to have my wife have to put new bedding on, etc. What we are going to do from now on is leave him in his crate. Period...we have never had to do with this a dog.
He likes his crate, however...it's never been a "punishment" thing. In fact, he goes in it on his own a lot. He slept in until he was a year and a half because we had a 20 year old cat- and, although he would never hurt her, he was too young, active and rambunctious to leave him out with her at night. Our only other option is to block him out of our bedroom and see if he will poo somewhere else when we leave him. If he does, in the crate he will go. SMH.. it's sad, cause he does not destroy anything when he is left alone, but this behavior is not acceptable!
August 28, 2016
0

found this helpful
It sounds like your baby has severe separation anxiety. Has anyone ever advised you that 9 hours is far too long to leave a dog on their own? Its no wonder the poor thing had an accident. Can you imagine having to hold your bowels for that long?? Even worse if they're in a crate.
Could you not set up a cordoned off area with a bed/food/water etc like a utility room? At least that way the damage is limited. If you are leaving the animal regularly for more than a couple of hours I would strongly advise having a friend or neighbour check on him, it is not fair to leave them that long.
July 20, 2019
0

found this helpful
I think he needs to be exercised more he has pent-up energy too!! Does he get to go for a nice long walks or runs every day? We have a GSP, German shorthair pointer, high energy sports dog, and she needs to be run every day multiple times, or she has way too much energy and will just run laps through the house!!
June 19, 2015
0

found this helpful
I have a 5 year old boxer. We crate him and he breaks out. I know this sounds crazy but we latched 2 latches put a lock on there and 3 zip ties and within 2 hours he was out and covered in blood from hurting himself getting out. We also shut the door in the room he was in and he ate completely through the door and we crate him cause he poops in the beds every chance he gets. He drives me insane I have 4 kids so he gets all the attention he could want. I'm ready to get rid of him but I know there isn't anyone else that would put up with it.
We fence our hole back yard in and he jumps the fence. It's super high so he runs climbs half way up and jumps it. We put a collar and tie cord on him to run so he ate thru it. We tried a shock collar thing for around the yard turned on high and he ran through it anyways. We put him outside and within a small.amount of time he ate through the hold back door getring inside.
One day he ate through the front door and when we came home he was standing in the road he had ate the door and got the screen door open. He is a all white blue eyed full blooded boxer. Do boxer act out like this. He listens better than the kids do we say lay down he will. Stay he will. Speak stop and whatever else but the minute we are gone or asleep it's all over. We love him and want to keep him but are at our whits end with him. What else to do any help would be great?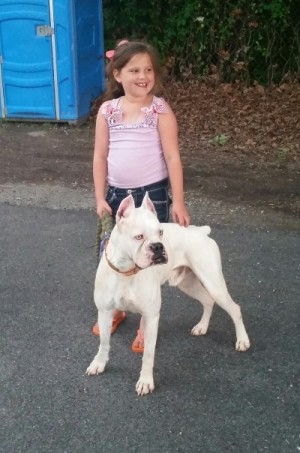 April 14, 2018
0

found this helpful
I'm sorry, but I've left my dogs for entire days and they never did this. I don't believe that's negligent. I was never able, however to leave one single dog alone for even an hour without some signs of anxiety being displayed.
Most places don't allow dogs, so if it's not a puppy you'd need to be able to somehow trust that you can have the dog, and be ok to leave the dog. I would call a professional trainer and see if they have dealt with this in the past?