My dog is 14. Five years ago, she tore both her hocks one at a time. She is now peeing on everything in the house, even herself when she is laying down. She does it inside and out. She also has a very hard time getting up. I brought her to the vet and all she did is give me Gabapentin. She said it's for her arthritis. She is also now having bowel movements in the house. All she does is sleep 90% of the time or just stares into space.
She always faces away from me. (My husband passed in March and she always clung to him). I am wondering if she is in pain? Is it time for her to go? I asked the vet and no response. She used to play with the other dog even if it was just a couple of minutes but hasn't done that in a while. Any ideas would help.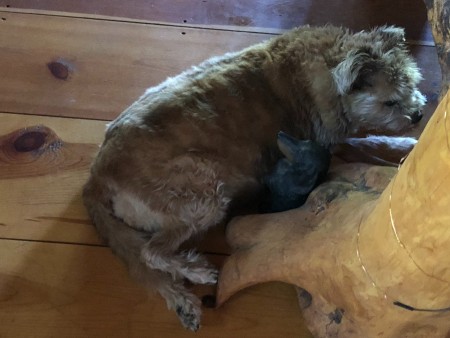 Iceskater
Silver Answer Medal for All Time! 320 Answers
October 18, 2021
3

found this helpful
Best Answer
First, my condolences for the loss of your husband.
A decision to euthanize a pet is indeed so difficult. I'm offering my thoughts from experience and a place of empathy only; I'm not a vet or a professional in that community.
One way to look at this is preventing further distress and pain to your dog; at age 14, and with these symptoms, recovery to a good quality of life (bowel control, exercise, enjoyment) appears unlikely. It is rare for dogs to "pass on quietly in their sleep", so my belief is that it's our obligation to help noble companions over the Rainbow Bridge.
Wishing you light and love.

DianaHM
Bronze Post Medal for 2021. 31 Posts
October 18, 2021
3

found this helpful
Best Answer
It's expected for old dogs to move a little slower as they age. At this stage, it is normal for your dog to spend more time sleeping and to respond more slowly when roused. Report excessive sluggishness or sleepiness to your veterinarian, as some illnesses can cause these signs.
Don't be surprised if your dog starts to have accidents in the house. Your veterinarian can help you determine if such events are the result of a medical condition. Your dog should have a warm, well-cushioned place to sleep. There are beds available that are designed especially for older dogs with orthopedic problems, and there are even pads and diapers to help with incontinence.
Another cause of behavior changes can be pain, which can make your dog more reclusive or aggressive. Other common signs of pain include excessive panting, reluctance to move and suddenly being picky about food. Consult your veterinarian. Even if she can't cure the underlying cause of the pain, there are many ways to make your dog more comfortable.
Check with your veterinarian about your dog's diet. In addition to being less active, many dogs at this age begin to develop digestive issues, kidney problems and other conditions that can benefit from diet modification. Only your veterinarian can accurately assess your dog's needs.
As your dog ages, take her to the veterinarian at least twice a year for a complete geriatric workup.
Go easy on your elderly dog. Continue to play with her to stimulate her, and review routine expectations and commands. Don't take it personally if she seems unresponsive. She may be developing physical or cognitive difficulties that make it harder for her to remember commands or even places and appropriate behavior. Be gentle with her.