February 16, 2015
1

found this helpful
My Lulu, a Japanese Spritz is potty trained and recently has been pooping and peeing sometimes at home. We bought her 3 weeks ago and she recently started sneezing and peeing inside. What should I do?
By Diana from Ghazieh, Lebanon
Answers
February 17, 2015
0

found this helpful
Best Answer
I have some questions here. You say she is certainly potty trained, yet you only bought her three weeks ago. What is your guarantee she is potty trained?
Was the dog in a kennel, a store or in a person's home when you bought her?
I would suggest you act as if her house training was incomplete and continue her training just like you would a puppy.
February 18, 2015
0

found this helpful
Best Answer
Potty training is not complete until a dog is about a year old. Keep working with her and I am sure she will improve. Take her to the Vet to check out the sneezing. Make sure she has had her vaccinations.
Answer

this Question

...
I have a 4 year old track rescued Greyhound. She has been a challenge since we got her (her sister is fine). For about 8 months she did really well, then recently started peeing in the house on occasion again. We have a neighbor coming in to let both dogs out midday, and we limit the water intake, yet 3 times this month she peed.
It is in the same spot all the time even though we use Nature's Miracle to clean it up. It is not a medical issue, and seems to happen if we are home after 6pm. Is she afraid of the dark? We are getting frustrated trying to figure out what she is thinking. Any thoughts?
By Sally from Allentown, PA
Answers
February 7, 2011
0

found this helpful
Try leaving the TV or radio on for human voices and music. It comforts them and makes it feel like someone is at home.
February 13, 2011
0

found this helpful
These are high energy dogs. If you don't have a bicycle, get one and get her out the door quick, before she pees and get her out for some good exercise. She needs this. It's good for both of you.
February 17, 2011
0

found this helpful
Actually, greyhounds are very low-energy dogs. Even when they are at the track, they are housed in crates for 20 or more hours a day, and race only twice a week, for about 30 seconds at a time. Greyhounds are the ultimate couch potatoes, and do just fine with potty walks 3 or 4 times a day, and perhaps a couple of longer walks a week.
While many enjoy an occasional run in a fenced area, they do not "have" to run to be happy. They love long naps on soft cushy beds and couches!As far as the peeing goes, mine does that too!
I have found it's better when I keep him on a strict schedule (walks and feedings at the same time every day), but am frustrated as well.
February 25, 2011
0

found this helpful
I have had that problem with both of my dogs at times. Clean the spot & if you have a child's gate put it up so that the dog can't return to that spot for 2 - 3 weeks minimum. If a gate is not possible, whatever you do, do not use a rug, but sit something on the spot when it dries to keep the dogs away from it. I know that this sounds like a lot of trouble but it will give your carpet time to get the smell out and keep the dogs from going back to that spot because that is exactly what they will do. I know the gate is an inconvenience, but it works!
You can also use some the urine smell removal products, on and around the spot and the gate or whatever you use to cover the spot. It is also helpful in speeding up the process. The products range in prices from low to very expensive. Arm and Hammer makes a couple of good products that are not expensive and work ok. Believe me I have had my dogs for 4 yrs & have used this procedure 4 or 5 times, with a 100 percent success rate. Also make sure your pets are actually going to the bathroom when you take them outside. My dogs will go out on the porch but if they get spooked they may not get off the porch to go bathroom, so when I let them out I go with and get them excited about going outside.
I normally give them a small treat when they come back in if they behave well. Small treats are great for training even the most stubborn dogs. On stormy days it is a little tough, but I put on a rain coat and take my dogs out when the rain slacks off. I sometimes have to carry my smaller dog to an area under the trees where it is hardly raining at all. I always make sure I have puppy pads down on stormy days because both dogs are scared of thunder and if it storms all day it is very hard to get in 4 or 5 walks. Sometimes our animals may frustrate us but if we love them we must take the time to work with them and make sure they get enough love, exercise and outside time. I have put a picture of my smaller dog with this feedback.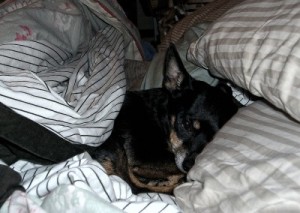 September 17, 2012
0

found this helpful
Thank you for this site. My 4 year old house-trained Shih Tzu just started peeing all over the place. Little puddles in the kitchen, little spots on the family room carpet... Tuesday she peed on the sofa back, where she sits to watch TV with me, and then the topper, while laying on my stomach Thursday, she looked up at me and let go.....and a wet warm sensation covered my Tshirt and shorts!
I knew there was something wrong and I found this site. Someone reported "Diabetes," someone else "urinary tract infection," then there was "bladder infection," and "21 kidney stones".
Let me tell you what my vet found. ,After hearing our story, she says "well her bladder is nice and firm the way it's supposed to be. Let's put her on anti-biotics and see if she has a urinary tract infection. If she's not better in 2 weeks, we can do an x-ray and see if something else is going on."
I said "She's here, how much is the x-ray?" Vet "$150" I said "let's do it now so we can rule it out" She does the x-ray and and comes back "Good Call...3/4 of her Bladder is full of a Stone the size of a quarter!"
Her bladder is only the size of a Golf ball when empty! Vet says "she can't control her bladder, and thinks it is full all the time because of the massive stone!" Baby girl has surgery Wednesday to remove the stone $800!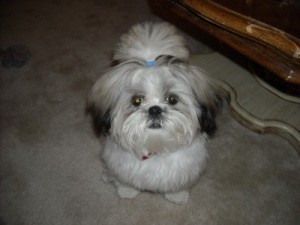 December 5, 2012
0

found this helpful
Our 5 year old labrador started peeing in the kitchen floor 6 weeks after we moved house. She does it in one particular spot and only if the kitchen door is left opened over night. Her bed is in the kitchen.
It is annoying and it feels as she is doing it out of spite. I understand, many people would say "just keep kitchen doors closed", but it is stupid if kitchen gets puddle every night if the door wasn't closed!
After reading all the posts above I still cannot come up with a solution and feel our dear lovely doggy is trying to make a point that we can't understand...(( Please help!
Read More Answers
March 29, 2013
2

found this helpful
I have a 3 year old lab and and 1 year old Catahoula. Both are fully housebroken and have been for quite some time. Every day when I get home from work I immediately let them both out to use the bathroom and then run around and play together a while. When I was training them I would take them out on a leash and make them pee and poop before I would let them off to play so they know the order of how things need to work. Yesterday, about 30 minutes after I let them back in my Lab starting peeing on the floor. I stopped him and made him go outside to finish. He came back in and 30 minutes later did it again.
Tonight my husband and I were on one side of the house and both of our dogs were in the dining room laying on their beds. My husband walks into the room and again my Lab was peeing all over the floor. We get that cleaned and our Catahoula follows us to the bedroom jumps on the bed and pees all over it. It's large amounts of pee. They haven't been drinking more water than usual and I let them out to go out the same number of times as usual. What could be wrong?
By Jess B
Read More Answers
January 3, 2012
0

found this helpful
We (Tessa and I) have recently moved to Florida with my sister-in-law and their Beagle-Lab mix dog. My 4 year old Lab is peeing a significant amount of urine in the dining area lately, even when we are in the house! She has plenty of opportunity to go outside, has no issues with the other dog, no issues with potty training, and goes on daily walks. Any suggestions?

By Jennifer
Answers
January 4, 2012
0

found this helpful
Best Answer
Have you taken her to the vet? Usually when they do things they know you don't like, it's because they can't help it. How does she act when you find it or see her at it? Does she look ashamed? When my lab was doing this, she had an infection. Before doing anything else, I would have her checked out there.
As a side note, labs are known to be spirited and (I called mine psycho) spiteful. She might be jealous of the new dog and angry that now she's sharing attention with another dog. She chewed up my stuff when she thought I was slighting her. In that case, it's best to continue to reinforce that it is bad behavior so she knows you're unhappy with her when she does it. Eventually, she'll pick you over that.
Answer

this Question

...
December 6, 2011
0

found this helpful

I need some helpful tips and ideas on what to do with my dog! He's very attached to me and follows me everywhere. When I'm gone at work or just leave the house, he gets mad and pees on the corners of beds, couches, and on the floors. I live with my parents and sisters; this dog gets more attention and love than any other dog I have met.
When I'm not working I'm home and we go for car rides. I take him to Petsmart and play outside. Nothing I do is good enough for this dog and the peeing is getting worse, no matter how many times I let him out to use the bathroom. My family is sick of it and I don't wanna get rid of him. He's my baby, but if something doesn't change we're both going to be kicked out.
By Leslie
Answers
December 6, 2011
0

found this helpful
He needs professional dog training.
December 7, 2011
0

found this helpful
Crate train the dog.
When you go out put the dog in the kennel. When you come back, take him out to pee or poop. After a while of no accidents like this, you may be able to try it without kenneling him. Either way, this is the best solution so that you both don't have to be without each other.
December 7, 2011
0

found this helpful
We used to have this problem also..til we took our furbaby to the vet and he needed medication to control it, so your furbaby might be having problems and cant help what he is doing. We know by experience, so maybe a visit to the vet will help.
December 7, 2011
0

found this helpful
I agree with Lisa. Crate train him. I had this problem with my little dog when we moved the last time. He got so mad at me for not paying attention to him that he began pooping on my floor during the night. I work at home, so it's not like I wasn't with him always. I found that he'd become way too spoiled and had developed an entitlement mentality. So, I made life stricter for him. He no longer got his fluffy pillows and human scraps and other extra-nice things. I wasn't mean to him, but he lost a lot of privileges and even had to locked up at night. Then I weened him into being tied on his leash (inside) at night. Until, eventually, no more accidents and I could trust him again.
I know we love spoiling our puppies - But sometimes is spoils them. God bless you, your family, and your puppy. Hope this helps and wish you the best!
December 8, 2011
0

found this helpful
I'd take him to the vet because there may be a reason for this. I don't see how dog training has anything to do with peering in the house. Just my opinion.
December 11, 2011
0

found this helpful
First, make sure there isn't an underlying medical condition. Then, if there isn't, you should try to watch some episodes of "the Dog Whisperer", or get his book from the library/store & practice what he preaches.
It sounds like the biggest problem is you are treating him like a baby & creating so much anxiety in him that he can't stand it when you leave him. The more you do this, the worse he's going to get & it's not fair to him or anybody else.
You can still love him, and show him how not to be so anxious when you aren't around.
Crate training isn't a bad idea either. If you do it the right way, it becomes a soothing sanctuary that he feels safe in.
December 13, 2011
0

found this helpful
Interesting that my Cesar Milan (dog whisperer) newsletter this week deals with separation anxiety. Here is the link to part 1 of his video on the subject, then you'll find a link to the part 2 video here also. Hope it helps your poor confused baby.
Answer

this Question

...
August 4, 2013
0

found this helpful
We got our 2 year old Chiweenie last year from a high kill shelter that didn't know what he had previously been through. He's proven to be very attached to my mother and I, but scared of my stepfather and younger brother.
When we first got him, he was trained to bark when he had to go, and to go on a pad, when we we're not home or at night when we're asleep and can't let him out. The last month or so, after getting a job with my mother and working at the same time always, we've been coming home to pee and poop on the floor and him hiding under the couch because he knows it was bad.
Generally, we put his nose close to the pee and put him on his leash outside for a while to show that he's done wrong. He does this every night, and we have no idea how to solve this problem. My mother and stepfather get very upset when he does it. I believe it is either a medical problem or that he is hiding under the couch from being afraid of my stepfather and brother. and when he comes out he can't hold it and just goes, even if there is a puppy pad out, which there always is. Even if he isn't hiding, he won't let my stepfather or brother close enough to get him to let him out and he most definitely won't go to the door so they can let him out.
He's hardly ever left alone, but he only does it when my mother and I are not here. Is there any way we can solve this problem without having to change our schedules? I really can't afford changing my schedule considering we really need the money right now. They're talking about getting rid of him because they're sick of him doing it. I really love this dog and I don't want to have to get rid of him. What can I do?
By Briana B.
Read More Answers
I have a 3 year male dog and two females They are all house dogs. They are trained to go outside. The male is neutered, but he pees on everything in the house when we are not looking. He has ruined so much furniture. Please help me. I am tired of cleaning up his pee.
By JB from Cincinnati, OH
Answers
February 16, 2010
0

found this helpful
I'm going to be called a hard hearted pet owner but I was having the same trouble with my female dog. After making sure she wasn't ill I decided she had to be an outside dog. I can't affors all new carpeting or furniture and didn't want my house to smell. Sorry but that's the way it is.
February 18, 2010
0

found this helpful
I have a female whom we adopted this past summer and the same problem. The best advice (that works) that I have gotten is: keep him on a leash attached to your belt at all times when in the house, ie: when you are doing stuff around the house. Do not let him wander, if you cannot keep him attached to you, then he goes in the kennel, or outside. If he does start to pee while on leash (mine hasn't), then you can immediately startle him, stopping the peeing, and take him to the appropriate 'pee spot', wait for him to pee, then reward with lavish praise. If he doesn't pee, back into the kennel, and then try again outside later at 1/2 hour increments.
As long as you are consistently walking your dog as well, this has worked for me. It is a pain sometimes, and I do feel bad kenneling her sometimes, but it is better than her 'marking' in my home! Good Luck, I feel your pain!! PS- Also, do your best to neutralize the urine smell around the house, although this is almost impossible where carpet (& padding) and upholstered furniture goes.
February 18, 2010
0

found this helpful
If he was trained to go outside and this is something new for him--off to the vet. Could be a bladder infection or something else going on with him.
Answer

this Question

...