February 7, 2011
0

found this helpful
Best Answer
Try leaving the TV or radio on for human voices and music. It comforts them and makes it feel like someone is at home.

February 17, 2011
1

found this helpful
Best Answer
Actually, greyhounds are very low-energy dogs. Even when they are at the track, they are housed in crates for 20 or more hours a day, and race only twice a week, for about 30 seconds at a time. Greyhounds are the ultimate couch potatoes, and do just fine with potty walks 3 or 4 times a day, and perhaps a couple of longer walks a week. While many enjoy an occasional run in a fenced area, they do not "have" to run to be happy.
They love long naps on soft cushy beds and couches!As far as the peeing goes, mine does that too!
I have found it's better when I keep him on a strict schedule (walks and feedings at the same time every day), but am frustrated as well.

August 24, 2019
0

found this helpful
But if you have a male dog they hike there leg to pee so it really doesnt work to put something in the spot they still manage to get it anyway

February 25, 2011
0

found this helpful
Best Answer
I have had that problem with both of my dogs at times. Clean the spot & if you have a child's gate put it up so that the dog can't return to that spot for 2 - 3 weeks minimum. If a gate is not possible, whatever you do, do not use a rug, but sit something on the spot when it dries to keep the dogs away from it. I know that this sounds like a lot of trouble but it will give your carpet time to get the smell out and keep the dogs from going back to that spot because that is exactly what they will do. I know the gate is an inconvenience, but it works!
You can also use some the urine smell removal products, on and around the spot and the gate or whatever you use to cover the spot. It is also helpful in speeding up the process. The products range in prices from low to very expensive. Arm and Hammer makes a couple of good products that are not expensive and work ok. Believe me I have had my dogs for 4 yrs & have used this procedure 4 or 5 times, with a 100 percent success rate. Also make sure your pets are actually going to the bathroom when you take them outside. My dogs will go out on the porch but if they get spooked they may not get off the porch to go bathroom, so when I let them out I go with and get them excited about going outside.
I normally give them a small treat when they come back in if they behave well. Small treats are great for training even the most stubborn dogs. On stormy days it is a little tough, but I put on a rain coat and take my dogs out when the rain slacks off. I sometimes have to carry my smaller dog to an area under the trees where it is hardly raining at all. I always make sure I have puppy pads down on stormy days because both dogs are scared of thunder and if it storms all day it is very hard to get in 4 or 5 walks. Sometimes our animals may frustrate us but if we love them we must take the time to work with them and make sure they get enough love, exercise and outside time. I have put a picture of my smaller dog with this feedback.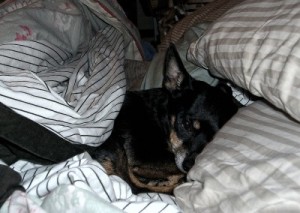 September 17, 2012
0

found this helpful
Best Answer
Thank you for this site. My 4 year old house-trained Shih Tzu just started peeing all over the place. Little puddles in the kitchen, little spots on the family room carpet... Tuesday she peed on the sofa back, where she sits to watch TV with me, and then the topper, while laying on my stomach Thursday, she looked up at me and let go.....and a wet warm sensation covered my Tshirt and shorts!
I knew there was something wrong and I found this site. Someone reported "Diabetes," someone else "urinary tract infection," then there was "bladder infection," and "21 kidney stones".
Let me tell you what my vet found. ,After hearing our story, she says "well her bladder is nice and firm the way it's supposed to be. Let's put her on anti-biotics and see if she has a urinary tract infection. If she's not better in 2 weeks, we can do an x-ray and see if something else is going on."
I said "She's here, how much is the x-ray?" Vet "$150" I said "let's do it now so we can rule it out" She does the x-ray and and comes back "Good Call...3/4 of her Bladder is full of a Stone the size of a quarter!"
Her bladder is only the size of a Golf ball when empty! Vet says "she can't control her bladder, and thinks it is full all the time because of the massive stone!" Baby girl has surgery Wednesday to remove the stone $800!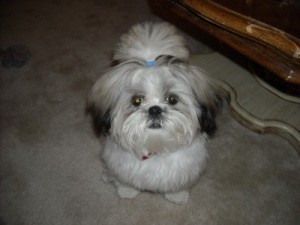 February 13, 2011
0

found this helpful
These are high energy dogs. If you don't have a bicycle, get one and get her out the door quick, before she pees and get her out for some good exercise. She needs this. It's good for both of you.
December 5, 2012
0

found this helpful
Our 5 year old labrador started peeing in the kitchen floor 6 weeks after we moved house. She does it in one particular spot and only if the kitchen door is left opened over night. Her bed is in the kitchen.
It is annoying and it feels as she is doing it out of spite. I understand, many people would say "just keep kitchen doors closed", but it is stupid if kitchen gets puddle every night if the door wasn't closed!
After reading all the posts above I still cannot come up with a solution and feel our dear lovely doggy is trying to make a point that we can't understand...(( Please help!