I have a 3 year old German Shepherd/Husky mix. The past few months she has been peeing in my bed, on the couch, on the floor, just as she lays there. It's not like anything is making her excited to do this. I'm calling the vet soon, but does anyone have any suggestions for me? She is fixed. I have never had a fixed female dog before, so I'm not sure if this is a side effect? Please help.
By Amanda from Saginaw, MI

Answers:
Dog Peeing Inside House
Dogs usually need to go to the bathroom several times a day. If you want the dog to pee outside then I've read you should take them out first thing in the morning, every day, and wait until they pee. When they do praise them for doing it. Do the same after lunch and again after dinner. The dog will learn that peeing outside is something he will be praised for and will continue to do it.

Once they are on a schedule they will usually hold it until the right time. However if you leave the house for a whole day and miss one of the times you might need to clean up a mess. My dogs seem to try really hard not to go inside, but if I need to leave them for a whole day I know it is my fault and not theirs that they had to go inside.
Once the dog is used to peeing outside you can scold them if you catch them doing it inside. If you see them in the act then you should say "NO" loudly. However, if you don't see it and find the pee later, you should never rub their nose in or anything like that. They just don't understand that kind of punishment.
(04/07/2009)

By Fletcher
Dog Peeing Inside House
My female started doing the same thing at around age 8. During her annual checkup I mentioned it to the vet. She said it was best to do some tests to rule out a bladder infection or problem with kidneys. After the test ruled out any disease we decided it was because she was getting up in age, and had always been a follower to her brother who had recently passed. She went when he went.
I started paying close attention to signs she was giving she needed to go out. There was a subtle change in her behavior that I was missing. Luckily we took in a foster dog whose owner had passed. That was the best thing we could have done for her. She is still a follower, only now she has someone new to follow. (04/07/2009)

By Peggy
Dog Peeing Inside House
Dogs do not pee where they sleep (like on your bed) unless there is a physical reason. Your dog is only 3 years old, so it can't be attributed to old age. My advice is to take her to the vet. (04/07/2009)

By Joy
Dog Peeing Inside House
My Beagle mix female started peeing in bed or on my couch when she was around 7 years old. She is now 10 1/2. I took her to the vet and he said a lot of times that females that have had babies will do this. She only did it in her sleep. He put her on Cystolamine and I haven't had a problem in 3 1/2 years. In fact, she can go 3 days or so without the medicine and not pee.
I know it embarrassed her because she would have this really sorry look on her face. Hope this helps. This is a picture of Maggie, yellow dog, that was peeing with one of her babies Nikki, that I kept, and the father, Pounder. (04/10/2009)

By Penny Stoehr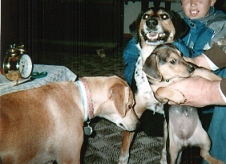 Dog Peeing Inside House
I have always had German Shepherds, and only females which I have desexed. (I have two which are spoiled rotten at the moment). I have never heard of this happening with any of my dogs, and they would rather burst than pee where they sleep, and certainly not on my bed. Mine will wait all night if they need to rather than do that. I would definitely take your dog to the vet, it maybe something that can be fixed with simple medication. (04/10/2009)
By Bujubaby
Dog Peeing Inside House
First, take your dog to the vet now. Secondly, you female spayed dog may have been spayed too young. It weakens their bladders, check her vet papers and see how old she was. To rid the smell of new or old urine in carpet, use full strength white vinegar, and saturate the area. Scrub with fresh cold water. Let dry and repeat. The vinegar smell will be gone as soon as the carpet dries. If you crate your dog, put the leash on her while she is still in the crate. Open your door, remove dog, and head outside immediately.

I cured my dog by blocking the area where she peed and let her have full run of the bathroom hall and my bedroom. They usually don't pee where they sleep, or when you are there. Crating is fine for dogs. They feel secure in the crate. Just don't leave them in it when you are home, awake, etc. But go to the vet for an examination for your dog. She is your best friend. (04/10/2009)
Dog Peeing Inside House
We had a dog who did that a few times, at around a year of age. It didn't occur to us that it was serious until one day she also defecated, so we rushed her to the vet. He said it was some sort of seizures, though the dog only lay there still, looking at us as she did it, so we'd not known. It only lasted a little bit, then she'd be acting normal afterward. That particular vet said our little dog would need a seizure med for life.
We later discontinued it on the advice of another vet, and she never had another one and lived to be 16 years old. It seemed to be some sort of thing that our particular dog grew out of, but you really should go see your vet. It may be something that can be helped easily with medication. (04/10/2009)

By Mary LaCaze
Dog Peeing Inside House
I would like to encourage every dog owner to watch the Dog Whisperer on The National Geographic Channel. He (Cesar Millan) has taught me so much critical information on having an emotionally balanced, calm submissive dog and you being a calm assertive pack leader.

I wish I had known what I know now, 16 years ago when I got my beloved furbaby.
Cesar emphasizes that dogs need walks every single day, even if they have access to a yard. He recommends at least 30 or 45 minutes daily.

Cesar also talks about finding something breed specific for your dog to do. Cesar also says give your dog exercise first, then rules, boundaries and limitations next, and then affection. There is so much more. Dog Whisperer is on many times a day and each episode is different, as is each dog. His info should be required for every dog adoption. (04/11/2009)

By Jan Yofee
Dog Peeing Inside House
We had a dog almost under the same circumstances. We took her to the vet and got this expensive and somewhat dangerous drug (DES) to stop it, and it worked. Then quite by chance we discovered that something in the canned food we were feeding her had been making her urinate uncontrollably, mostly when she was sleeping, so we changed the brand and it stopped completely. Change her food and see if that helps.

I was never so ashamed and angry at having given her those expensive needless pills over a period of two years when a simple diet change was all that was needed. Vets really are worthless sometimes.

Susan in Omaha (04/11/2009)

By Susan M.
Dog Peeing Inside House
Your dog could have Cushings disease. You can Google it to find out more details. It usually affects older dogs, but any dog can get it. I have a Shepherd/Chow spayed female, who never had any accidents. She started drinking and peeing a lot, sometimes in her bed, unknowingly. They can't control it. The vet can run tests to diagnose, and can treat it. You really need to see a vet, as it sounds medical, not behavioral. (04/13/2009)

By Tracey Moyer