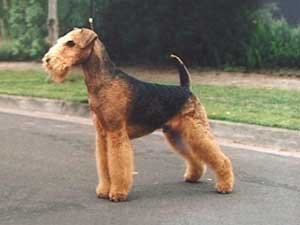 Breed Description:
The Airedale Terrier is the largest and hardiest of all the terrier breeds and a versatile all-around dog for hunting, obedience, agility, and companionship.
Group: Terrier Group
Purpose of Breed: Originally bred by Southern Yorkshire men for hunting fox, badgers, otters, and other game. They are also capable of tracking larger game like deer, wild boar, and bear.
Country of Origin: Great Britain in the 1800s
Average Size: 44-50 lbs and 22-24 inches tall (at shoulder)
Color(s): Airedales are usually tan in the legs, underbody, chest and head, with slightly darker tan ears. The sides and upper parts of their body are black or a dark grizzle. Some strains of Airedale Terriers also sport white markings on their chest.
Coat Type: The waterproof coat is stiff, dense, and wiry, but not bushy.
Grooming: The Airedale's rough, thick coat is relatively easy to maintain, but needs to be groomed and trimmed regularly to keep the dog from taking on a woolly appearance. Show dogs require professional grooming to emphasize breed standards. This breed requires standard care for eyes, ears, pads, and nails.
Exercise Needs: Airedale's require a lot of regular exercise and should have a fenced yard. They benefit greatly from twice daily exercise and enjoy playing Frisbee, fly ball, and the challenges presented by agility courses.
Temperament: Airedales are eager and responsive and highly adaptable. They make wonderful companions and are capable of learning and excelling at jobs other breeds are known for like hunting, agility-even search and rescue.
Common Ailments: Prone to hip dysplasia, eye problems, and eczema.
Life Expectancy: Averages 12-14 years.
Trivia: The Airedale breed has been a popular companion for many notable figures in history. United States presidents Wilson, Harding, and Coolidge all owned Airedales, as did actor John Wayne and author John Steinbeck.
More Information: Airedale Club of America
March 23, 2006
0

found this helpful
I've had three (wirehair) terriers who each presented different personalities (even the two from same litter), so perhaps your Airdale's dislike for other dogs is his own personality instead of the breeds'. (I'm curious: Have you noticed whether he tolerates other terriers better than non-terriers?) Two of my fox terriers show SIGNIFICANT "RESPECT" and tolerance for other terriers (any variety); it amazes me that they appear to be able to distinguish different breeds.
I am hoping someone will post paw-sitive training advice on (and how likely the possiblilty) how to turn the dislike into tolerance. My furkid is N-O-I-S-Y on the issue, making it next to impossible to "socialize" (also to obtain kennel admission!).
Terrier-ific springtime to you!