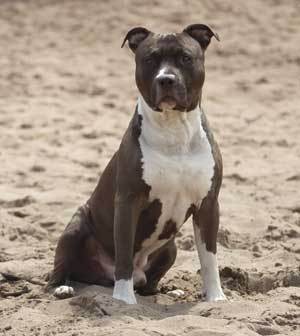 Breed Description:
The American Staffordshire Terrier is a stocky, well-built dog with a lot of strength, agility and grace for its smaller size. This breed is large-boned with a broad skull, short muzzle, powerful jaw and a muscular body and medium-long tapered tail.
Group: Terrier
Purpose of Breed: Originally bred for baiting bulls.
Country of Origin: United States
Average Size: 45-65 lbs and 16-19 inches tall
Color(s): Combinations of white, black, tan and liver.
Coat Type: The coat is short and sleek and stiff to the touch.
Grooming: This breed is an average shedder. The coat should be brushed regularly and periodically rubbed down with a soft cloth to keep it looking its best. This breed requires standard care for eyes, ears, pads and nails.
Exercise Needs: If given plenty of exercise, this breed is suitable for apartment living. This breed can become aggressive toward other dogs and should be kept on a leash when walked.
Temperament: When properly trained, this breed makes an excellent companion for children and adults, and an excellent guard dog. The American Staffordshire Terrier is loyal, and eager to please. It possesses an extraordinary amount of courage and is extremely protective of its owner. Because this breed was originally developed as a fighting dog, it can be aggressive towards other dogs. It can also be difficult to housebreak.
Common Ailments: Prone to hip dysplasia and hereditary cataracts.
Life Expectancy: Averages 10-12 years.
Trivia: This is the breed commonly referred to as Pit Bull. An American Staffordshire Terrier named Stubby was the most decorated dog of World War II, earning the rank of Sergeant.
More Information: Stafforshire Terrier Club of America