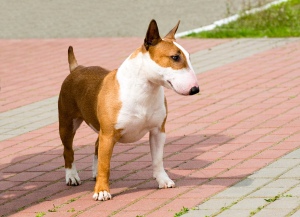 Breed Description:
The Bull Terrier is a small muscular dog with small, triangular eyes and thin, erect ears. Its most distinct physical characteristic is its long, oval-shaped head that is flat on top, then sloping down to the nose without stopping.
Group: Terrier Group
Purpose of Breed: Baiting Bulls
Country of Origin: Great Britain
Average Size: Average 45-60 pounds and 21-22 inches tall
Color(s): Colors include pure white, black, brindle, red, fawn and tri-color.
Coat Type: The Bull Terrier has a short, thick coat that is harsh to the touch with a fine gloss, and is an average shedder.
Grooming: The Bull Terrier is an average shedder and should be combed and rubbed down daily with a rubber glove to remove dead hair and keep the coat shiny. This breed requires standard care for eyes, ears, pads, and nails.
Exercise Needs: Bull Terriers need ample exercise to prevent boredom and obesity. They love to chase bulls and play, but they should be kept on a lead at all times in public to prevent possible fights with other dogs. An apartment or small yard is sufficient living space for the Bull Terrier, as long as they are well exercised.
Temperament: Bull Terriers are playful and obedient, but also sometimes rough and aggressive. They need firm training and should not be encouraged to become possessive or jealous. Energetic and fearless, they can become attached and protective of their owners and do not typically like sharing the house with other pets. Bull Terriers are not recommended around small children as they will not tolerate teasing. They do not prefer to be left alone and fit well into families where they can receive companionship and supervision.
Common Ailments: Puppies should be checked for deafness and are prone to sudden lameness during the first year. Mature dogs are susceptible to skin allergies.
Life Expectancy: Averages 11-12 years
Trivia: One of the best-known and most loved advertising trademarks featuring a dog is, "Nipper," known in the United States as the "RCA dog." Nipper started life in Bristol, England in 1884. He was a real dog-part Bull Terrier and part Fox Terrier. "Ariela," the puppy currently featured in many of Target's ad campaigns is also a Bull Terrier.
More Information: Bull Terrier Club of America