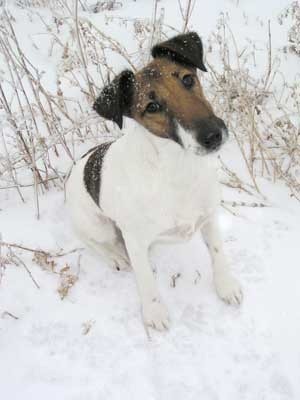 Breed Description:
Fox Terriers are short, compact dogs with long, sloping shoulders, deep chests and long, tapering muzzles. These small dogs are lively and alert and carry their distinctive, short tails in a gay, upright fashion. Originally used for flushing foxes, these terriers are now popular as house pets due to their loyalty and devotion and their skills as watchdogs.
Group: Terrier Group
Purpose of Breed: Flushing foxes
Country of Origin: England
Average Size: Around 15 1/2 inches and 16-18 pounds.
Color(s): Fox Terriers are predominantly white with patches of any color, but liver, red, or brindle are common.
Coat Type: The double coats are tight and either wiry or smooth, and very dense. The hair on the undercoat is fine.
Grooming: Fox Terriers need regular grooming-the wiry haired variety more so. They are average shedders. This breed requires standard care for eyes, ears, pads, and nails.
Exercise Needs: In general, Fox Terriers need a great deal of exercise to maintain their physical and mental well-being. They need to be kept on a lead when in public due to their strong desire to chase.
Temperament: Fox Terriers are energetic and upbeat breed. They are courageous and devoted and make excellent watchdogs. This breed is happiest when near its family and does not like to be left alone for long periods. Fox Terriers are hunters by nature and can be aggressive toward other dogs. Care should be taken with small family pets who may at times appear to them like prey. They should be exercised on a lead or in a safe, enclosed area.
Common Ailments: Susceptible to deafness, nasal drip, lens luxation, distichiasis, cataracts, Legg-Perthes, shoulder dislocation and skin problems.
Life Expectancy: 15 or more years.
Trivia: The Fox Terrier was originally bred to go to ground and harass a fox out of its hole. Their innate sense to dig comes out unless taught otherwise.
More Information: American Fox Terrier Club