Does car wax work on scratched mirrors?
By Schneider5 from Augusta, KS
Ad
---
By Amy Crowley 3 57 07/24/2009 Flag
No, it does not. The scratch is probably in the amalgam, the coating on the back of the mirror. There is a spray made to fix it, or at at least there was, and it is available in craft stores.
By Jerryrocks 1 1 12/10/2010 Flag
I accidentally scratched my mirror using an old razor blade to remove the wax price from the consignment store. I tried a bunch of different products including Windex, Maguire's Quick Detailer, and Leather Polish. I use Eagle One Wadding Polish on the frets of my guitars and thought, why not? Well, it worked great for me. You will need to use some elbow grease and stay with it, but the results are well worth the effort.
By LadyDeWinterBottom 1 09/18/2013 Flag
I have used silver car wax stick then buffed a pretty deep scratch from a mirror it's not at all noticeable. I have used T-cut on finer scratches with good results and I mixed some metallic silver powder with a drop of colour car wax on a really bad mirror which in my hallway doesn't show, but does if I hang in a bright room (with lots of natural light).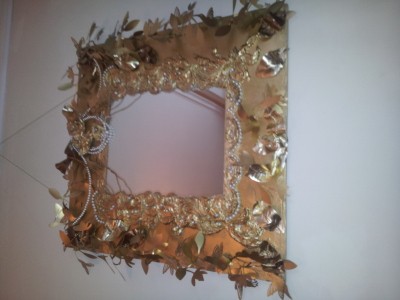 Archives
Thrifty Fun has been around so long that many of our pages have been reset several times. Archives are older versions of the page and the comments that were provided then.
Is there any product at all that can repair scratches on mirrors? I'm just sick: we just installed new mirrored doors on one of our closets; there were a couple of places where there were dirt marks just on the surface; glass cleaner and paper towels didn't do the job.
So I used a special scrubbing pad that is supposed to be safe to use on glass or mirrors, ha! Well it scratched my new mirrors. I checked at the hardware store and the clerk said there is nothing that will fix the scratches, but I thought I'd check with the ThriftyFun community before I give up.
Lynn from Chico, CA
Feedback:
RE: Repairing Scratches on Mirrors
Ask at an auto parts supply store for a product that can be used on windshields. Or, try at a windshield repair place. Either one may have a solution for you. (12/07/2007)

By Thrifty Me
RE: Repairing Scratches on Mirrors
Over here, we have a product called Brasso, it's especially for polishing brass objects. See if you can find a similar product over there. All you do is place a tiny dab on a soft cloth and use lots and lots of elbow grease rubbing out the scratches. It works as a fine buffer. It will take a lot of work and time, but will get rid of the scratches, as long as they aren't too deep. If they are, I say to get a new mirror. (12/07/2007)

By Cathy from Townsville, QLD
RE: Repairing Scratches on Mirrors
Yikes. I'd contact the scrubber manufacturer and tell them what happened. Maybe they can help you. There's also an eyeglass scratch remover that I've seen at Walgreen's and a dollar store. Might be worth a try. (12/09/2007)

By Jantoo
RE: Repairing Scratches on Mirrors
Maybe you could try clear nail polish. (01/23/2008)

By Mary