Craft: Fabric Sample Quilt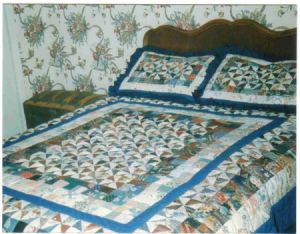 When I worked at a wallpaper store, periodically they would toss out outdated books and I would save the fabric samples. Eventually, I had enough to make a quilt and then bought enough of the navy fabric to finish it. I was lucky because my mother's quilt group at church quilted this for me for nothing. Nowadays, you can have someone machine quilt it for you. This particular block is called "Pinwheel"
Collect many scraps to do this quilt with a nice balance between light and dark. You can find many instructions online for assembling the quilt into a pinwheel block. After that, you just have to make enough to fit your particular bed and add some plain fabric for borders.
By Elaine from Belle Plaine, IA
Feedback
Read feedback for this post below. Click here to post feedback.

By
10/22/2012
This is so beautiful and such a great tip to share my friend...I wish I could sew then I would have a go at making one of these. :-)

By
10/21/2012
Hi Elaine,
I hope this finds you, and all here well. I used to work in a retirement home. A friend of mine told me about doing this 30 some years ago, when my daughter was a baby. She gave me some books of the fabric, and this dear resident in the home, put it together in a quilt for my daughter. It is gorgeous still.
Thank you for sharing this wonderful idea.
Take care.
Peace & Love,
Karen
By
10/12/2011
Absolutly stunning! Thanks for the ideas.

Once, when I was super broke, I asked the local hardware store if they would let me know when their wallpaper sample books were expired, and they gave me about 10 of them. I wallpapered my little shack and didn't even spend a dime!

Samples rock!
Post Feedback
Add your voice to the conversation.
Related Guides
Related Posts