Elaine
Bronze Post Medal for All Time! 172 Posts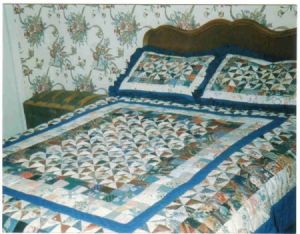 When I worked at a wallpaper store, periodically they would toss out outdated books and I would save the fabric samples. Eventually, I had enough to make a quilt and then bought enough of the navy fabric to finish it. I was lucky because my mother's quilt group at church quilted this for me for nothing. Nowadays, you can have someone machine quilt it for you. This particular block is called "Pinwheel"
Collect many scraps to do this quilt with a nice balance between light and dark. You can find many instructions online for assembling the quilt into a pinwheel block. After that, you just have to make enough to fit your particular bed and add some plain fabric for borders.
By Elaine from Belle Plaine, IA
Read More

Comments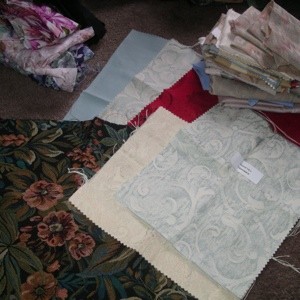 I was given a bag full of fabrics of different types and there are some nice cuts (small ones) of tapestry samples. I would like to know if there is a nice way to use or upcyle them? Thanks.
By Marie from Melbourne - Australia
Answers

June 15, 2010
0

found this helpful
You could make throw pillows or make small pillows and fill with pine needles or potpourri for little sachets. You could also make a quilt or cut them in strips and make a rag wreath.
If you google rag wreath there are lots of articles on how to make one. You basically tie them around a coat hanger or wire and they are so pretty.
Read More

Answers

Hello,

I have just picked up some free treasures at a yard sale: upholstery samples. They are various sizes; most are about the size of your average sofa pillow. The lady says she has as many as I can use at her decorating store.
My daughter and I plan to use them as a fundraiser for the local food bank. We are looking for unusual ideas of things to make out of them (Things that don't require many more supplies).
Obviousy they would make nice pillow tops or placemates.
Any seamstress/crafty people out there have some other ideas?
Thanks,
Cindy in PA
Answers

September 28, 2004
0

found this helpful
They would make GREAT purses. All sizes, some patchwork ones. Placemats. Table runners. Cover boxes and tins with the fabric. School kits (make pouches for the different supplies). Knitting needle cases. Pot holders. Dresser scarves (doilies, mats). Belts. Covered barrettes. Pin cushions. Picture frames. Oh! Can I come over and sew and craft with you?!? --Jayne
By aangellmouse (Guest Post)
September 28, 2004
0

found this helpful
You can make tooth pillows. These are small pillows with a pocket for the tooth that has fallen out. They are great for gifts and have sold well for me in the past.

Linda L.
Bronze Tip Medal for All Time! 64 Tips
September 28, 2004
0

found this helpful
How about eyeglass cases, sewing kits, travel jewelry packs, travel shoe bags. patchwork throws or tote bags.
By Kathy (Guest Post)
September 30, 2004
0

found this helpful
I am not even sure if this will go through as a feed back, but Jayne had some wonderful ideas. I have been trying to think of more ideas myself for this fabric.
And Jayne, you are as bad as I am when it comes to crafting. I LOVE IT TOOOOO....Kathy

October 1, 2004
0

found this helpful
Pull them tight around MDF and frame them as original artwork. Sew together for shalls, cloaks and lap blankets for the colder season. Vertical hanging banners with letters than placed over top for whatever theme the material seems to take, ex. Fall, Dreams, Lullabye you get the picture
By dirty2feet (Guest Post)
October 3, 2004
0

found this helpful
I got a lot of FREE of charge at a local furniture store- they discontinue the style so I get a big box of it now & then ! The last time I used it was this past Easter. I had a cardboard bunny decoration so used it as a pattern & hand stiched it to another upholstery swatch & stuffed the bunny side on the top & tied a ribbon bow thru the neck !
Perfect as an Easter banner ! Also I used some & made a stuffed frog -- very handsome & the rich deep color made it that much nicer !

October 6, 2004
0

found this helpful
I used a cd as a pattern & cut circles from several pieces of the swatches to use as "mug rugs". Some of it is really quite thick so I cut larger size circles to use on the table as hot mats.
I love some of the deep reds that I have gotten so cut some into beautiful hearts.
I made some woven hearts that I have potpouri in that hangs from drawer pulls.
Carefully cut diagonal 1' or 3/4' strips almost to the edge of one heart. Of the 2nd heart cut the same width strips but all the way across and in the opposite direction.
Weave the loose strips into the heart that is still intact but has the strips cut. There might be a few of the pieces that frustrate you because they are small and need pieced back together at the top where the curves are & the "cleavage" of the heart.
Then stitch the pieces together. It might help to stitch as you go. Add a nice cord for a handle.
I covered a box with a swatch once. I used coordinating fabric of the same texture to be able to have enough but it worked!
I lined the inside of a footstool that has a hinged lid to store a few things inside.
Make pot holders of it. Use recycled bed pad for lining. Or recycled thermal underwear tops or leggings, either one.

October 17, 2004
0

found this helpful
I happen to work in a furniture store and have saved 4-5 buckets of discontinued swatches so far. The swatches are great for when I need to practice on the sewing machine since I'm just learning. I've also been quilting. For the first quilt I just cut off the edges and peiced them together in squares. Next one I tried to get a little more creative and did a mixture of large squares and small ones and a thick border around it. Since furniture grade swatches are heavier than normal quilting fabric I use the basic blankets from Wal-mart or K-mart for the back, not something very thick. I used the light-weight batting the first time and realized you don't really need to use it so I don't now. My Dad drives a semi-truck over the road all week long and he said it keeps him nice and warm while he's away from home, even when it's cold outside. I read the other posts and think they are all great ideas, I really like the idea of pot holders. Also I'm trying to find info on the rag rugs to see if these can be used for that too! Happy crafting! :) Amy
By Helen (Guest Post)
March 26, 2008
1

found this helpful
Last year our church women were given three big boxes of the samples to make things for our bazaar. We put our heads together and made small purse (one of the men collects wood scraps, so he made the handles. We also made handy totes to be mounted on the front of walkers for our nursing home residents. Thanks for the other ideas.
Read More

Answers