Answers: Storing Beanie Babies
Read answers for this question below.
Why not use clear plastic bags from buying blankets? Add a dryer sheet and they will be fresh as a daisy when you want to take them out, and more importantly, dust free.
i have my bears in ziplock bags and in buckets. I find it hard to get a $1.00 for them these days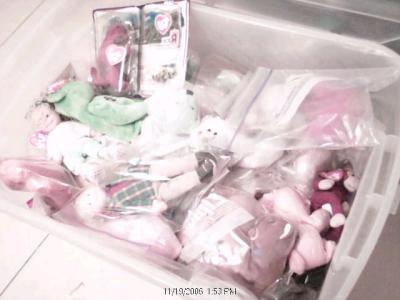 If you don't want to display them, just throw them in a plastic crate. If you want to display them, put them in clear plastic shoe boxes.
What about putting up a little hammock in the corner of your room for all the beanie babies to go into? This is what we did with all the stuffed animals in each of the kids' rooms when the kids were still living at home.

Brenda (Brandon, Man.)
I have heard about but not seen beanie b. storage racks constructed of 2 liter cola bottles, tops cut off, and hot glue. Stack horizontally and glue them brick style. I think two or three babies would fit in each one and you could turn the open end to the wall and cover it to discourage dust. Also, you could see your collection.
Answer This Question
Add your voice to the conversation. Click here to answer this question.
Related Guides
Related Posts