"Bloomin' Straws" Bouquet for Mother's Day!
The part that takes the longest on this craft is the cutting, but once the cutting is finished, the "flower arranging" is easy and fun.
Supplies:
one package of 'neon' colored straws (found at Walmart)
a ruler
tape
one clean dry chug milk bottle
marking pen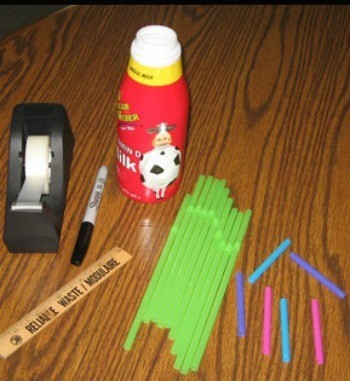 Instructions:
Depending on how many "flowers" you want to make, remove that number of green neon straws from the package. From the other colors of straws in the package, decide which colors of flowers you'd like - it can be a different colored bouquet or the same, whichever you'd like.
Take out the other colors of straws you want to use for flowers, measure and mark the length if you need, and cut them into strips at least two-inches long from the un-bendy end.
Once you have all of those you need, put them aside for a moment. With the green straws, cut the bendy-end of each straw into little strips about half an inch long and then fold the little strips downward with your fingers so they stick out (see picture).

Once you have done this with all your green straws, put those aside. Take your two inch purple, blue, and pink strips of straw and split them with the scissors (see picture). Once all of your strips are split, the hard parts are done.

Take one of the two-inch split straws, open it up and fold it over, (picture) it automatically folds over itself. Do this with all your two inch strips and you're ready to put them into their stems.

Stick the little curled end of the flower into the top (bendy-end) of your green straw, now you have a completed flower. When all of the flowers are complete, take the whole bouquet in one hand and I gave it a good twist at the bottom of the stems, then tape it together (picture).

Once it is securely taped together, stick your bouquet into the milk chug bottle and there you have a lovely Mother's Day "Bloomin' Straws" bouquet! Enjoy!

By Stacey from Orem, UT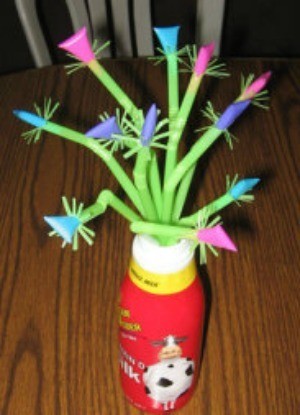 Add your voice! Click below to comment. ThriftyFun is powered by your wisdom!
Add your voice! Click below to comment. ThriftyFun is powered by your wisdom!
Related Content