Solutions: Making Flower Pot People
Read and rate the best solutions below by giving them a "thumbs up".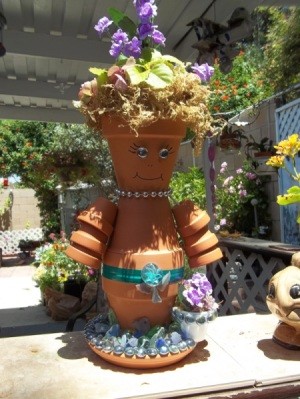 My good friend Andrea, lives in an apartment. Outside her door is a place she can put a decoration or plant. She had one that "disappeared". She went looking and found it on the floor above her. DH wanted to make this to replace it for her.
The creeping charlie hat is in a separate container that she can take out to water. The base is a clay saucer filled with colored tumbled glass and marbles that we glue in. The bottom pot is filled with sand for weight. The face pot has a dowel inserted through to the sand and to tie the small rope for the arms. It is a little over a foot tall, maybe 14-16 inches including the plant and artificial flowers.
She liked it so much she is not putting it outside the door, but on her kitchen counter so she can see it every day and remember "how much we spoil her". We are the ones who are blessed to have her friendship in our lives.
By Great Granny Vi from Moorpark, CA
Share Your Feedback:
Once you try any of the above solutions, be sure to come back and give a "thumbs up" to the solution that worked the best for you. Do you have a better solution? Click "Share a Solution" above!
Questions
Here are questions related to
Making Flower Pot People
.
Making Flower Pot People
In your pot people, how do you get holes in pots?
By buyme from West Enfiel, ME
---
RE: Making Flower Pot People

By HalfWhit
05/21/2012
Most adobe color type flower pots already have bottom holes. You are just threading the twine/rope through those holes. In fact even the fancy patterned pots already have holes.
Making a Policeman from Clay Flower Pots
Does anyone have directions for making a police officer from clay/terra cotta pots? I've seen directions for many animals and garden people, but not law enforcement. Thanx.
By Geri
---
Most Recent Answer

11/18/2010
http://www.the-artistic-garden.com/terra-cotta-pot-crafts-potpeople.html
Here are instructions for making a terra cotta pot man. You could paint the pots blue and make whatever other adjustments are needed to make him look like a policeman.
Photos
Here are photos related to this page. Rate the photos that you like the best.
Click here
share a photo.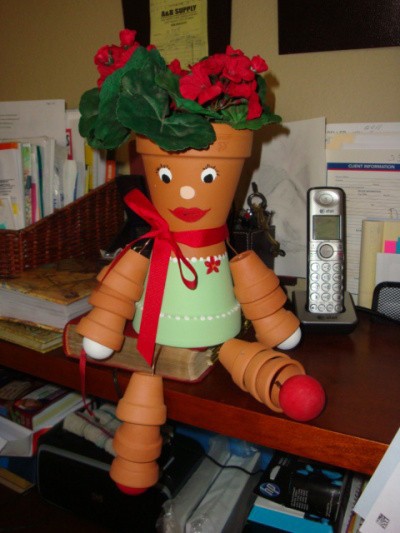 My friend made these flower pot people.
READ MORE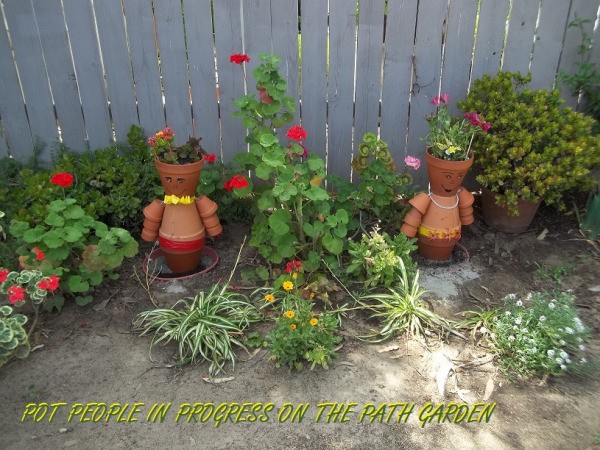 This is a work in progress for the Path Garden. We started the project and had to stop due to rain. We made a few mistakes along the way, but we're having fun in the meantime.
READ MORE
Related Guides
Related Posts