I have a 15 year old Kenmore side-by-side refrigerator which I moved to the garage a couple of years ago when we got a new fridge for the kitchen. We live in Florida during the winter months and up north during the summer months.
When we go north, we empty and unplug the fridges. The one in the garage has come out with what looks like a rust stain covering most of the freezer door, and there is now some forming on the fridge door, but not as much.
I have tried cleaning the stain with an auto cleaner, some bleach and water, and some vinegar and water. The auto cleaner does the best job, but I can't quite get all the stain out, even with a lot of elbow grease. A couple of days later the stain is back as bad as ever. The finish is the pebbly kind where you don't leave fingerprints.
The garage has no AC and it gets pretty hot in there in the summer, although there were no stains on the doors when we returned this fall (2013), at least not that we noticed. The stains have developed since we returned. Does this sound like rust? Any suggestions for a product to clean it and protect it? Thanks.
By HB from Mount Dora, FL
January 19, 2014
0

found this helpful
Barkeepers Friend is a brand I use on rust, on any surface, even fabric. Should work well made into a paste, allow to sit a bit, then elbow grease. Barkeepers Friend is near comet, etc.
October 27, 2016
0

found this helpful
how to get rust off a freezer door
Related Content
(article continues below)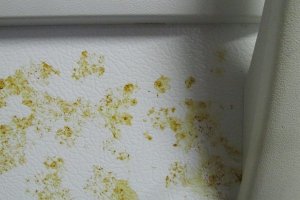 I have a Kenmore side-by-side refrigerator 15 years old. A couple of years ago I moved the fridge to the garage when we got a new one for the kitchen.
In the last month I noticed that there was an orange stain forming on the doors, primarily on the freezer side. I have tried cleaning the doors with an auto cleaner, bleach and water, and vinegar and water. The auto cleaner seems to work best, but even that didn't get all the stain out, and after a couple of days the stain was back as bad as ever. The finish is the pebbly kind designed to hide finger prints.
The home is in Florida where we spend the winter months. When we head north in the spring, we clean out the fridges and pull the plugs on them. The garage is not air conditioned, so it is probably pretty hot out there in the summer time when we are not here.
We didn't notice the stains when we first got here this fall (2013), but we first noticed them after we had been back here a month or two and the fridges were back running again. Could these be rust stains? Any suggestions on how to rid the fridge doors of the stains?
Thanks, HB
I have a rust spot on the outside panel of my refrigerator. It is white. Is there anything I can use to remove it?

By Angie from El Paso
Answers:
Rust Spots on a Refrigerator
You can touch up the rust spot by using an appliance paint which comes in a small bottle. Call a hardware store to see if they sell it. Make sure that you don't ingest the fumes. (09/05/2010)

By MCW
How do I remove a "rusty" looking stain/mark on the exterior of my refrigerator? It is over an area of approximately 6 inches by 2 inches and is made up of little spots and splotches. I have tried various over the counter cleaners, some help, but the stain comes back. Any suggestions?
By LyndaR from Newcastle NSW Australia
Answers:
Rust Spots on a Refrigerator
Here are some helpful websites that may answer your question:
http://search.yahoo.com/search?p=removing+rust+spots+from+a+refrigeratorandei=UTF-8andfr=hp-pvnb
(04/06/2009)

By Robyn Fed
Rust Spots on a Refrigerator
If it looks like rust, it probably is, in which case, you can't remove it with cleaners. If it is a painted surface, you should be able to remove the rust and then paint over it with paint intended for this job. If it is a vinyl surface, I have no idea what to do, except put a picture over it that your kids have drawn. (04/07/2009)

By louel53
Rust Spots on a Refrigerator
I had same problem. I used "Barkeepers Friend" to remove spots brown in colour. Not sure what they were, but they kept coming back. Finally when I removed them with the cleaner, I followed up by using a polishing product called Countertop Magic. It has been 2 months since I tried this and no more spots. Hope this helps. Cleaner was bought in USA, polisher in Canada. (04/08/2009)

By padufresne
My white refrigerator is rusting. It is coated with a textured plastic, something to make it not show finger prints and it is rusting through this coating. I tried to spray paint it with the new Rustoleoum product and now that is flaking off. The holidays are approaching and I do not have it in my budget to replace this until after. Is there anything that I can do to make it temporarily presentable, as I will be doing a lot of entertaining over the season?
Cyndi
Answers:
Rust Spots on a Refrigerator
Magnet sheets come in a size like a sheet of paper. Find them at a hobby store, or maybe a hardware store, where they are sold to cover unused furnace vents. Either use it plain (they're usually white) or decorate it with markers, paint, etc., or use smaller magnets to hold pictures or other paper items on it. The large sheet will disguise the bad spots better than smaller items with individual magnets would. (11/06/2008)

By shishi
Rust Spots on a Refrigerator
Stick a sheet of Fablon on it. Covers a multitude of sins! (11/07/2008)

Rust Spots on a Refrigerator
I have same type of coating on my refrigerator, designed to not let fingerprints, etc. show. Thought mine was rust. One day I spent lots of time cleaning it. Now I think was dirty water drying on and pooling up in the the crinkly spaces, so now I wash with diluted bleach water/soap, and rinse with clear water and dry immediately. Just went to look at it and it's not bad. Good luck. Hope it works. (11/09/2008)

By minymont
My refrigerator is less than 5 years old but it is starting to get some rust spots on it. Does anyone have any suggestions on how to remove what is already there and to prevent any further rusting?
Kry from Caribbean
Answers:
Rust Spots on a Refrigerator
I went to beauty school many (many many) years ago. We were taught to take a regular lead pencil and "color" the rust spots on our scissors, it took the rust right off. Then you can clean the lead off and I would use a clear paint over the spots. You may need to touch up the removed rust spots with a paint that is the same color as your fridge. (10/27/2006)

By Luvyabye
Rust Spots on a Refrigerator
If it is surface rust rub the spot with distilled white vinegar and that will dissolve the rust, lightly sand with a fine grade sandpaper and repaint with the proper white ware paint. The rust will normally appear if the paint has been removed and is bare metal. If the spot has bubbled then it is more serious. You will need to sand back to bare metal then rub with the vinegar, this neutralizes the rust, then lightly sand and repaint. If there is a hole or it is badly pitted where the rust is you will need to fill it with a filler like fixing a rust hole on a car. Same process maybe check the library on rust repairs. (10/28/2006)

By
Rust Spots on a Refrigerator
If it is less than five years old is it still under warranty? It sounds like it didn't get a good coat of paint at the factory. You may have to take it to a body shop and have them paint the interior so it will not keep rusting. You could do this yourself but it would be quite a job. You would need to move the fridge to a place it could be painted without the overspray getting on anything and the odor would not kill you. It would need to dry completely before you use it again. good luck (10/30/2006)

By carla bledsoe
Rust Spots on a Refrigerator
I would contact the company that made the refrigerator and tell them about it, and ask what I need to do about it. (10/30/2006)

By mickey
Rust Spots on a Refrigerator
Use 220 grit sand paper to gently remove the rust and paint it with NAVAL JELLY. These can be purchased at any car parts store. I personally know this works & works well! (10/31/2006)

By Paula Jo Carr