I'm 20 years old and a mother of two and one more on the way. I've had stretch marks since my first child and I didn't really mind because they were the light ones. But now that I'm pregnant with my third, I have these dark ones showing all over, even on my legs.
I keep telling myself that it's OK because I'm pregnant, but lately I'm getting more and more self conscious about them. I'm embarrassed to wear shorts. Someone said lemon juice works to remove them. Does lemon juice really work?
By aLLy
Ad
---
Best Answers
These answers have been rated the best for this question.

By Melissa [3]06/01/2011
When I was pregnant with my son, I used Palmer's cocoa butter for stretch marks. I lathered up the areas prone to stretch marks (breasts, thighs, love handles, and especially the stomach) twice a day. I made it through my entire pregnancy with no stretch marks, and the ones I already had before becoming pregnant, got lightened to the point where you couldn't see them unless you were looking ultra hard for them!
Hope this helps.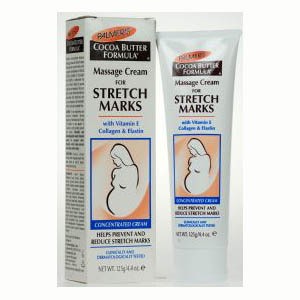 By Louise B. [5]05/31/2011
I am quite sure lemon juice will do nothing for stretch marks.
Recent Answers
Here are the recent answer to this question.

By Aybur01/21/2013
My aunt, who is a nurse, told me about bio oil and it seems to be working for me. just put it on a couple times a day like when you wake up and before you go to bed and after a couple months it will be gone they say to start use of it within your first trimester of pregnancy. I didn't until my third. Mine were deep and dark, and the bio oil is helping.

By Nancy [6]06/06/2011
I suggest using aloe in the morning and vitamin E oil at night. Pure!

By Connie P. [17]05/27/2011
I used a product called "mother's friend" which is available at most drug stores over the counter. It helped my stretch marks when I was pregnant. Not very expensive either. Good luck.
By Sandi/Poor But Proud [429]05/27/2011
http://www.google.com/search?hl=en& ... amp;aql=f&oq=lemon+juice+for+str

Here is the google search. Be careful however, as expensive creams are a waste of money. At least, that is what Dr. Oz says, as they are tears under the skin, not of the skin. He says little will help. I am kind of on the fence, so who knows. I hope this helps.

By Deanj05/26/2011
Some ladies have told me that they used Cocoa Butter to reduce stretch marks.
Answer This Question
Add your voice to the conversation. Click here to answer this question.