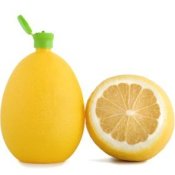 After I have squeezed a lemon for a recipe, I take the two lemon halves and rub them on the countertop to clean all the stains off it. I then throw the lemon halves into the garbage disposal and turn it on to have a sweet smelling and clean counter and garbage disposal.
By sue killgore from Norman, OK

coville123
Silver Post Medal for All Time! 433 Posts
I clean a lot with vinegar because bleach is harsh on your family and pets. I wanted something more so I added lemon to the vinegar in a spray bottle. I use it on almost everything including walls and furniture. I put lemon, vinegar, and fabric softener into a spray bottle for my couches and furniture.

Instead of your hand hurting from scrubbing your table to get, let's say, syrup off your table, get a lemon. Squeeze it on the spot that's sticky and wipe it.
Lemon is like vinegar. Lemons have antiseptic and antibacterial qualities, so it cleans as well as bleaches. Try it and tell me how it works.

I have a lemon tree with many lemons. Can I clean a bathtub safely with lemon juice and baking soda? Any other uses for the lemons? Thank you.
By Pamela Rochelle Woodworth from Sun Lakes, AZ
Answers

May 22, 2009
0

found this helpful
I would think that of anything to clean with, lemon juice and baking soda would not harm the surface. You could try a tiny dab on a spot, then wipe off to see what happens, before going all out with major cleaning.

SL Edens
Bronze Feedback Medal for All Time! 139 Feedbacks
May 23, 2009
0

found this helpful
Here's an interesting site: www.gomestic.com/.../Lemons-are-Not-Just-for-Lemonade...

PENNY K
Bronze Feedback Medal for All Time! 107 Feedbacks
May 24, 2009
0

found this helpful
Lucky, lucky you. When I worked in a restaurant we cleaned our glass coffee pots with lemon slices, salt and ice cubes, just sloshed around.
Can clean copper with 1/2 lemon and salt. Left over lemon slices in garbage disposal. Lemon halves on rust stains on enamel. Lemon and baking soda where baking soda is barely damp to clean any dried on grease [stove rings after grandson cooks] or any surface I think.
There's a show called How Clean Is Your House? by BBC America, which uses lemon a lot, for various things.
Anything using vinegar could probably use lemon. Rinsing hair after shampoo and letting dry with lemon on it in a sunny area will give blond highlights.
You can slice your lemons and salt them down in a jar, and keep lidded in fridge for cooking [roast chicken/salmon/shrimp, and so on]. Rinse lightly and place on chicken breasts or whatever. You could make lemon marmalade and give for gifts. I love lemons.

May 28, 2009
0

found this helpful
I like to make fruit smoothies with spinach or other green vegetable added. Whenever I add so much greens that the taste isn't what I want, I add half a lemon and the green taste is gone.
Lucky you, I echo the previous post, lucky you!

May 31, 2009
0

found this helpful
Thank you so much for your input on cleaning stuff with lemon juice/baking soda-lemon juice does smell better than than vinegar. If I may-does anyone know how to clean the bathtub faucet/showerhead/drain from the white calcium?buildup and any non fume ways to clean the bathtub?Thank you much-Pamela

June 1, 2009
0

found this helpful
Oh, oh lucky you. I would love to have a lemon tree. I drink lemon water all day and every day. Send a box or 2 my way. Lol. I hope you find the info your looking for. Good luck!
Answer

this Question
If you boil something in lemon juice does it work to get rid of mold and mildew? Is that true? Also, can you take lemon juice in a spray bottle and a hair dryer to the canvas of a pop up camper to get rid of the mold and mildew? i need tips on how to get rid of it quickly so i can sell the pop-up. Any help would be appreciated thank you.
Nena from Bradford, AR
Answers

Kelly
Bronze Feedback Medal for All Time! 233 Feedbacks
May 9, 2006
0

found this helpful
You know, one of my favorite shows is "How Clean Is Your House?" Though it ends up like a commercial sometimes! They took a laboratory sample of dust on a ceiling fan (never cleaned of course) and it came back positive with penicillin mold, which can lead to lung cancer from inhaling! They suggested the lemon juice spray, I believe it was 1:1 warm/hot water and lemon. And you know, it is great for sore throats (bacterial) so I would boil and cool down the water to add to lemon and test it, your spray bottle could explode if it is too hot!
Kelly
By debbie (Guest Post)
May 11, 2006
1

found this helpful
Hi When I was a carnival worker we had a large canvas top that went on our hotdog stand. One week after tearing it down in the rain and putting it in the truck wet it got mildew from setting 3 days wet and folded, my boss had me rub all the mildew with fresh lemons cut in half, then wash the tarp with car wash soap and water, rinse really well. I worked for them for 6 years and continued to use the same canvas top there was never no fading or anything. Hope this can work for you. Good Luck

February 13, 2010
0

found this helpful
Cinnamon oil. The stuff is expensive, but powerful. If you can figure out a way to spray a thin layer on the canvas, it will totally destroy any mold and leave everything smelling strongly of cinnamon.
Answer

this Question