July 11, 2007
4

found this helpful
Spray paint off vinyl siding, teens thought this was fun in my neighborhood. All of us got one! I found that nail polish remover and a nail brush, plus elbow grease got black paint off light tan siding without bleaching out the vinyl siding. I got a half gallon jug at a beauty supply store, and had some left over just in case!

By Bonnie from Dayton, Ohio
September 22, 2016
0

found this helpful
Just tried the nail polish, and it worked.
Read More Comments
March 22, 2006
2

found this helpful
I need to know what is the easiest and cheapest way to remove paint from vinyl siding. My husband and I stained the deck 3 years ago and since then have not been able to remove the paint. It is a deep cherry color and our siding is beige! We want to sell the house but need to get the paint off first. We tried all the home depot products, including regular paint thinner and Goo Gone but they did not work. Please help.

Kris from Randolph, NJ
By guest (Guest Post)
July 6, 2008
0

found this helpful
What worked best I found was orange gojoo hand cleaner. I was surprised how easy it came off. I think the pumice in the gojoo was the trick. Deck stain
By guest (Guest Post)
July 10, 2008
1

found this helpful
We have tried nail polish remover on white vinyl siding. It was easy to remove, hardly any scrubbing but I wouldn't advise it on color siding.
By guest (Guest Post)
July 24, 2008
1

found this helpful
I have done some research and found this product. Go to this link.
http://liftoffinc.com/index.php
Let me know how it works for you.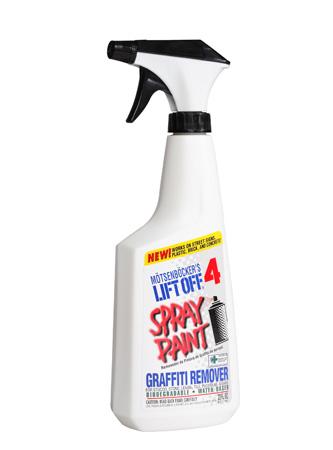 By guest (Guest Post)
August 1, 2008
1

found this helpful
I just finished staining my sisters fence and removed the stain that splattered on her beige vinyl siding with gasoline. It came off in a breeze and did not harm the siding or color. Hope this helps!
By guest (Guest Post)
November 6, 2008
2

found this helpful
I removed spray paint from my white vinyl siding with Lift Off Graffiti Remover. I pre-sprayed the area. Left the solution on for a few minutes. Then scrubbed the paint with a rough sponge and wiped it off with a dry cloth. The Lift Off Graffiti Remover did a great job. I got it from Home Depot. I am really happy with the outcome.
By guest (Guest Post)
December 18, 2008
2

found this helpful
I used the Googone and the magic eraser and it work like a charm. I even tried power washing it off.
August 15, 2015
1

found this helpful
I purchased Spray Nine multi purpose cleaner and tried cleaning stain that got spilled onto my vinyl siding when I tried staining my deck over seven years ago. I thought nothing would take the stains off my beige vinyl siding but after spraying this amazing product it is coming off. For the bigger more stubborn stains I used this product and brillo to help remove it and the stains are gone. No color has come off the vinyl siding either. Glad I bought a gallon of this stuff to clean other projects like mildew on my gutters. I bought my spray nine on Amazon.
January 15, 2016
0

found this helpful
I have both paint stains and deck stain on mine, been there 14 years. Tried everything, but a stainless steel scourer and dishwashing liquid and a lot of elbow grease got them off and now it looks good, We are in Australia ( Melbourne) so the sun has bleached the boards.
Nick
June 20, 2016
0

found this helpful
remove red stain from vinyl fence
August 29, 2016
1

found this helpful
You used the Mr clean magic eraser to help get the paint off the vinyl siding?
Read More Answers
How do I remove paint stripper spots from vinyl siding?

Sheri
By guest (Guest Post)
July 6, 2008
0

found this helpful
I also have stripper spots on my beige vinyl siding. I stripped the paint from our porch and at least 4 rows of siding was damaged from the stripper, even though I consistently hosed it down with a power washer during the stripping process. I tried everything to remove it and nothing worked. Then I tried an S.O.S. pad, Viola, the spots disappeared like magic. Since vinyl siding has color the whole way through, the stripper only damaged the very top layer of the color. I just wet the S.O.S. pad and rubbed (it takes some rubbing) with the grain of the siding until the spots disappeared. Rinsed it well and it looks great. Hope this has helped!