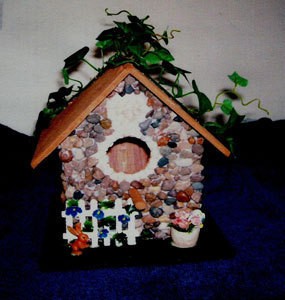 I love making these little river stone bird houses. Makes a great winter or summer pass time. An each one is never the same. They make great gifts.

By Nancy from Slaughters, KY
By Nancy Sabel
Ad
---
Feedback Forum
Feedback about this article is posted here. Want to contribute? Click above to post feedback.

By Elaine M P. [2]02/10/2014
What type glue do you suggest and could this be an outside birdhouse? TIA, Elaine

By phyllis [3]10/15/2009
Nancy, I would like directions how to make the River Stone birdhouses.
Tks,Gram P from Iowa

By Vivian [2]07/19/2008
That is really cool! Is the whole thing wood and then covered in stones or is it all stone and just a wood roof? It is amazing to look at. Are they heavy? Thanks for showing us!



By Judy A. Foster07/17/2008
very nice, would love to learn how.

By Cher (Guest Post)07/17/2008
Would like directions on how you make them. Thanks
leclairandsons @ yahoo . com

By Linda in Alabama (Guest Post)07/16/2008
That is SO cute -- I love river rocks!

By janice [48]07/16/2008
That is really cute, good job


By melody_yesterday [213]07/15/2008
that's REALLY cute !!

Post Feedback
Add your voice to the conversation. Click here to share feedback.