Old Chair for Container Gardening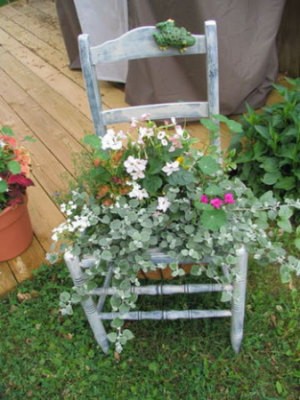 Many household objects can be used as containers in the garden. I love to use old chairs in the garden to add height and interest to an area that might be otherwise plain without it.
Many can be found on trash day, free for the taking. This one was without a seat, so I stapled a wire basket to the underside of the chair and added a cocoa liner. A layer of newspaper in the liner helps to retain moisture as cocoa liners can dry out easily in the heat of the summer. Fill with plants and good quality potting soil that contains a slow release fertilizer and moisture holding crystals.
By Dottie from Pennellville, NY
Feedback
Read feedback for this post below. Click here to post feedback.

By
04/27/2006
Thanks everyone...I've never heard them called fairy chairs before...maybe because this one is life size....aren't the fairy chairs miniature? Anyway, I'm glad you liked it. Happy Gardening!

By gail2656 (Guest Post)
04/15/2006
I've always wanted to do this and after seeing yours I think I'm going to try to do it this summe...now I've got to start looking for a chair...thanks for the inspiration...gail

By
04/14/2006
I have heard these called Fairy Chairs. I did a google search, there
were many results.

By Aquarius (Guest Post)
04/14/2006
That is fantastic......gives a whole new meaning and idea for those old worn out chairs. I am not familiar with Cocoa paper, can you please tell me where to purchase it? When you email please leave out the spaces Lmm3880 @ hotmail . com

By
04/13/2006
What a great idea and WOW it looks great!
Thank you for sharing with us, and for inspiring us.
Annie

By
04/13/2006
I too have seen these done and I have to agree with FlaKathy..Yours is the best I've seen. Thanks for the nice photo. GG Vi

By
04/13/2006
Although I've seen this idea done before, I've never seen it done any better than yours. What a wonderful picture, too. I also like your addition of the frog - too cute! Is how you found the chair or did you paint it? It looks like Spring has sprung in Pennellville, NY!


By Jean in GA (Guest Post)
04/13/2006
Some people can make trash into treasures and you are one of them. I LOVE IT! I may try that here.

By
04/13/2006
I'm always looking for neat ideas for container gardening and your chair is beautiful. Thanks for the excellent photo and directions.
Post Feedback
Add your voice to the conversation.