Great Tips for Container Gardening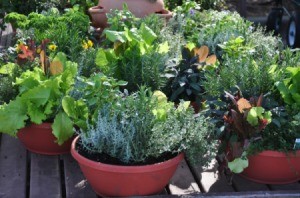 When you decide to try container gardening there are several things you will need to be aware of and attend to in order to ensure success, such as type and size of container, soil, moisture, and more. This is a page about great tips for container gardening.

EllenB
Gold Post Medal for All Time! 858 Posts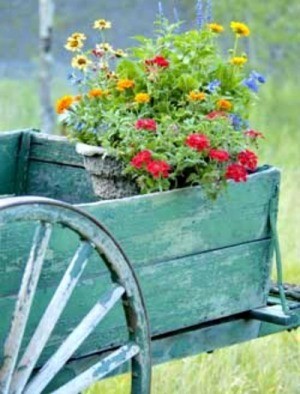 I recently attended a Garden Day put on by the Master Gardeners in my area. Oh, how I love spring! I walked down aisles full of vendors selling the latest plants and gardening gear, ate lunch out of a flower pot and attended several interesting classes. Here are a few tips I picked up on container gardening.
Finding and Selecting Containers
A container should be large enough for plant roots and potting soil, but you don't need any more than 18 inches. If you're filling a very large container (like a stock tank, etc.) fill the bottom up with other materials (2-liter plastic bottles, sand and landscaping cloth) before filling the top 18 inches with your soil mix.
Landfills, flea markets, rummage sales and farm auctions are great sources for containers.
Wagons and carts are wonderful for holding containers because they can be easily transported around the yard. Just make sure the containers site in them at a height so that the flowers are tall enough to be seen from a distance.
An old wooden ladder can make a charming container holder. Hold containers in place with screws drilled up through the bottoms of the rungs.
Look for faux ceramic containers at garden centers. They are usually made of a light weight foam and cost significantly less than their ceramic counterparts.
Use plants in the front of your house to guide visitors to the entry by selecting flowers and plants in a similar hue as your front door.
The plastic hangers on pots from the nursery can twist and break in the wind. Metal baskets that hang from chains are better. They usually come with fibrous insets, but they won't dry out or leak water as much if you line them with black plastic before filling them with soil. Don't forget drainage holes!
Reuse and recycle. Try to create containers out of already existing items. This will leave you more money to spend on plants.
Designing With Containers
Just like interior design, containers look best when grouped in odd numbers (e.g. groups of 3s, 5s, 7s).
Change container arrangements for the seasons: flowers in the summer, gourds in the fall, and evergreens in the winter.
Match your containers to your setting. Take a good look at the architecture of your home and your existing landscaping. If your front door is formal, the container you place next to it should be too. If your setting is more casual, milk cans or a pair of old Wellingtons will add a touch of whimsical charm.
Showcase the plant, not the container. Choose simple, solid colored containers for your flowers and plants. Terra cotta containers tend to look great with flowers or plants in shades of red, orange yellow. Green, white, silver and brown work well, too.
Fill out your patio décor during summer parties by arranging to share containers with neighbors when each of you is entertaining.
Create a design with plants by including a "Thriller, Filler and a Trailer." Start with a tall or colorful focal point (thriller). Next build around the sides and front with a shorter plant (filler). Finally, add a trailing plant to cascade down the sides (trailer).
Ornamental grasses make great "thrillers and fillers" for containers.
Plan your color scheme for the year ahead of time. This will make it easy to focus on combinations once you start shopping for plants.
The color of the flowers you select for your containers can create a calming and soothing effect (pinks, whites, blues) or really energize and activate people (reds, yellows, oranges). Keep these effects in mind when placing containers in entryways to your home.
Don't worry too much about overcrowding plants in containers. To get that full look of an arrangement you see at nurseries (Wave Petunias, for example) you'll need at least three plants per container.
Soil for Containers
Soil-less planting mixes like Ferti-lome work best for container gardening. They are lighter in weight for window boxes and planters and hold their chemical composition better, which makes insect and disease problems less likely. FYI: One 5 pound container can weigh as much as 25 pounds when regular garden soil and water are added.
Filling extra large containers with a soil-less mix can be costly, so create a mix using peat moss, vermiculite (or perlite) and sand mixed with regular soil.
A large plastic trash can with a lid is a convenient way to store all of your soil mix in one place. Get one with wheels and transport it around the yard to wherever you need it.
At the end of the season, dump used soil-less mix into the veggie garden or into existing flower beds to improve drainage.
Caring for Container Plants
Plants in containers must be fertilized often. Keep it simple by using a balanced water soluble fertilizer (10-10-10) at 1/2 strength once per week throughout the season. As an alternative, you can use a rooting solution when you plant (high middle number), followed by a few weeks of a balanced fertilizer (10-10-10) and around mid July, change to a bloom boost solution (high last number).
Keep moisture in your containers by covering the soil with a layer of decorative moss, sea shells or small rocks.
Dedicate the same day each week for fertilizing all of your containers.
To avoid root rot and water stains, never let containers stand in water for more than 1/2 hour before dumping off the excess.
Dead-head or pinch off dead flowers daily to prevent plants from using energy to set seeds.
Containers with narrow bases tend to dry out faster so keep an eye on their moisture levels.
Add polymers to soil to hold in moisture (available at garden centers) but read directions carefully. Absorbing and retaining too much moisture will cause the soil in your container to heave-popping your plants right out of their pots.
Miscellaneous Tips
Every container gardener should have a cordless drill/screwdriver. Carry it with you around the yard and make drainage holes in your containers or to drill holes for hanging up baskets or fastening planter to things.
Containers can be set on stands, blocks of wood or bricks to avoid water marks on decks and patios.
Keep a diary of the plants that work best and get to know the people working at your local nurseries and garden centers. The larger discount stores with garden centers usually order plants from reputable nurseries, but they can look sad and neglected in a hurry. Find out what day the truck comes if you want to snatch up the healthiest plants.
Container gardening is good therapy. It's great for older folks or for people who have physical limitations because pots and planters can be raised, lowered and moved around to suit an individual's needs. Container gardening can also be a good alternative for gardeners undergoing chemotherapy that have been told to steer clear of regular garden soil. Container gardening is best done with a soil-less mix or pasteurized soil so it can provide patients with the therapeutic benefits of gardening while keeping things safe and on a manageable scale during recovery.
Comments
By mary (Guest Post)
May 5, 2006
0

found this helpful
Question: Are you able to use a cordless drill on ceramic pots? clay pots?

Editor's Note:
When drilling ceramic, shell or pots mark the spot you want to drill with a crayon or marker then cover it with clear scotch tape. Stop drilling every 5 seconds or so to keep it from getting too hot, you can also have someone squirt water on the place you are drilling to help cool it. It's always good to try on a piece of broken pottery first so you can get an idea how it will work. A cordless drill with a good drill bit should work.
Published by ThriftyFun.
© 1997-2023 by Cumuli, Inc. All Rights Reserved.
https://www.thriftyfun.com/tf97009484.tip.html