Container gardening sounded like a good, thrifty way to feed our family healthy organic produce, except for one thing: landscape timbers to build a raised bed, big flower pots for vegetables, and other containers are expensive! Then, my eye landed on the dozen empty kitty litter containers (Fresh Step--about the size of five-gallon jugs) I'd saved because they just seemed likely to be useful one day. A few holes in the bottom and a can of spray paint (used on the outside only) turned the whole dozen from kitty litter buckets into bright flower pots, with a total expense of less than $2!

I happened to have kitty litter buckets, and they could probably be had readily from your local Freecycle community, but they're definitely not the only containers that would work well. Look at the groceries you bring home. Herbs would grow in a row of margarine tubs, wouldn't they? What about empty plastic coffee containers?
What other containers are you throwing away?
All you need for functionality is to be sure the plastics aren't going to leech dangerous chemicals into edible plants (easy to look up online) and a few holes in the bottom of each container for drainage. But again, a bit of paint and whatever other decoration you like will keep you from feeling like you're living in an overgrown garbage pile.
From what I've read, even apartment dwellers with a bit of balcony space can raise enough produce to feed a family of four with careful planning ... really! Google "balcony vegetable gardening" for lots of good how-to information that applies equally well to container gardening in any other space. And, with recycled containers, there's enough money to buy clean dirt to fill the pots ... healthy, organic food for very little investment! Hooray!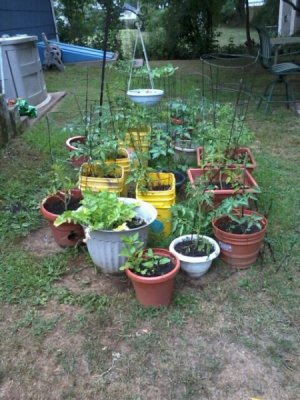 If you are tight on space for gardening why not try recycling containers that you got with products. I use Tidy Cats litter buckets and pretty much any kind of container I can recycle.
I have grown tomato plants that got over 6 foot tall. I have been using the same containers for the past 4 years. I had my husband drill some drain holes in the bottom. If you don't have a cat, ask your friends or advertise on a place like Freecycle. I see people have them offered quite often.
You can also look for any kind of container at the second hand stores. I've not only grown tomatoes but beans, peppers, greens and herbs.
By jill from Blue Bell, PA