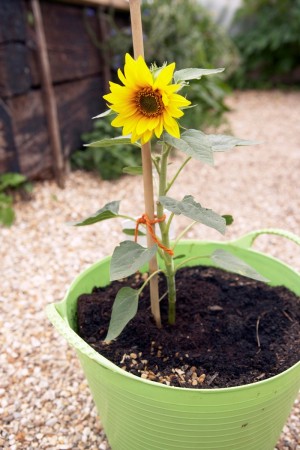 Question:
I live in an apartment, and would like to have sunflowers on my balcony. Do they do well in planters and if so, what's the best care for them?
Thank you,
Hardiness Zone: 7a
Joanne from Whitestone, NY
Answer:
Sunflowers do great in containers. In fact, container gardening has gotten so popular in the past few years that there are now literally dozens of varieties of sunflowers available that have been developed specifically for growing in containers (e.g. 'Big Smile', 'Italian White', 'Music Box', 'Elite Sun', etc.).
Almost any variety can be grown successfully in containers, as long as you meet its growing conditions and provide it with a big enough pot.
The really tall or mammoth varieties will likely need staking to remain upright in pots.
Plant seeds in full sun, using a light potting soil or soil-less mix. Plant the seeds to a depth of 1 inch (6 inches apart) and expect to see them germinate quickly.
Days to maturity will vary according to each variety.
Seedlings of regular varieties will need to be thinned to 12 to 18 inches and given plenty of room to grow and spread out. Dwarf varieties can be packed in a little more closely together, but still need to be spaced at least 4 to 5 inches apart.
Sunflower roots are quite large and like to spread out. Mammoth varieties grow best in half barrels or containers that are at least 6 to 18 inches deep and 12 inches wide. Smaller containers will keep plants from reaching their full growth potential.
Sunflowers grown in containers need to be watered daily and even more frequently during really hot weather. Feed them a 1/2 strength water-soluble fertilizer every other week or so to support big blooms, and mulch around the tops of the containers to help conserve moisture.