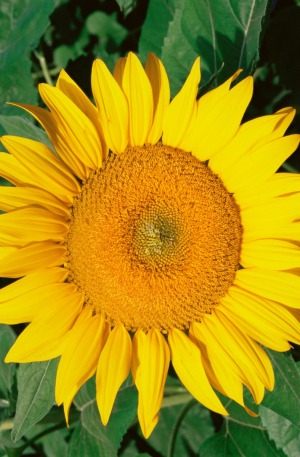 While the bees work hard on the front of the sunflowers, I have been working to battle the ants on the back. The black ants jump off the plant when I attempt to catch them. (I can direct the flower toward our concrete driveway and stomp on the critters as they fall to the concrete.) The smaller ants (reddish in color) try to get away by crawling under the leaves, but I am usually faster than they are.
Besides checking the plants three or four times a day (we have over two hundred), what can I use to prevent the ant attack and still protect the bees? They don't seem to eat from the ant traps I have randomly placed on the ground.
We have a wondrous abundance of flowers this year. Some of the plants have 9 flowers growing from one stalk. Normally I will plant one seed per hole and spaced about 8 inches apart. This year I was in a hurry to get some planted so I grabbed a handful (20 stalks are growing clustered together), placed them in some dirt and covered them; then went on vacation for two weeks. I have spent a lot of time fertilizing and watering and it certainly paid off. Now for the harvest before the birds and squirrels seek them out. Thank you for the idea regarding covering the heads, and for the information on hanging them to dry. I look forward to your response regarding the ants.
Respectfully.
By Martha
Answers

DeBushe
Bronze Feedback Medal for All Time! 179 Feedbacks
September 23, 2011
0

found this helpful
Look for Terro Outdoor Ant Killer granules. Follow the directions on the bag. Places like Lowe's or any garden supply store will have it.

September 23, 2011
0

found this helpful
Hi Martha,
Ants do not like mint (any type of mint) so you could plant some pots of this into the ground. I suggest doing it this way because mint can be invasive. Also, ants do not like marigold so you may consider planting some amongst your sunflowers. African marigolds are about a foot or so high and have beautiful large blooms.
Marigolds also help greatly to keep aphids away.
You may find companion planting very helpful, Just type it into search, you'll be amazed with what you'll learn about using other plants to cope with problems in the garden. Have fun!
Sincerely, Marie

September 23, 2011
0

found this helpful
Ants won't hurt flowers. They may be "herding" aphids so they can eat their honeydew, but the aphids are the unwanted bug, not the ants. Check for soft-bodied insects on the underside of leaves or petals. Damage will be apparent. Sevin works on aphids, or a strong stream of water, even squishing by hand can be effective if there aren't too many. If you don't see aphids or plant damage, leave the ants alone - they are generally benign.

June 10, 2019
0

found this helpful
Hello. Know who you friends are. Ants will protect your sunflowers from aphids. That is why they are there.

August 23, 2020
0

found this helpful
Thats incorrect. If there are aphids and on your plants, thats because the ants are actively farming the aphids. That is, they are allowing the aphids to feed on your plants indeed, protecting them in order to encourage it.
This way they can eat the sweet honeydew the aphids secrete.

July 7, 2021
0

found this helpful
No ants do not protect aphids. They 'farm' aphids, moving them around onto the best parts of the plants so that they can then eat the honeydew that the aphids excrete.
Answer

this Question