It's a little late in the season for this tip but if needed, it works well. I put packaging tape on my feeder to catch the ants as they crawl down to get to the sweet stuff. Since I have been doing this, I have had no ants in my feeder and the tape still works after it rains. I have been using this method for several weeks and have replaced the tape only once.
I noticed that the ants were disappearing but not showing up inside the feeder and was wondering what was happening to them. Then, I saw a bird perched on the feeder reaching up and pecking an ant off the tape.
Supplies:
1 piece packaging tape
1 piece Scotch tape
Steps:
Use a piece of Scotch tape to tape the end of packaging tape to the feeder to hold it in place as you pull the packaging tape, sticky side up, around the bottle.
Overlap the packaging tape where the scotch tape is and make your cut. The tape should be sticky all around with no bridges for the ants to cross. I place a little piece of popsicle stick on the packaging tape before making the cut so I don't lose the end of the tape.
Comments
September 26, 2013
3

found this helpful
Top Comment
This shows how the tape works. These are the big red ants and some of them are strong enough to get across the tape. Where is my bird when I need him?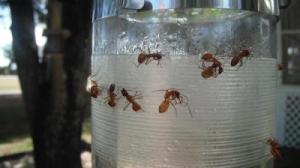 May 15, 2016
3

found this helpful
Top Comment
Please never use packing tape near or on a feeder. Hummingbirds can get stuck to the tape and if ihe sticky gets on their feathers they can not clean it off and will not be able to fly.
It is also not advised to use any type of grease or oil.
August 4, 2016
1

found this helpful
Top Comment
my light post has a hook, I place my hummingbird feed on the hook, so, the ants like traveling up the pole, but I get your idea, and I will try the packaging tape, thanks
October 28, 2016
3

found this helpful
Top Comment
The packaging tape does work well. When I was using that method, my feeder was hanging in a tree and actually inviting ants to come and drink. Ants were a real problem. Since then, we have cut the tree down and I put my feeder on a pole. I got some Home Defense insect spray from Walmart. It is the kind that is safe to use inside your home. It says it is not harmful to animals after it dries which does not take long. I sprayed the grass just around the bottom of the pole and up the pole just a little above the grass line. No ants at all. I had to spray each time it rained. It solved my problem with ants and we had a lot of hummingbirds this summer.
November 21, 2016
1

found this helpful
Top Comment
Shriljacaw, I'm sorry the tape did not work for you. We actually had the hummingbird feeder hanging in a tree and naturally the ants crawled up the tree. The tape worked for me but I had to change it often.
Since then, we cut the tree down and now I hang the feeder on a pole where the tree was. I spray the ground around the bottom of the pole and up the pole just a little above the grass line using "Home Defense" that I got from Wal-mart in the garden section. It says on the container that it is harmless to animals after it drys.
It kept the ants off the pole and out of the feeder. I had no problem with them all during the summer. I had to spray after each rain as the spray I use is for indoor use.
We had lots of hummingbirds. Here in North Carolina, we don't see many starting in September as they leave and go South.
Hope this helps.
I was finding ants getting into my hummingbird feeder that was hung on a shepard's hook. They apparently climbed up the pole and into the food. I took shipping tape and tied it with string around the post (with sticky side out) starting at the bottom. I went about 12 inches up the pole.
I also put a Terro ant bait trap on the ground so they would be busy eating and not climb up. However, if they did climb up they'd get stuck. Also, fly bait that comes in a long paper strip that is sticky on both sides would work fantastic too. You'd just wrap it around the post and it should stick with no string. This tip is an amazing idea.
By Little Suzy from Millbury, OH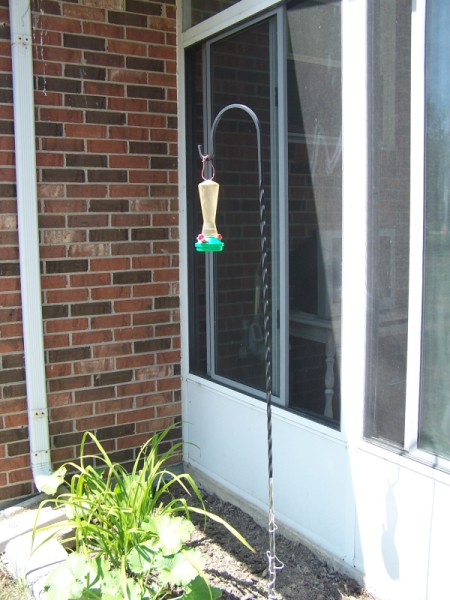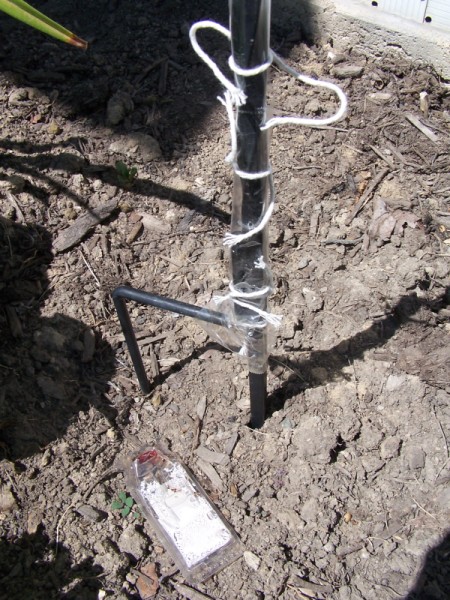 Comments
August 29, 2011
1

found this helpful
Top Comment
This may seem like a good idea but here in Georgia, and many other places in the south, we have lots of little lizards and frogs. Several years ago I tried yellow sticky pads for white flies with horrible results.
It didn't take me long to vow never to use it again. Be careful. It can trap and kill butterflies, and any other little critter that gets too close.
July 4, 2014
3

found this helpful
Top Comment
I posted this in response to a previous comment about using packaging tape as a way to keep ants out of a hummingbird feeder. Please pardon me for reposting here, but I noted the comment about using fly paper and thus I would like to repeat my prior caution. I worked at a wildlife rehabilitation center. A wren was brought to us one day completely featherless. He had become stuck to flypaper and literally every little feather he had was removed from his body in his struggles to free himself. It seems people have been lucky in that no birds have become stuck to their packaging tape or flypaper, but please take this into consideration before you use these methods to deter ants. Thanks!
August 13, 2016
1

found this helpful
Top Comment
Ha ha. This works! Put the tape on and watched those ants get so frustrated when they encountered it