Editor's Note: This method of keeping ants out of your hummingbird feeder is no longer recommended. You can find more useful ways to keep ants out of your feeders here: Keeping Ants Out of Your Hummingbird Feeder This works great. Put Vaseline (petroleum jelly) on the hook, pole, string, or whatever the feeder is hanging from. The ants get stuck while walking to the food. Just make sure that they have no access without having to walk through the goo. They have completely disappeared from my yard.
By brenda2u from Huntington Beach, CA
Comments
November 30, 2011
4

found this helpful
Top Comment
Sorry, but I do not like the vaseline anywhere near hummingbirds. Hummers do not have the right equipment to remove it from their wings if they come in contact with it. As they may well, with their energetic flights and fights around feeders. It coats their feathers & beaks, causing distress, hampered flying and possible digestion and body temperature problems. Buy a feeder with a water moat on the top or make your own with a lid. Poke a small hole through the lid, slip on the "moat" to the top, and add water.
July 20, 2012
2

found this helpful
Top Comment
I agree that the Vaseline should not be where the birds may contact the grease; however, I have put the Vaseline near where the hanger is attached to my house. The birds could not get close to the grease so that avoids that problem. The Vaseline has worked extremely well and there have been NO ants on the hanging platform.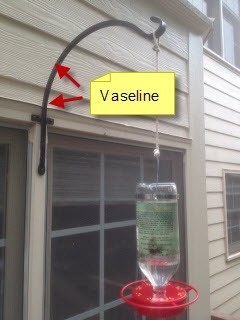 June 30, 2013
3

found this helpful
I did this on the shephard's hook that I hung my feeder on. I smeared vaseline on the pole starting about an inch from the ground, up about 4 inches.
I have never seen any hummingbird down that close to the ground, so I'm not too worried about the birds getting greasy. Works really well to keep the ants out!
September 6, 2013
1

found this helpful
Have had no luck with the Vaseline. The are just marching right through it to the feeder!
Read More Comments