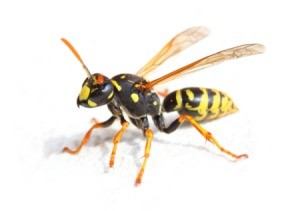 I found this recently in my Country Wisdom book, and decided to share it because it really works great at my house! We have hummingbird feeders hanging on our porch and noticed that the yellow jackets were volatile to humans and my poor hummers! So, upon reading how to make hummingbird nectar, it also had how to deter bees.
First of all the nectar recipe is: 1 part water to 4 parts sugar*, cook until it comes to a nice boil, but not rolling, then simmer on low 5 minutes. Let cool and pour into container. This will keep for a week in the fridge, if it turns cloudy throw it out.
Okay, now around the holes of your feeder put Vaseline or oil (I prefer Vaseline) with either your finger or Q-tip or small spatula. Hope this helps.
Source: Country Wisdom
By Henrietta B. from Westminster, SC
Editor's Note: Many comments have been sent in to discourage using Vaseline on hummingbird feeders. It can be damaging to the hummingbirds. Also, the most common ratio for making hummingbird solution is 4 (water):1 sugar) so we have corrected the original post.
Read More Comments
How can I stop yellow jackets from flying around the "port hole" of my hummingbird feeder?
Answers
August 1, 2017
0

found this helpful
Use bowls of sugar water. From Annemberg Learner:
Place a very shallow bowl with strong sugar water about 5 or 6 feet away from the feeders.
(You may need to begin close to the feeder and move it farther away incrementally.) This will keep the insects around to pollinate your flowers while giving them a food source besides the hummingbird feeder.
August 1, 2017
1

found this helpful
Here is a link to ThriftyFun's guide on this issue:
August 2, 2017
1

found this helpful
First - look at your hummingbird feeder and if it has yellow (most feeders do) take the guards off and paint them red (bee society says fingernail polish is safe to use or model paint - but something non toxic) as yellow attracts yellow jackets and wasps.
Second - be sure to hang your feeders in the shade as this protects the food from heat/sun and yellow jackets and wasps like to eat in the sun light.
Third - keep feeders clean of any sugar water drippings as this also attracts yellow jackets. Try not to fill feeders to the top and change after a few days.
Fourth - don't take hummingbird feeders down too early as stragglers may still need food to help them on their migration route. I leave my feeders up through October - just in case a little one comes by hungry.
Somethings (traps) are good for keeping bees and yellow jackets/wasps alike but some traps are designed more for the wasp types.
They now make something called Nectar Guard Tips wasp guards that fits in the feeding holes of your feeders and the hummingbirds can still eat but the yellow jackets/wasps cannot get to the food and will leave. These guards are sold on line but they also sell them at plant stores/nurseries like Ace hardware and probably Lowe's and Home Depot. Be sure to get the kind that will fit in your feeders.
Here are some links that have some information so check them out as each one has different suggestions and you may be able to use one of them.
www.wpr.org/wasps-often-compete-hummingbirds...
www.thespruce.com/keeping-bees-away-from-hummingbird...
Answer

this Question

...