August 15, 2012
1

found this helpful
I think this is not a good idea at all. If the Vaseline jelly gets on their wings it can cause them to not be able to fly. Drinking it probably would not be good for them either. Also the formula for hummingbird food is one part sugar and four parts water! Please invest in a good feeder that is guaranteed for life from Wildbirds unlimited. It looks like a flying saucer, has a reservoir that you fill with water to keep out ants and the bees will not be able to get to the nectar if you don't fill it up all the way. Anne in NC
September 29, 2018
0

found this helpful
What is the cost of these feeders from Wildbirds Unlimited that aRe guaranteed ??
April 12, 2013
0

found this helpful
I totally agree. Hummingbird experts completely advise against using Vaseline for this very reason. I've heard people suggest putting an all purpose cooking oil on the top of the feeder or on the pole, but that doesn't work.
The best recommendations I've heard are to use hummingbird feeders with bee guards, or to use the kind of hummingbird feeders that are like a shallow dish. In hot weather, the nectar in regular bottle feeders, whether plastic or glass, can expand. In cool weather it contracts again. No matter how tight you think the seal of your feeder is, this natural expansion can cause leakage. Also, make sure your feeder ports don't contain any yellow, since this attracts them.
August 29, 2014
0

found this helpful
I saw first hand, the effect of Vaseline on a hummer feeder, while visiting a friend a couple years ago. He had a little smear of vaseline just at the bottom edge of the of the feeder to keep bee off the feeder, it was fortunately we were on the setting on the porch. Two males got into a duel, and one of the birds ran into the feeder and the Vaseline, he corrected quickly, but went spiraling to the ground. he tried twice more to fly but only flipped over and over. My friend and I watched in horror, thinking it had been the other male, I remember him saying that he thought the other male had speared the little critter.
Tony went out and cupped his hand over the bird picking him up, and place him in a mason jar in the house, as he slid the bird into the jar, he took is hand to his nose and smelled of his fingers, and said the wing was covered with Vaseline. We spent over hour on the internet, trying to find out how to get the Vaseline out of his feathers, especially the left wing, if I remember correctly, we used two drops of dish detergent in a quart of water. I held the birds head and beak in my left hand and his feet with the fingers of my right hand, as he washed the Vaseline out, the bugger was strong, and once dry, buzzed off Tonys hand with amazing force, so don't use Vaseline.
It may work to keep the bee's away, but you may not always be where you can help, but your cat probably will!
July 18, 2015
1

found this helpful
I know this is an old post but I have to point out that the proportions for the nectar you have is incorrect. It is 1:4 and one way to try to deter the bees is by making it 1:5. The birds will tolerate it but bees are not as happy and hopefully will go elsewhere. It is one of the few ways I got some bees to leave and I had/have a big bee problem the instant I make the nectar to sweet by mistake, 1:3 would get the hive to move in!
(not really but seem like) see picture. Please, do not grease up your feeders with anything it is a really poor idea and will not bother the bees as much as the birds. All advice is appreciated but should be checked out for accuracy before bad things happen, like the story mentioned here. Thank You.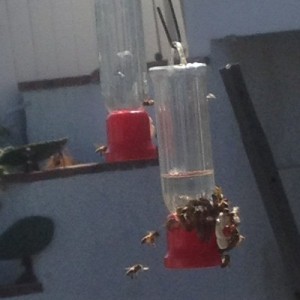 September 6, 2015
0

found this helpful
Wow. That ratio is way off. First of all it's completely the opposite ratios. Try 4 parts water to 1 part sugar if you want to mimic flower nectar. You can adjust and I've seen some who use 1 to 1 but even that is extreme. As far as the vasoline... I can't believe you read that anywhere. Perhaps what you read was to NEVER use vasoline and you simply mistook what you read? Never put anything on or near the humming birds that you wouldn't want to 1) eat yourself. or 2) smear in your hair.
I'm pretty sure the birds don't want it either. I'm also pretty sure it's WAY worse for them to eat, contaminate their nests and young with, or get themselves covered in. To get rid of bees, I simply go out with a vacuum cleaner and suck up the bees that are there. They don't return to their hive to report the location of the feeder and after doing this a couple times a day for a couple days the bees are gone (yes, it's crazy, but bees do return to report location of food sources to the colony. Very interesting. Look it up).
April 19, 2016
0

found this helpful
Your recipe is incorrect it's 4 parts water to 1 parts sugar. 4cups water & 1cup sugar. Tha rest ok
July 9, 2016
0

found this helpful
Glad the Editor corrected the ratio of sugar to water for the food mix. Too much sugar is like letting your kids have a diet high in cookies, rather than nutritional foods. Sure the kids will love it, but their health will be greatly compromised. I have neighbors that have swarms of hummers because they also insist on using too much sugar. I'll settle for less hummers if it means I'm helping keep them healthy.
July 11, 2016
0

found this helpful
I found that PAM vegetable oil when sprayed around the base worked wonders
July 16, 2016
0

found this helpful
Please do Not use Vaseline or any other greasy product on hummingbird feeders.This oily substance can get on the wings of the birds and cause them much destress and even damage wings.Ooogle for ideas on how to dis outage and get rid of the bees hanging around and feeding on the hummingbird third feeder.There are several great and safe ideas out there. And here is a thought not relating to this issue.SO NOT THROW DOWN CHEWING GUM.HUMMING BIRDS HAVE BEEN KNOWN TO BE ATTRAXTED TO THE SWEET SENT OF THE CHEWED CHEWING gum and have gotten their beaks litterly stuck closed and die of starvation because they can not get the gum off and feed.
August 2, 2016
0

found this helpful
Vaseline is actually bad for hummingbirds it affects the water repellant properties of their feathets.
August 8, 2016
0

found this helpful
Please do not feed such a heavily sugared nectar to your hummers. It could very well kill them.
August 16, 2016
0

found this helpful
I have successfully used the mint flavorings found in the baking section of my grocery store for several years now. Simply dip a Q-tip in the flavoring, run a trail of the mint on the feeder flower ports, under the ports, where the bottle joins the base and where the bases join together. Then let it dry before filling and hanging the feeder. This does not harm the hummingbirds. Mint flavoring, such as Durkees brand, NOT mint based oils.
May 9, 2018
0

found this helpful
I was just reading your page and noticed your 3 parts sugar/1part water. When I came back to comment I saw editors note way down the page. My concern is MOST people won't scroll down that far to see the proper mixture and will end up killing any birds that might drink it. Please fix your first post.
Signed,
A Hummingbird Lover
August 17, 2019
0

found this helpful
Is the oil harmful? If not, what kind?