I was wondering if anyone out there that is getting bitten by these little tiny white bugs that look like a grain of salt has found out how to get rid of them or stop them? I bought my home in Alabama back in '07 and ever since I moved in I've gotten bitten. I've had 5 different pest control people here and they say it's all in my mind or it might be the meds I'm on because I have dementia and take a lot of meds. I've been to 3 dermatologists, but they can't find anything either. One thing I did do that seems to work at night for me is to take a little Ben Gay and rub it on my neck and your feet. Now the worst place for me to get bitten is right here in this room where my computer is. I've bombed this house so many times and nothing seems to work. I've had other people on here saying bomb or spray your baseboards, but I have a small dog and a cat I worry they will get sick. I just hope someone out there can help us people who are getting bitten. Thank you.
Answers
February 23, 2016
4

found this helpful
Wipe everything down with Lysol and get peramethin crème for you and wash all clothing in hot water and soap and plastic bag everything cloth for 2 weeks. Sounds like you have scabies.
June 24, 2017
1

found this helpful
For the past couple of month's, I've been getting bit non stop on my couch. My boyfriend doesn't get bit, but my friend that come over do! We searched the entire couch, and there was nothing there!
Finally, today, I had my head against the back of the couch and saw a very very small whitish, cream colored bug crawling on my couch! Someone please tell me what they are and how to get rid of them. Its driving me crazy
September 23, 2017
2

found this helpful
nope not scabies. I have them in Mississippi too. never had that before. til i moved here. I don't have dogs or cats any inside pets. my husband has chicken way Out back. i see these things flying my husband doesn't get bit or can he see them they are a lot smaller then fruit flies. they are where ever I put my pc and the light by my bed. I can't get rid of them either. I don't take meds either. if it was scabies you'd need more than lysol to get rid of that cause they get in your skin and spread.
May 15, 2018
2

found this helpful
Take a bath in Epsom salt and coconut oil. Wash your hair separately. Also, follow what the other lady suggested. Wash everything on high heat. Turn your water heater up.
Get a dehumidifier. That should help a lot. Vacuum daily. Clean your tub with scalding hot water and Lysol. I clean my whole house with this. Use Heppa filters on hvac and vacuum. Sounds like bird mites.
August 26, 2018
4

found this helpful
Don't set your house on fire, but i,be been using my hand hair dryer, on my pillows, sheets and bed speeds, to rid them off my bed and couch. My going to stick my weddings in a hot dryer. I bathe in a cup of white in my bath water
Use your shower head as close to your skin, to message and flesh pores of your skin
.
August 26, 2018
3

found this helpful
I use a cup of white vinegar in my bathe water, for relief, and a long rope shower head close enough to my skin to message pores where it itches, or I've been bitten. Use only for a few seconds a hand hair dryer on sheets, pillow cases, blankets to rid them off bed, or couch, only a grown up should try this. Consider some materials could be flammable
You can also stick bedding in a hot dryer.
September 14, 2018
1

found this helpful
Use kleen genesis
Read More Answers
How do you get rid of these white brownish bugs/mites that look like lint, but bite and then brown ones you can't feel these only when they bite, but they look like pepper. They get into your skin. The white and brownish ones get on your hair, finger nails, toes, and heels & bite.
When I take a shower they are on me. They only get on me and bother me. They are on all my clothes, even though, I wash clothes in hot water and borax, it doesn't seem to bother the white ones. I was trying to take a picture, but not able to at this time. I see brown bugs coming out of Kleenex from Walmart and Sam's. Help.
Answers
May 15, 2018
3

found this helpful
You need to get an exterminator. You have a severe infestation
May 16, 2018
4

found this helpful
i have heard that bird mites can sometimes jump species and start afflicting humans. They are incredibly tiny almost invisible, and relentless.
in general the white version of the insect is the nymph (babies) and the black ones full grown. It makes sense that the borax would only affect the full grown ones because those treatments affect exoskeleton
if you kept birds as pets or if there were pigeons or other fowl nesting near your home, but then you got rid of the birds or they abandoned their nest they will sometimes come looking for a human host
do you sometimes fee they are just crawling around on you though not biting? Especially near your eyes and mouth? Then it is most certainly bird mites
for mroe info on bird mites and how to eliminate
www.sahealth.sa.gov.au/.../bird+mites
www.birdmites.org/FAQ.html
pestkill.org/.../
May 18, 2018
0

found this helpful
Strongly suggest that you see your doctor immediately and show her/him pictures of the bugs and your bites. They may be causing a medical problem that you are not be aware of.
May 22, 2018
1

found this helpful
You should take this type of infestation seriously and call an exterminator and ask for a free estimate of service to get rid of your resident bugs and maybe ask at the same time where they think the bugs originated so you will know not to bring them in again in the future.
If you cannot afford an exterminator's charges you should grab as many bugs as you can and place them in a zip-lock baggie. Take this with you someplace that has decent/knowledgeable bug people (maybe Ace hardware or True Value hardware, even try Lowe's or Home Depot) and keep asking until you find someone that sounds like they may know something about these bugs.
Try very hard to not let the skin bites get infected since you do not know what is biting you and this may create a problem with what medication to use. Keep skin clean and maybe use alcohol or hydrogen peroxide before applying an antiseptic cream.
Try to get help as soon as possible because these bugs seem to be multiplying daily.
December 22, 2018
0

found this helpful
You described exactly what we have.. They don't bite everybody.. me and my husband get but but not my roommate weird. I have been told I'm crazy i need relief from this.
December 31, 2018
0

found this helpful
Getting a exterminator is not going to help them. I stay in a apartment, and told my manager and she sent a exterminator and he could not found nothing, He even had a temper with me because he thought I was crazy and losing my mind. I had brought two mattress, throw all my clothes away, I only have 3 outfit now. I spent lot's of money on spray's, carpet cleaning, and throw away my toaster, deep fryer, slow cooker, everything is gone. they get in my hair, car, clothes, carpet, bathrooms, and they bitten me on my inside of my hand, first it was one red dot, now I have maybe 20, And it turns from red dot to brown dots, and some looks like white dots, I feel like killing myself, don't want to live anymore. I have twins grandson's, I cant let them come over because it might spread to them. I live by myself, Don't go nowhere anymore, These things gets in my eyes, lips, ears, while I sleep. First I used to have blood shot eyes, I went to the eye Doctor, and he ran test on me found nothing, Told me to come back ran two more test found nothing, And it was these monsters that was during this to me. Lord I try everything, I feels so lonely, I haven't told no one to embrass they may not want to come around me. These things fly from the cellings too. Anyone with any advice please respond.
Read More Answers
I keep getting bitten by little white bugs. They don't bother my mom or brother. I can clean my room, take a shower, and I can still feel them crawling all over me and all in my hair. They are biting me all over my body. They leave little red dots that are turning into sores. How can I get rid of them because they are driving me crazy.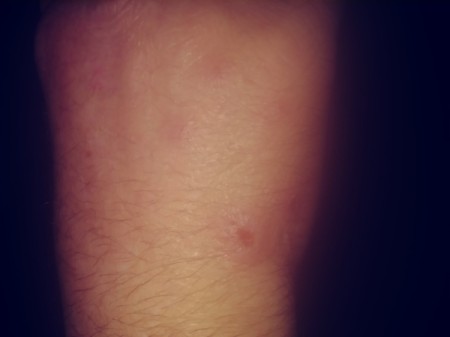 Answers
October 10, 2018
0

found this helpful
They could be some kind of mite. You need an exterminator.
October 10, 2018
0

found this helpful
When I get bit by something, I use this site to compare the bite to mine to figure out what the heck it is:
www.webmd.com/.../slideshow-bad-bugs
I recommend going to your doctor and taking samples of the bug if you can (if you can't figure it out OR more importantly, if the bites are red and warm...seek medical attention ASAP as you could have an infection.
Good luck! Sending up lots of healing prayers!
November 17, 2018
0

found this helpful
look up the cheyletiella mite its called walking dandruff sometimes. Rabbits, dogs and cats get them but they can infest you and your home. I am having a teribble time with them. Tried everything.
Read More Answers