Saving Money on Wild Birdseed
Solutions
Share on ThriftyFunThis guide contains the following solutions. Have something to add? Please share your solution!
I buy birdseed in bulk. I feed my birds, safflower, thistle and sunflower seeds, wild bird seed and peanuts for the squirrels and blue jays. I buy the wild bird seed locally, usually a 40 lb bag comes out the cheapest.
I buy the specialty seeds in bulk online. The bags are usually 40-50 lbs, but the price comes out to approx $1 and change for the birdseed. In stores, you pay over $2 a lb. That's how I figured it anyway. Several of the places that sell it in bulk online will ship free. Sometimes even paying $50 or $60 for shipping, it still comes out cheaper than buying in store.
When it gets here, the bags are wrapped tight or in tear proof bags. I just put the big bags in two metal trash cans with lids. Then I bungee cord the lid to the handles just to make sure the smart squirrels don't get in there.
When I'm filling birdfeeders, I just bring the feeders to the cans, have a seat and scoop and fill. I've been doing this for years and it's worked out really well for me.
By lkaserman from Maryland
When you have finished roasting your chicken (or other meat, fish, etc.), let the fat cool a little, cover with porridge oats, and sprinkle onto your bird table. The birds love it and it's your very own 'fat balls' for our feathered friends.
By libs mum from London, UK
January 4, 2005
3

found this helpful
Make your own bird seed by saving the pulp and seeds from squash and other vegetables and spread it thinly on a plate or tray. Then leave the tray in a gas oven overnight. The pilot light generates enough heat to dry the pulp and make it easy to pick out the seeds. If you have a pilotless gas oven or an electric one, you can dry the seeds by setting the oven at its lowest temperature and heating them for several hours.
By Joesgirl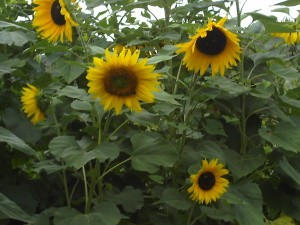 Watching birds arrive daily to enjoy the food and water we provide for them is an enjoyable hobby. However, buying bird seed can be expensive. I have found the following tips helpful in reducing the cost of feeding the birds.
Bird seed is less expensive when purchased in bulk amounts. Buy bulk birdseed when it is on sale. Check local farm and garden stores, general merchandise stores, dollar stores, and even grocery stores for sale priced bird seed. Buying in bulk requires storing the bird seed in tightly sealed containers to keep it safe from unwanted nibblers and to protect it from dampness.
Birds will drop seed on the ground under the feeders. Skipping a day or two between feeder refills gives them a chance to eat the seed that has fallen to the ground.
Feeders are designed for specific types of seed. Filling them with the appropriate seed will avoid excessive waste.
Feeders with a tray as part of their design reduce the amount of seeds that fall to the ground.
Squirrels can consume a lot of bird seed and do considerable damage to plastic feeders. It is best to spend a little more to get feeders that are designed to be squirrel proof. However, you might be surprised to see how creative a squirrel can be when trying to outsmart squirrel proof feeder designs.
In addition to feeding wild bird seed and black oil sunflower seeds, hang some suet feeders. Buy these on sale also or make you own suet cakes from one of the many recipes available online and in birding magazines.
Depending on the type of birds you have coming to your feeders, you might want to expand their feeding options to include something other than bird seed. Bread, popcorn, raisins, fruits, and various other leftovers from the kitchen appeal to many varieties of birds.
Planting bushes with seeds and berries that birds like and growing sunflowers each summer also helps reduce the quantity of seeds we need to buy.
By VeronicaHB
I buy chicken scratch from the local feed store and it is quite a bit cheaper than birdseed.
Read More...
February 5, 2009
3

found this helpful
Whenever you purchase wild birdseed, always place it in the freezer for 48 hours before opening bag. This will kill any insects present such as confused flour beetles.
Read More...
Questions
Ask a QuestionHere are the questions asked by community members. Read on to see the answers provided by the ThriftyFun community or ask a new question.
May 12, 2012
0

found this helpful
I want to know if hen scratch feed is good for my birds. I have doves, sparrows, red birds, and blue jays.
By TRS
Answers
May 14, 2012
0

found this helpful
I don't see why it wouldn't be. I mix whole and cracked corn with bird feed and the birds pick out what they like. I have noticed that in the winter, most select the black sunflower seeds first, but now they are going after the cracked corn.
I have finches, cardinals, titmice, chickadees, nuthatches, downies, doves, bluejays, and three or four kinds of native sparrows besides English. Starlings meet an untimely end and therefore we have so many native birds, and there does not seem to be as many insects. Birds also like lard - the real stuff - and peanut butter and suet. Some eat the insects that are attracted to the suet.
Answer

this Question

...
Related Content