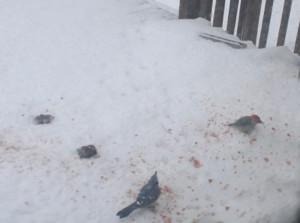 Make some really good friends this winter of the birds that visit your yard or nest nearby. With all the snow we have and more to come, the birds (with no help from their people friends) have a hard time. Toss leftover bread, cake, broken down chips or other leftovers out to them. They will love you for it.
You could also turn the bird treat into a quick craft for kids by coating an apple or a pinecone with peanut butter and then rolling in crumbs or feed! Then, stand silently out of the way with your camera ready and you will love the photo ops!
By melody_yesterday from Otterville, MO
Comments

February 12, 2010
1

found this helpful
Top Comment
Although the apples, peanut butter and feed are great ideas for the birds, the bread is not. Bread does not have nutritional value for birds.
If a small bird fills up with bread on a cold winters evening it may not survive till morning as it will not have gained enough energy from the bread to fend of the cold.The bread won't provide the necessary protein and fats necessary to keep their little body warm. Save the stale bread for your meatloaf.
Read More

Comments
Most of us have leftovers from the holidays, such as bread, rolls and cornbread. Don't throw them in the trash! The birds love them! Break or tear them up and place them in a feeder or even on the ground. You can even place them in an onion bag, and hang them in a tree. Do the birds a favor this winter!
By Marilyn S. from Colfax, LA

Answers:
Feed Leftover Breads to Birds
Also the corn husk from the fall and Halloween shocks too, just peel the corn off and scatter about. They love it. (12/30/2007)
By Julie
Feed Leftover Breads to Birds
One word: BEARS.

For those of us in northern climates, it's always a bad idea to throw out food scraps due to the risk of attracting bears. Once you feed them, they remember that you are a food source and will make it a habit to return. This isn't really cute when they decide to look further than your back yard for food. Scraps also encourage other pest such as mice, raccoons, possums, and skunks. My opinion is to compost what you can, then throw the rest out. A thriftier option is to not make so much food in the first place. If you want to feed the birds leftover bread, just make sure that you only put out just enough so that it will be gone before dark, when most of the bad critters are out. (12/30/2007)
By Beth
Feed Leftover Breads to Birds
AND, if its WHITE BREAD, you can make "Bread Dough Clay" which is a permanent hard clay that air hardens.. You only need 2 ingredients: white bread with the crust removed and a tiny bit of white glue. Some people use their hands and some use a food processor or blender. You can make fridge magnets, Christmas ornaments, mobiles, doll house accessories wall plaques and practically anything that you'd make with regular clay. I especially like the way it's safe for kids and surprisingly durable!

We have a raccoon that lives close buy and isn't afraid of humans, I even had to get rid of my bird feeders because I found the raccoon eating the bird seeds. We have an indoor/outdoor cat and our neighbors have tiny dogs, so don't want to leave food in the yard, all the more reason for the raccoon to attack them... This is why I'm afraid to leave out bread for the birds. I DO like to take my 5 year old granddaughter to the lake to feed the ducks stale bread!
Stale bread is also great to cut into long strips then toasted in the oven. These bread strips can be dipped into your favorite sauce or better yet, olive oil with herbs or vinegar with herbs. PLUS: stale bread makes wonderful bread pudding and croutons too! OR: simply take a piece of stale bread and melt cheese on it in the oven. Now, that's a tasty snack!

If you do decide to feed the birds: Take a scrap piece of wire or a wire coat hanger and run the wire through the bread. This wired bread can then be hung on a tree branch for the birds and squirrels. But I suspect that a raccoon or bear will figure a way to get to at it

Where three's a will, there's a way!... (12/30/2007)

By Cyinda
Feed Leftover Breads to Birds
A very noble thing to do however, it is better to actually feed them bird seed. They don't get the energy they need to survive a cold winter night if they fill up on bread. (12/30/2007)
By Lisa
Feed Leftover Breads to Birds
Please do not use mesh plastic bags for any type of food to feed birds. I had used these for years until I had a problem.

I had to rescue a bird from one when it got its leg tangled in the bag. I was so glad I was home when this happened since it was very cold outside and the bird most likely would have died a horrible death.

Using scissors, I had to carefully cut around the bird's leg while it was trying to bite me and struggle to get free. Both the bird and I were very stressed out.

After that I never took that chance of using plastic mesh bags that came from any type of vegetables or fruit.

So please, pass this information on to anyone who feeds the birds -- buy the wire cages, they last for many years and are safe for the birds. (01/03/2008)

By Anne
Feed Leftover Breads to Birds
I agree with Lisa. Also, unless the bread is homemade, the preservatives that are in store-bought bread do them more harm than good. (01/03/2008)

By Maryeileen