There is an annual feast at my place. Sometimes, it continues for weeks. From inside my home, I know it has begun, yet again. I hear a cacophony of shrill shrieks and continuous 'caw caws'. I go outside to investigate the clamor.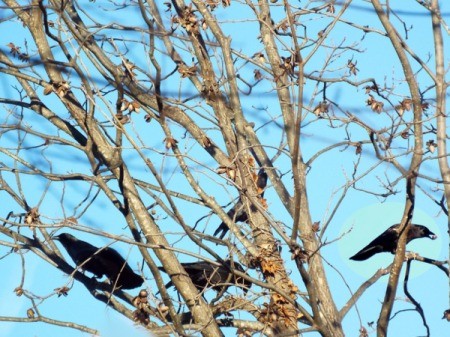 It's hard to put my foot down anywhere without stepping on pecans. How can this be? My pecan tree is a hundred feet from my house. I look skyward and see a huge flock of crows. They are in a frenzy at the prospect of plentiful and free, food. They alight on my pecan tree, still laden with nuts after my having gathered several five gallon buckets full from the ground, below.
Most nuts they seize are cracked open on a tree limb and the nut meat devoured, then and there. Quite often though, the birds select a nut they can't open on a limb. They attempt to carry the nut elsewhere for cracking, only to find it's just a little too large to accommodate their beaks. Whether intentional or not, the birds drop the nuts. That accounts for the hundreds and hundreds of pecans littering my lawn.
There are several pecan trees close by. The pictures I took are of crows visiting a neighbor's tree. I put my camera's 50x zoom to the test. I'm sorry to say the results are only mediocre. But, you get the picture (pun intended).
I feel rather generous. I have given away all the five gallon buckets of nuts I gathered, and the crows are quite welcome to all they care to eat. I do want one cup full of nut meats for myself. I intend to make cookies with them. I'll use a recipe I found on an oatmeal box sixty years ago.
The recipe is for simple oatmeal cookies, but when I add chopped pecans, chopped candied cherries, fresh grated coconut and a few raisins; they will be a complex, connoisseur's delight. I haven't made them in fifty years. This Holiday season I will treat myself. Yes!