Shipping Tape To Deter Ants
I was finding ants getting into my hummingbird feeder that was hung on a shepard's hook. They apparently climbed up the pole and into the food. I took shipping tape and tied it with string around the post (with sticky side out) starting at the bottom. I went about 12 inches up the pole.
I also put a Terro ant bait trap on the ground so they would be busy eating and not climb up. However, if they did climb up they'd get stuck. Also, fly bait that comes in a long paper strip that is sticky on both sides would work fantastic too. You'd just wrap it around the post and it should stick with no string. This tip is an amazing idea.
By Little Suzy from Millbury, OH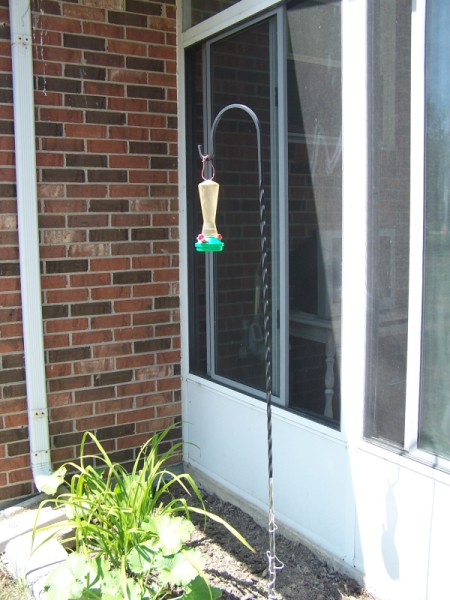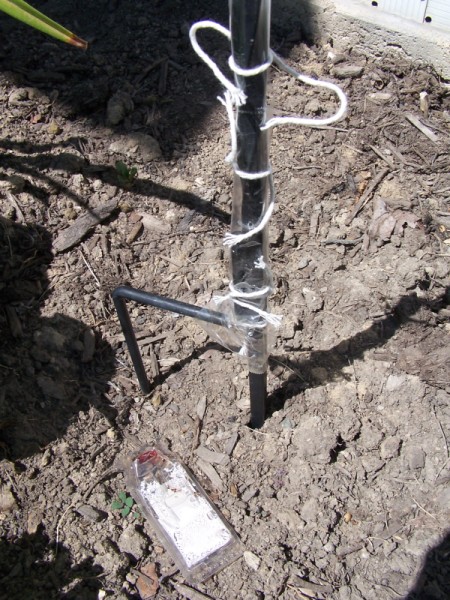 Add your voice! Click below to comment. ThriftyFun is powered by your wisdom!
August 29, 2011
0

found this helpful
Top Comment
This may seem like a good idea but here in Georgia, and many other places in the south, we have lots of little lizards and frogs. Several years ago I tried yellow sticky pads for white flies with horrible results. It didn't take me long to vow never to use it again. Be careful. It can trap and kill butterflies, and any other little critter that gets too close.
July 4, 2014
2

found this helpful
Top Comment
I posted this in response to a previous comment about using packaging tape as a way to keep ants out of a hummingbird feeder. Please pardon me for reposting here, but I noted the comment about using fly paper and thus I would like to repeat my prior caution. I worked at a wildlife rehabilitation center. A wren was brought to us one day completely featherless.
He had become stuck to flypaper and literally every little feather he had was removed from his body in his struggles to free himself. It seems people have been lucky in that no birds have become stuck to their packaging tape or flypaper, but please take this into consideration before you use these methods to deter ants. Thanks!
August 14, 2017
0

found this helpful
I sure agree with you about not using any kind of anything on feeders that is sticky. I too love these little hummingbirds and for many years I've watched them, and something even these tiny
birds love to do, is to hold and hang on to wires, as most birds do. So if there's anything sticky on the feeder hanger wires, they will get stuck. Using "moats" will completely resolve the ant problem of them getting into the feeders, and moats filled with water don't hurt anything. I'll find a picture of the moats, which I'd actually learned about this on Utube, and the day I hung up, the moats, was the end of my ant problem with my feeders I've had up for many years.
August 13, 2016
0

found this helpful
Top Comment
Ha ha. This works! Put the tape on and watched those ants get so frustrated when they encountered it
August 29, 2011
0

found this helpful
I don't like the fly paper because the flys get stuck and they struggle and their wings and legs tear off and I can't help but think they are suffering. I don't have an idea to replace it, but can't stand to see anything suffer
October 6, 2016
0

found this helpful
Please do not use tape near a hummingbird feeder. During my research and field research, I have encountered more than one hummingbird with most of its feathers gone because they had come in contact with tape. Therefore, they did not survive. An ant moat can be purchased very cheap. Please NO VASELINE. Please please do not spray your feeders with Pam spray. Don't put any oils, Vicks Vapor Rub, Pam Cooking Spray, Duct Tape, Off, Skin-so-soft, or Vaseline on your hummingbird feeder.
These may work slightly. However, hummingbirds have a tendency to fly around frantically and bump into feeders quite often. They also land on shepards hooks and if there is oily stuff or duct tape on the feeder, it can get into the feathers. The hummingbirds will have a hard time getting it off and it's not all that good for them. They can't get it off their feathers and it will lead to hypothermia and death. Plus, most of these items will melt in the heat making goo run all over the place. Please don't use these items.
August 30, 2011
1

found this helpful
Butterflies have not bothered it. Sorry if do not feel it's a good idea, but it works for me. The shipping tape it not that strong to trap critters. It's for ants and that's what it's doing; stopping ants from invading the hummingbird feeders. I would instantly remove it if it was harming anything other then ants.
Add your voice! Click below to comment. ThriftyFun is powered by your wisdom!